Thanksgiving 2021 Game-Changing Mashed Potato and Cranberry Sauce Recipes Add Flavor and Slash Calories
Pack Thanksgiving 2021 with flavor, but ditch the excess calories with a mashed potato and cranberry sauce recipe from two celebrity chefs.
Today Show nutritionist Joy Bauer and Food Network chef Aarti Sequeira shared their special Thanksgiving recipes with Showbiz Cheat Sheet. These ideas will make the typical Thanksgiving side dishes a main event at the dinner table.
Thanksgiving mashed potatoes get a 2021 update
Bauer's Thanksgiving mashed potato recipe is heavy on flavor but with half of the calories. "Cut calories and carbs from the classic Turkey Day mashed potatoes side by using a 50-50 mix of mashed potatoes and mashed cauliflower," she said. "It tastes just as delish and it's a super easy and sneaky way to lighten up the beloved dish."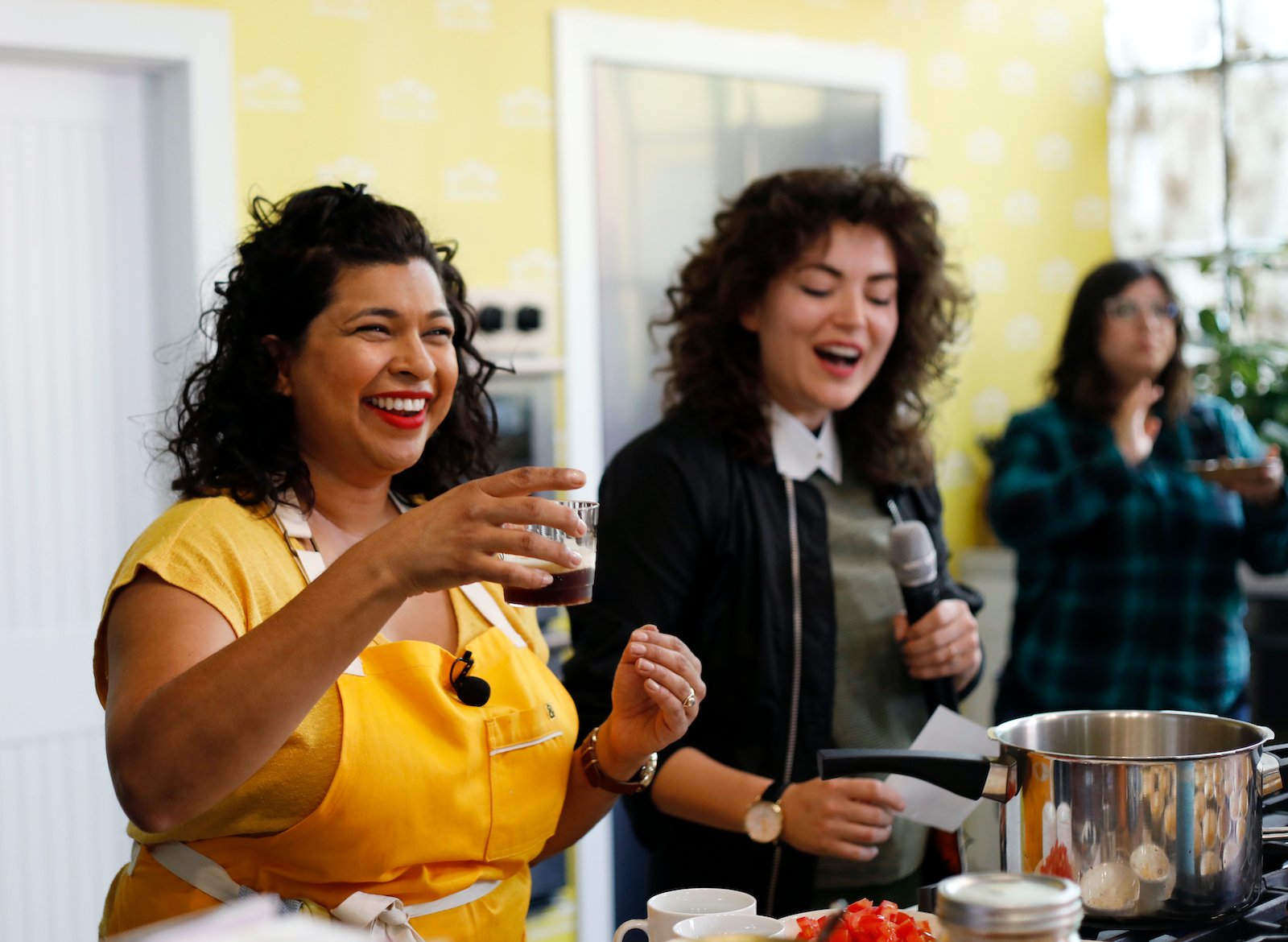 Instead of heavy cream, she uses a combination of skim milk and whipped butter to give the potatoes their creamy texture. Bauer also suggests jazzing up the dish with "herb, seasonings, and toppers, such as Parmesan cheese, light sour cream, chives, hot sauce, or minced chipotle peppers." The typical Thanksgiving mashed potato recipe is about 260 calories per cup. Her recipe saves 115 calories at 145 calories per cup.
Kick up the usual Thanksgiving cranberry recipe
Forgo the cranberry in a can side dish and pivot to Sequeira's cranberry chutney. "I make the cranberry chutney every year, and I always quadruple it because people end up wanting to keep a jar," she told Showbiz Cheat Sheet. "Because I flavor it with black peppercorn and coriander seed and orange zest and pomegranate seeds. So it has a lot of texture and flavor and freshness, a teeny tiny bit of heat from the peppercorn."
She featured her recipe on Instagram, joking with chef Richard Blais about his affinity for cranberry sauce from a can. "Ok @leah-richardsdblais you can have your canned cranberry sauce (no shade) as long as you have some homemade stuff too. I like having ALL the choices on Thanksgiving," she joked. "What do you guys think?"
Sequeira's cranberry chutney only takes 30 minutes to make and she includes every step in her recipe.
Take Thanksgiving 2021 to the next level
Sequeira and Bauer didn't stop there and generously offered even more ideas. Sequeira has a stuffing recipe that she makes into muffins. "I always make my mom's stuffing recipe," she said. "The stuffing has bacon and I do pine nuts. She did pistachios. Bacon, pine nuts mint a little bit of booze because we're from the Portuguese part of India. So booze, booze runs through our veins. And lots of bread and then sort of the Indian triumvirate, which is onions, ginger and garlic and then a green chili."
Bauer has a genius way to have your sweet potatoes without all the sugar. "The sweet, gooey marshmallows and buttery pecans make this side seem more like a dessert," she said. "My Joyful version features a secret orange ingredient: Naturally sweet carrots, which help drive down calories and carbs. Plus, it contains no added sugar – the sweet potatoes are already sweet enough. These simple swaps help trim about half the calories from the standard recipe."
Bauer also has a hack for a popular Thanksgiving appetizer, pigs in a blanket. Pigs in a blanket are near the top of the app list for most people," she acknowledged. "I've given the classic a health makeover in this Brussels in Blankets recipe by wrapping nutrient-packed Brussels sprouts with salty, satisfying turkey bacon. You may not be a Brussels believer yet…but you will be after one irresistible bite. For a sweeter option, wrap carrots in turkey bacon. You will not be disappointed."