The 1 Gift Chrissy Teigen Gives John Legend Each Year Is Surprisingly Simple
When it comes to celebrity couples, Chrissy Teigen and John Legend are not only talented, successful, and good-looking, they just make take the prize for being the most romantic power couple. Just listening to Legend's beautiful song, "All of Me," gives you a picture of a love far beyond the surface level glitz and glamour often seen in Hollywood romances. This man loves his wife, in all of her "perfect imperfections," and he shows it in ways big and small that go far beyond his music. Teigen is just as loving in ways of her own.
John Legend's odd gift to Chrissy Teigen goes viral
One way that Teigen shows her love for Legend, their two children, and the rest of their family and friends is by cooking. She loves cooking so much, she even wrote a book about it, a companion to her cookbook.
If we're talking love languages, it appears that acts of service is hers. While Legend seems to lean more towards gift-giving — and not just any gifts, but personal and often comical ones. In 2015, Legend gave Teigen a surprise that was just perfect for both of their sensibilities. It wasn't jewelry or a yacht or a new Ferrari, but a giant hollowed-out cheese wheel.
Teigen gushed on Instagram: "John got me my lifetime dream for Christmas! A cheese wheel to dump pasta and risotto in for years to come! My tableside serving game is bout to be liiiiiit! Heading out to relax with the fam now woohoo!"
The cheese wheel posts were a hit and went viral. The gift was novel and delicious and the fans, metaphorically, ate it up.
One of John Legend's biggest surprises almost got spoiled
By far one of the biggest gifts Legend gave to Teigen was her engagement ring. With the ring carefully hidden, the two set off to the Maldives where he planned to pop the question.
On Oprah's Next Chapter Legend shared that while going through airport security the agents wanted to look just in his bag, but specifically in the ring box. Teigen was right next to him and he feared he would have to " get on [his] knees in the airport" and propose right there.
Luckily this didn't come to pass. "For some reason, they decided not to look in the box. They just didn't look," he said.
The proposal went off as planned, and of course, as we all now know, she said yes. The two were married on September 14, 2013, on the picturesque banks of Lake Como, Italy.
Chrissy Teigen's yearly gift to John Legend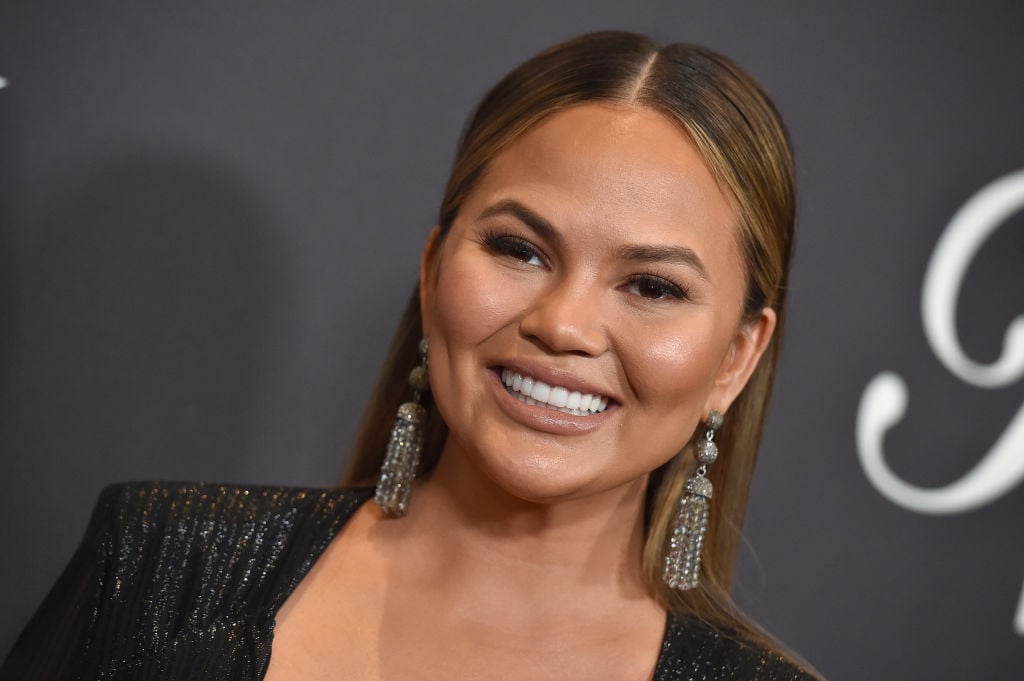 Teigen's gift-giving style is a little more low-key than Legend's. In fact, she has even expressed in interviews that she gets uncomfortable opening gifts in front of others. So it's no surprise that she doesn't make a big to-do when giving gifts herself.
She shared with InStyle that she prefers giving many little gifts or gift cards saying: "Everybody in my life has such different personality types and interests, so my go-to has always been gift cards and cash… Nobody's ever been mad at a gift card." She also said sometimes she'll find out where her loved ones are on vacation and send them over a bottle of wine or pay for dinner.
When it comes to her husband, she does have one sure-fire personal gift for him: "Every year I get him what we call a computer bag, but that sounds so nerdy… It's usually some kind of leather tote that he can fit his laptop in with all the cords, the watch box, and his passport. All that travel stuff. That's the only constant in our life, that we're always going to be traveling. So I love getting him that bag."
Teigen told CNN that he looks forward to getting his new bag each year and that he'll use it every day for the year until the new bag comes along.
Cheese wheel or suede bag, it's clear that this celebrity couple shares a lot of love, and fans will be rooting for more fun gift stories from them in the future.