The 1 Heartwarming Reason Why Billie Eilish Didn't Want to Win Her 4th Grammy Award
She's taken America by storm with her unique style, down-to-earth attitude, and pivotal music. She's winning awards and breaking trends. Billie Eilish had a special night at this year's 62nd Annual Grammy Awards and was recognized for her talents in a big way.
If you missed some of the recent headlines or didn't get a chance to tune in to this year's show, we will fill you in on her takeaways for the night. And, highlight what some are calling a most heartwarming gesture.
Billie Eilish makes a splash at Grammys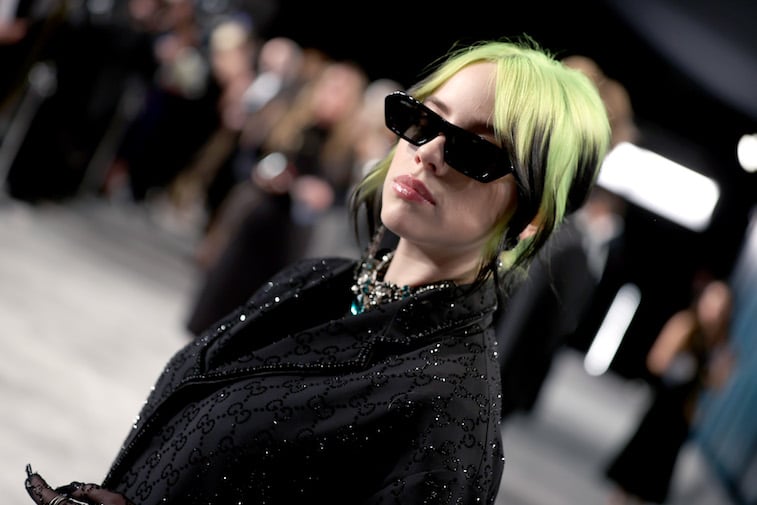 Billie Eilish made a splash with her unique style and trend-setting brand. She was all custom, with a crystal-embroidered Gucci jogging pants. She sported a matching bowling shirt, worn loosely over her lime green turtleneck.
Throw in the puffy sleeves and emerald Flashtrek sneakers to complete her ensemble. With the help of her stylist, Samantha Burkhart, Eilish topped her outfit with dark sunglasses, gold Gucci earrings, and GG fingerless gloves. For some of her photo ops, she wore a black satin face mask.
Sometimes, viewers at home get a camera shot of the nominees in the crowd as they are announced. At the Grammy's this year, the camera panned to Billie Eilish, just in time to see her saying, "please don't be me." But, as we soon learned, it wasn't that she wasn't grateful for the nomination or the wins.
Taking home all the hardware
It was a momentous night for Billie Eilish as she took home a pile of Grammy's for her unstoppable talents. Her single, "Bad Guy," won Song of the Year and Record of the Year. Eilish also stood at the podium to accept her award for Best New Artist and Best Pop Vocal Album.
If earning four category wins wasn't enough, Eilish also took the reins from Taylor Swift as the youngest artist to ever win. A record previously held by Swift as she launched at age 20, Eilish dominated the four main categories this year as an 18-year-old, and also the first woman to do so.
So, what was her "please don't be me" comment all about, and why did she seem to say, 'noooooo' when her name was announced as the winner? Fans found out as she landed another win and headed back up to the stage.
Billie Eilish admitted she had hoped for Ariana Grande to win in the best album category. "Can I just say that I think Ariana deserves this?"
Eilish said. Grande acknowledged the love with a smile, and the gesture proved to be authentically heartwarming. Other nominees for the best album were Bon Iver, Lana Del Rey, H.E.R., Lil Nas X, Lizzo, and Vampire Weekend.
What's next for Billie Eilish?
Billie Eilish has a jam-packed tour schedule over the next few months, and it may be no surprise that most are sold out shows already. She's a phenom and, in an interview with Jimmy Kimmel, says she looks to make music that appeals to a variety of preferences and moods. She tries to stay present in her moments of fame now and enjoy the journey – and she's grateful for every minute.
In addition to her big night at this year's Grammys, Billie Eilish has earned accolades across other platforms as well. She has two American Music Awards, two MTV Europe Music Awards, an NRJ Music Award, and three MTV Video Music Awards to add to her mantle. The awards are piling up, and the fans are lining up. Billie Eilish might just be the next big star we've all been waiting hear.