The 1 Reason Brad Pitt Thanked Leonardo DiCaprio and Not His Kids
Brad Pitt had a very specific reason for thanking Leonardo DiCaprio at the Golden Globes and not even mentioning his children.
Brad Pitt expressed a lot of gratitude after taking home a Golden Globe for Once Upon a Time in Hollywood. But one thing he failed to mention in his acceptance speech was his children. Pitt has had a rocky relationship with his six kids in the wake of his divorce from Angelina Jolie, but there is another reason why the Ad Astra star did not mention any of them by name at the award ceremony.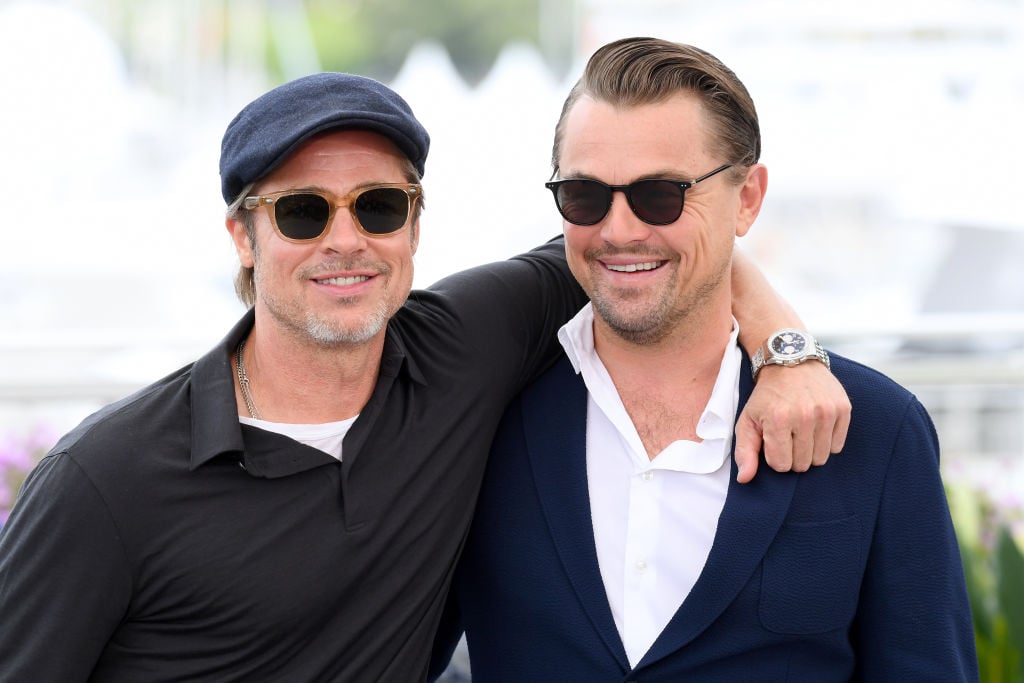 Brad Pitt fails to thank his children at the Golden Globes
Pitt gave plenty of shout-outs during his speech at the Golden Globes, thanking everyone from the movie's director, Quentin Tarantino, to his co-star, Leonardo DiCaprio.
The actor took home the top prize for Best Supporting Actor and seemed very happy about winning the award. While he made jokes about his love life, Pitt did not say anything about his six children.
A lot of viewers thought it was curious that Pitt Pitt snubbed his family, but there is actually a good reason behind the omission — and it has nothing to do with Pitt's relationship with his children.
According to TMZ, Pitt never says anything about his children in public in order to protect their privacy. The actor knows that any mention of his kiddos could put them in a tricky situation, so he avoids talking about altogether.
Pitt shares six children with his ex, Angelina Jolie. The two have yet to finalize their divorce, though sources say that they have been following a custody agreement since 2018.
Pitt dishes on his love for art
Following the Golden Globes, Brad Pitt and Leonardo DiCaprio sat down for an interview on the WTF podcast with Marc Maron. During their chat, Pitt revealed that he has been using the art of sculpting to help him meditate.
"To do something that just you and on your own and very solitary, I find very meditative," Pitt shared.
Brad Pitt does not settle for just making things with his own two hands. He also spends a lot of money buying art. And some of the things he purchases inspire his children as well.
The actor shares custody of his children — Maddox, Pax, Zahara, Shiloh, Knox, and Vivienne — with his ex, Jolie. The two separated in the fall of 2016 and fought a bitter custody battle in the months and years following their divorce.
Although Pitt is on good terms with his youngest children, his relationship with Maddox is reportedly strained.
How are things between Brad Pitt and Angelina Jolie?
Considering everything Pitt and Jolie have gone through, it is not a huge surprise that they are not on good terms. Although they have ironed out a pretty solid custody agreement, they have yet to finalize the last details of their divorce.
An inside source claims that Jolie has a lot of bitterness towards Brad Pitt and blames him for ruining their family. The two were together for well over a decade before calling it quits.
"Angelina still has a lot of resentment toward Brad," the source dished. "She wants him to be held accountable because she feels he turned her and the children's lives upside down."
The source added that Jolie did not want to tie the knot with Pitt in 2014 and was pressured into the marriage. She is also determined to never exchange vows again, no matter who she falls in love with.
Angelina Jolie has not said anything about the rumors surrounding her relationship with Brad Pitt. Last year, she revealed that her big plans are to live abroad with all of her children, a dream that will never happen with Pitt sharing custody.
Pitt talks about constantly being in the spotlight
Back to Maron's podcast, Pitt and DiCaprio were asked about the moment they realized that they had made it in Hollywood. DiCaprio explained how his big moment came after The Titanic when he noticed that people were following him around town.
Brad Pitt asked Leo DiCaprio if he still gets followed and was shocked when he said no. Pitt was then questioned if he gets hounded by the press, to which he said:
"Aw, man. Aw, man. I'm just, like, trash mag fodder," Pitt stated. "Because of my disaster of a personal life probably, most likely."
Pitt went on to reveal that he has a few places around the country that he visits whenever he needs to stay under the radar. He refused to say where he goes, however, as that would obviously blow his cover.
Brad Pitt did not say anything about his children, of course, but at least he stays consistent.