The 1 Reason Why Amy Schumer Lives Together With Her Ex and Her Husband
Amy Schumer rose onto the scene with her raunchy comedy that was unafraid to bare it all. She often put her dating life and woes as a single woman front and center in her routine, but these days the source material for her performances has definitely shifted. She's now a married working mom who has …
Amy Schumer rose onto the scene with her raunchy comedy that was unafraid to bare it all. She often put her dating life and woes as a single woman front and center in her routine, but these days the source material for her performances has definitely shifted. She's now a married working mom who has a whole new world of challenges and experiences to pull from as she makes her fans laugh. 
One potential comedic gold mine is Schumer's recent living arrangement. She and her husband are hosting a roommate, and it's one of Schumer's exes. How did they get into this arrangement and what does Schumer's husband think about it? Let's take a closer look. 
Amy Schumer met Chris Fischer through his sister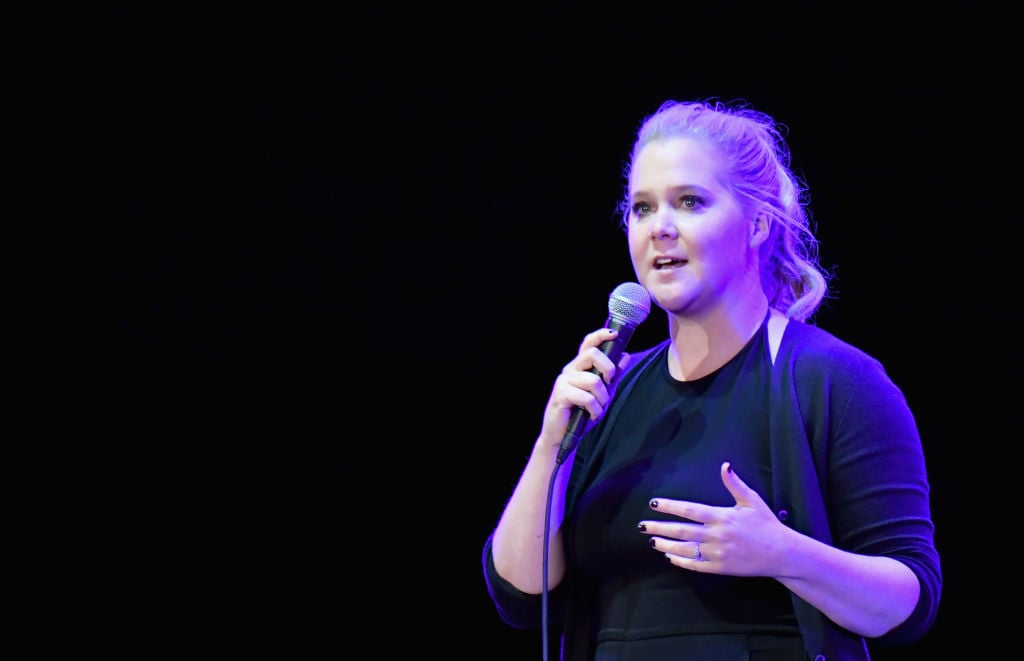 Schumer, being the busy and famous working woman that she is, has a personal assistant named Molly Fischer. Back in 2016, Fischer introduced Schumer to her brother and celebrated chef Chris Fischer. The relationship was fairly quiet and out of the public eye for quite some time. They were photographed together having a romantic dinner in November of 2017. In February 2018, Schumer posted a social media pic of the two kissing. 
It seemed like a whirlwind, then, when the pair announced that they had gotten married in a "chill," "last minute" ceremony later that same month. By October of 2018, Schumer announced that she was expecting a baby, and the adorable couple has been impressing and inspiring fans ever since. 
True to her authentic and open nature, Schumer has been very honest about her new life as a wife and mother. She revealed that Fischer is on the autism spectrum in an attempt to remove stigma around the diagnosis. She also opened up about her struggles with pregnancy and IVF, ushering in a bunch of support from fans and other celebrities. 
Amy Schumer and Chris Fischer are hosting a roommate
Schumer has always portrayed her husband as a fun-loving and understanding guy, and it appears that must be the case because he agreed to let Schumer's ex-boyfriend move in with them! 
Schumer, Fischer, and their son Gene live in a gorgeous Manhattan penthouse, and lately they've been joined by comedian Kyle Dunnigan. Dunnigan is probably best known for his work on the Reno 911! series, but he also worked alongside Schumer in the 2015 film Trainwreck and on the series Inside Amy Schumer. He served as both a writer and an actor on the set of the show. 
Kyle Dunnigan is living with the couple for work
While the living arrangement has certainly raised some eyebrows, there is a professional explanation for Dunnigan's residence with his ex-girlfriend. The pair are working together on the upcoming television series Love, Beth. The Hulu series is Schumer's new half-hour comedy show that is set to launch in late 2020. 
In an interview with Howard Stern, Dunnigan joked that he was so enjoying living in the lap of luxury at Schumer's high-end penthouse that he didn't think he could bring himself to leave. "I'm supposed to leave in three weeks, but I don't think I'm gonna," the comedian joked.
While some husbands might be insecure about their spouse's ex living in the house, that doesn't appear to be the case for Fischer. Dunnigan says that the pair have really connected. "We bro out," Dunnigan explained. "We play chess. And all the food is really good and free." 
Not much is known about the upcoming series, but fans can rest assured it will bring the biting humor and unflinching authenticity that Schumer has become famous for delivering. In the meantime, Dunnigan will be soaking up the professionally crafted food and luxurious accommodations.