The 1 Surprising Benefit to Joanna Gaines' Kids Sharing a Room
Joanna Gaines has her kids sharing bedroom in their Texas farmhouse. Here's why that's a stroke of brilliance.
Joanna Gaines doesn't act like a lot of other multi-millionaires, and her fans adore her for it. The former Fixer Upper host and mother of five has a refreshingly down-to-earth personality that hasn't changed over the years even as she became more and more famous. These days, she and her husband Chip have achieved more success than they ever thought possible. And yet, they're the same goofy, fun-loving pair they were when they started.
Case in point: even after Fixer Upper became the most-watched renovation show on HGTV, Gaines never developed a diva-like personality that so many other celebrities seem to have. And even though she has enough money for a mega-mansion with 40 rooms, Gaines is still enjoying life in her family's beloved farmhouse.
And the most surprising thing of all? Her kids share bedrooms at home. Here's why that's genius.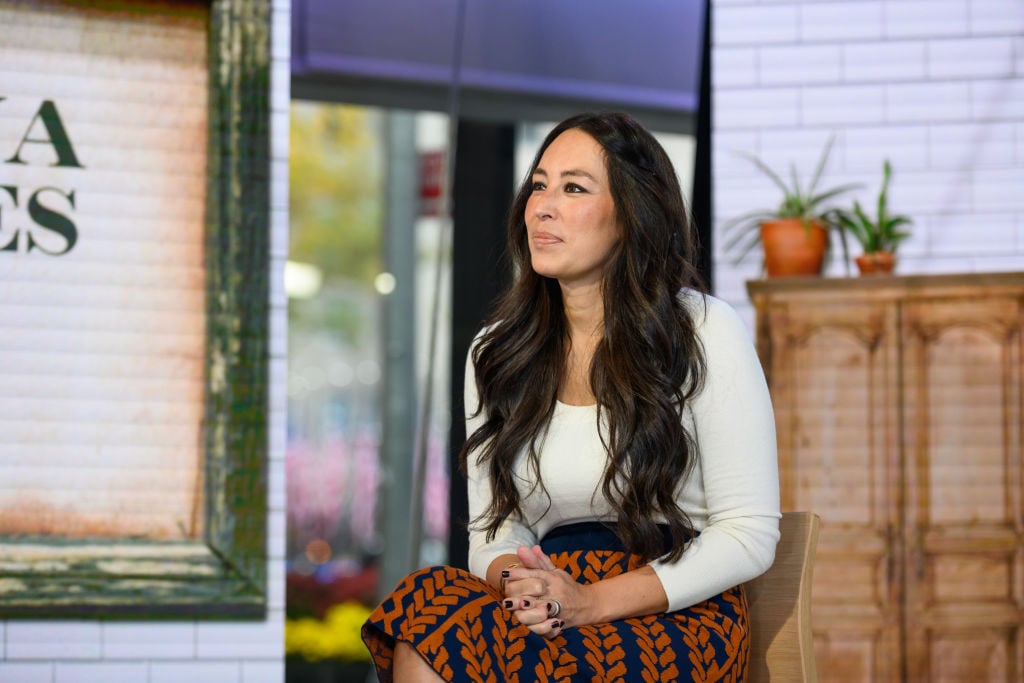 Joanna Gaines approaches parenting differently
There's no denying that Joanna Gaines is a cool mom. She's known for letting her kids be independent from a young age, allowing them to care for their own plants and even letting them assist her and Chip with renovation projects. Treating her kids with respect gets her respect in return.
The Gaines family doesn't have a television in their house. Instead, they encourage their kids to play outside or engage in creative play. Thanks to her influence, her daughters have come up with their own recipes in the kitchen, too.
Her kids don't have their own rooms
Chip and Joanna Gaines purchased their 1800s Texas farmhouse long before they became rich and famous. They spent time lovingly restoring the property and making it perfect for their family. That included expanding it from a two-bedroom home to something that could accommodate their family of six (at the time).
But instead of carving out separate bedrooms for their kids, the Gaineses decided to have them share. And even now that they could afford a huge expansion, they're keeping things close and cozy.
Sharing rooms helps the Gaines children bond
As any child who shared a room can tell you, shared spaces encourage compromise and, ultimately, sibling bonding. But Gaines also takes a smart approach to having the kids share.
When the baby was born, sons Drake and Duke shared one room with built-in bunk beds while daughters Ella and Emmie Kay shared the other. Crew was by himself in the nursery, though it's reasonable to imagine he'll move in with his older brothers in a few years.
Gaines has a few useful tips for room sharing. "Each kid has their own organizational stuff," she explained during an interview with Country Living. "For the boys, they have a lot of the shared stuff, but the baskets under the bed—half are one boy's and the other half are the others. They have their spot that kind of says 'this is my stuff,' and it works for them."
It's all about compromise
Even though room sharing can be fun most of the time, Gaines admitted that arguments have come up in the past. But she handled them with the wisdom of a veteran mom.
"When Emmie and Ella were sharing rooms, Emmie loved blue and Ella loved pink," Gaines told Country Living. So she did their room in a neutral palette and let them choose accessories. "Once they feel like they can own their little space, that's all they needed."
The main rule Gaines had for kids' rooms? It's all about attitude. "I've gotten so much more laid back about kids' rooms in general because, to me, that's the space where they want to feel the most creative and the most known," she told Country Living. "And sometimes that means there's certain things that you wouldn't pick yourself."
As usual, Gaines has some real insight and sage advice for making home more comfortable, even if kids have to share.