The 1 Topic Tucker Carlson Never Talks About
One of the most well-known, for better and mostly worse, celebrity talk show hosts on FOX News channel is Tucker Carlson. The host of Tucker Carlson Tonight, and creator of the website Daily Caller is one of the most prominent voices in the world of conservative cable news.
Carlson is frequently criticized for his outdated and prejudiced views, especially concerning immigration. Carlson has appeared as a host and correspondent each on the three major cable news networks, CNN, MSNBC, and FOX News.
Carlson has found a home among the Republican centric FOX News corporation, and is frequently featured on the channel. The story of how Carlson grew up and rose to his position as a voice of the political right, is quite interesting. 
Who is Tucker Carlson?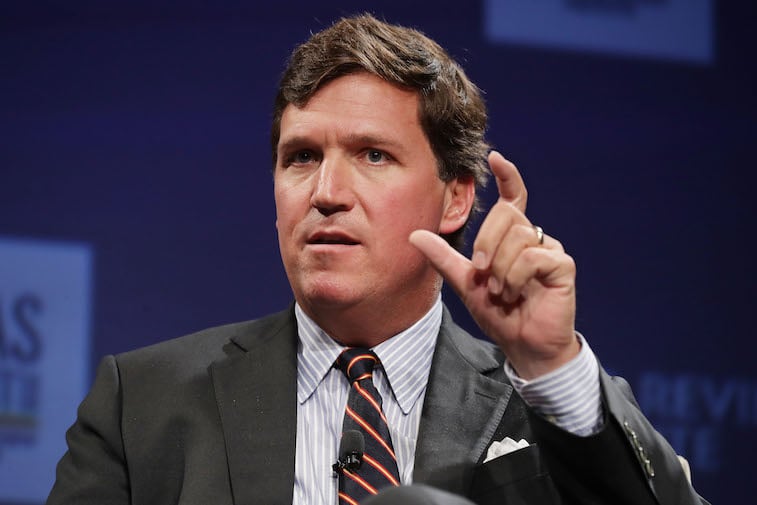 Carlson was born in San Francisco, California, to parents Dick Carlson and Lisa McNear. Dick Carlson was a high profile news reporter of the time, and also became a U.S. Ambassador.
According to the Columbia Journalism Review, Carlson attempted to join the CIA while in college, but was rejected. Carlson received his degree in history from Trinity College, and joined his father in the world of journalism.
His first TV job was as the host of the programs The Spin Room and Cross Fire on CNN. Carlson has been the involved of a variety of political shows including, Fox and Friends Weekends, Red Eye, and Special Report prior to receiving his own show.
The television personality has also written two books, Politicians, Partisans and Parasites: My Adventures in Cable News in 2003, and Ship of Fools: How a Selfish Ruling Class is Bringing America to the Brink of Revolution in 2018. The political correspondent also entered the world of reality programming, as he was a participant in the third season of Dancing with the Stars. Carlson was partnered with dancer Elena Grinenko, and was the first contestant eliminated. 
Carlson's unique family
Everyone thinks that their family is somewhat strange, and in Carlson's case, he has a strong case. Carlson's mother McNear, and his father divorced after nine years of marriage.
Dick Carlson was granted custody of Tucker and his brother, and moved to La Jolla, California. Following the split, the two parents took very different paths. McNear began life as a Bohemian, traveling the world and having adventures in France. McNear later married an artist, Michael Vaughn.
Following the marriage, Carlson and his siblings rarely saw their birth mother, were legally adopted by their father's third wife. Carlson's father took a very different route after the divorce, and married the wealthy heiress Patricia Swanson.
Swanson was the part-owner of the Swanson food company, adding to the vast wealth of the family. 
What is the one topic Carlson never talks about? 
Carlson is known for his controversial views regarding a variety of topics, and his willingness to share those views with anyone that will listen.
The Fox News host has voiced his opinions about immigration, foreign policy, and race relations in America. However, there is one topic that Carlson refuses to speak about. That topic is his mother, and her abandonment of her family and Carlson.
The strange family saga is completely ignored by Carlson, who said has commented that his relationship with his mother is a "totally bizarre situation—which I never talk about, because it was actually not really part of my life at all."
Despite Carlson's refusal to believe that the situation is a part of his life, the FOX News host did sue for his mother's money following her death. McNear only left her children $1 in her will, despite being worth a great deal more. Carlson is financially well-off, both because of his hosting and his family's property and involvement with the Swanson family.
Despite the wealth and notoriety that comes with being a FOX News host, it is clear that Carlson's mother's abandonment and dollar inheritance have bothered him for years.