The 10+ Most-Anticipated Horror Books Coming Out in March 2021
Looking for a spooky new page-turner next month? From Gothic fiction to dark fantasy, eerie supernatural tales, and psychological thrillers, these are some of the most-anticipated horror books coming out in March 2021.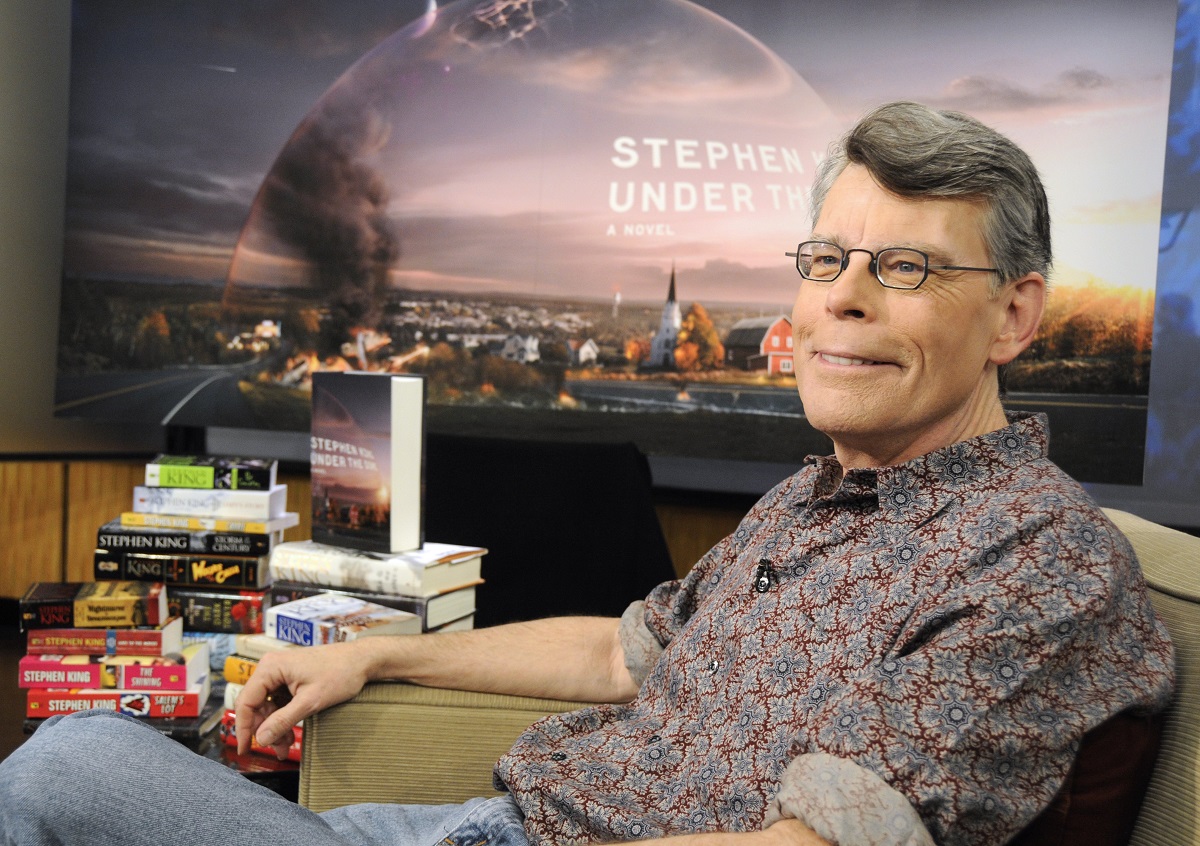 'Later' by Stephen King
Any new work by horror master Stephen King is sure to end up on a "best books of 2021" list, and his upcoming paranormal suspense novel Later is no exception.
Later, which tells the story of a young boy whose single mother wants him to keep his supernatural powers a secret – while the NYPD would rather enlist his help to catch a murderer who's already died himself – has already drawn comparisons to It due to King's uncanny ability to evoke the darker side of childhood.
RELATED: 10 Must-Read Nonfiction Books Coming Out in March 2021
'The Lost Village' by Camilla Sten
The Lost Village, authored by Camilla Sten (daughter of crime writer Viveca Sten), is already an international bestseller. It's been newly translated from its original Swedish by Alexandra Fleming.
Described as Midsommar meets The Blair Witch Project, the supernatural thriller follows a documentary filmmaker who returns to the village where nearly all of its residents – including her grandmother's family – mysteriously vanished in 1959. But once she and her crew arrive, they realize that they might not ever get to leave.
'I Would Haunt You if I Could' by Seán Padraic Birnie
Writer and photographer Seán Padraic Birnie has published work in literary journals like Shadows & Tall Trees and Black Static. His debut short story collection, I Would Haunt You If I Could, combines literary horror with body horror in a haunting set of genre-bending tales.
'Children of Chicago' by Cynthia Pelayo
International Latino Book Award winner Cynthia Pelayo's eerie reimagining of the Pied Piper fable, Children of Chicago, is one of the most-anticipated crime novels of 2021. A detective, haunted by the deal she made with her sister's murderer years ago, realizes the serial killer known as the Pied Piper has come back – this time, it seems, for her.
'All the Murmuring Bones' by A.G. Slatter
A.G. Slatter's All the Murmuring Bones is a Gothic fantasy with a heavy dose of magic and myth. In this dark seaside fairytale, Miren O'Malley's family has fallen by the wayside when it comes to the deal they struck long ago with the mer. They promised to sacrifice one child in each generation in exchange for protecting their ships. Now, Miren's grandmother wonders if her granddaughter's life and freedom are worth the bargain.
'Red Widow' by Alma Katsu
Alma Katsu draws from her own experience as a longtime senior intelligence analyst for the CIA in her latest novel, Red Widow. A struggling CIA agent and an intelligence expert in the Russia Division, plagued by the stigma of her husband's mysterious death, discover a surprising connection – and a web of lies and secrets in the underbelly of the intelligence agency – in this fast-paced spy thriller.
RELATED: These 6 Contemporary Locked-Room Mystery Novels Will Keep You Guessing
'The Shadow in the Glass' by JJA Harwood
JJA Harwood weaves an atmospheric, slow creep of a Gothic fairytale in The Shadow in the Glass, a dark Victorian retelling of Cinderella. Forced to endure harassment and abuse while working for her leering stepfather as a maid, Ella finds new hope in a fairy godmother who shows up to grant her seven wishes. But Ella soon learns that everything, even a wish, comes at a price.
'Our Last Echoes' by Kate Alice Marshall
Well-known young adult and middle grade author Kate Alice Marshall returns with her latest YA novel, Our Last Echoes.
In this supernatural thriller, evocative of Riverdale and Twin Peaks, Sophia is summoned to the isolated island of Bitter Rock, where her mother disappeared 15 years ago. When she arrives, the flashbacks that have plagued her for years start to make a terrifying kind of sense.
'Goddess of Filth' by V. Castro
V. Castro injects mythology and mysticism into dominant narratives about exorcism and possession in Goddess of Filth.
Five best friends conduct a séance, but their lighthearted fun turns a lot more serious when one of them, Fernanda, begins to chant in their Aztec ancestors' language. A priest insists Fernanda's increasingly erratic behavior can be chalked up to demonic possession, but her "bruja Craft crew" and a local professor aren't so sure.
'The Girls Are All So Nice Here' by Laurie Elizabeth Flynn
Laurie Elizabeth Flynn's adult fiction debut, The Girls Are All So Nice Here, is a psychological thriller about the power and intensity of female friendship – and what can happen when it goes sideways.
Former best friends Amb and Sully know what they did back in college. But they never thought they'd have to pay for it…that is, until they start to get threatening messages in advance of their 10-year college reunion from a stranger demanding revenge.
'A Broken Darkness' by Premee Mohamed
A Broken Darkness is the sequel to speculative fiction author Premee Mohamed's popular dark fantasy horror novel, Beneath the Rising.
Nick Prasad is trying to put his life back together after he and his former best friend Johnny fought "Them," the evil Ancient Ones intent on destroying the human species who were awakened and unleashed during Johnny's experiment gone wrong. His plans are derailed when They return, seemingly more powerful than ever.
'Down Comes the Night' by Allison Saft
Allison Saft's combines dark historical fantasy, all the hallmarks of the quintessential Gothic novel, and a compelling LGBT romance in Down Comes the Night.
Widely anticipated as one of the best YA books of 2021, this harrowing page-turner follows Wren, a healer whose recklessness with magic has damaged her reputation, and Hal, the Reaper of Cavendish, as they fight sinister forces in the isolated mansion of an eccentric lord.
'The Last House on Needless Street' by Catriona Ward
Catriona Ward's The Last House on Needless Street, which comes out in March for UK readers and in September for those in the U.S., combines the dread-drenched, dark psychological pull of Gillian Flynn's Gone Girl with the conventions of classic literary horror. A misfit family of three – a man, a teenage girl, and a cat – lives together in a remote area of the Washington state woods. The presence of an unexpected new neighbor threatens to expose their shared secret.
'Burning Girls and Other Stories' by Veronica Schanoes
Fantasy author Veronica Schanoes has published speculative fiction on Tor.com and elsewhere. Schanoe's upcoming short story collection, Burning Girls and Other Stories, has been named one of the most-anticipated books of 2021 on several must-read lists. The award-winning titular story lends a terrifying twist to conventional narratives about immigration, while another piece sees Emma Goldman having tea with the Baba Yaga.