The 10 Most Insane Moments In 'Southern Charm' History
Southern Charm might just possibly be the best reality show on Bravo. While we love the Housewives franchise and the gang on Vanderpump Rules, there is just something about this crazy group of friends who live in Charleston, South Carolina.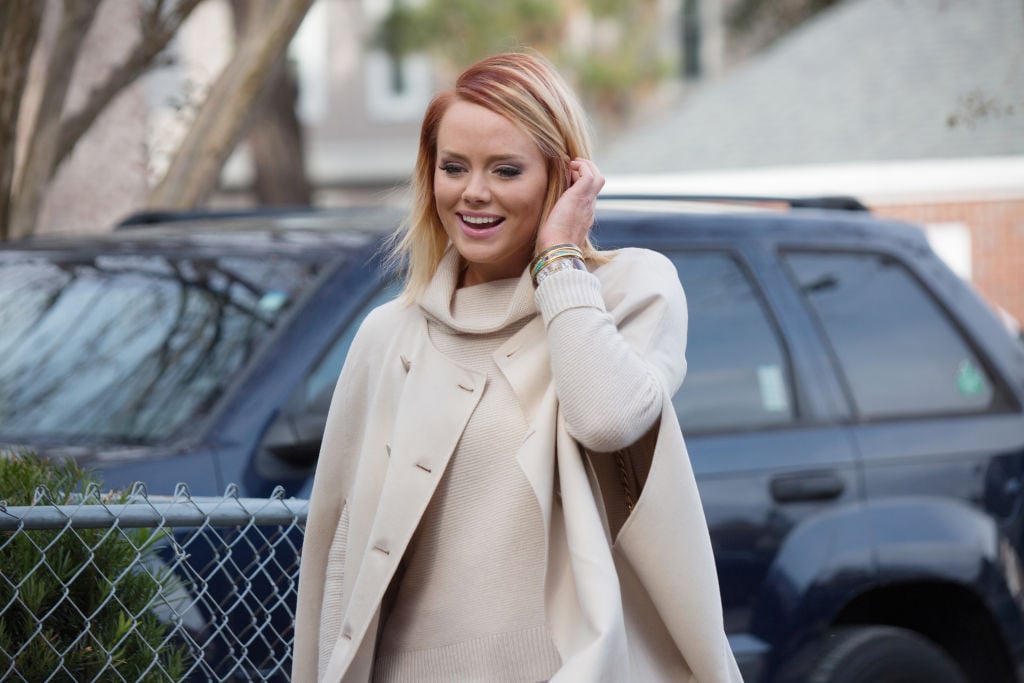 With the drama in Season 6 getting crazier and crazier each week, let's take a moment to look at the ten most insane moment in Southern Charm history – both on and off the screen. Not surprisingly, Kathryn Dennis is involved in just about every one of them.
10. Chivalry Is Not Dead
During Season 1, Episode 6, the Charmers gathered for a dinner party at Thomas Ravenel's house. When the subject of dating in Charleston came up, Kathryn Dennis disagreed with Craig Conover when he claimed chivalry wasn't dead.
"You don't even know what you're talking about, which is the sad part," Dennis told Conover, to which he replied, "Don't come at me just because I don't like you anymore Kathryn."
Dennis noted that the way Conover was talking to her proved her point, and then she tells Shep Rose that she doesn't want to have a conversation with people who have zero class, but think they do. And, this is when Conover drops the bomb.
"Sleeping with three people at this table in the course of three weeks isn't class. So, please don't make comments about class," said Conover.
9. Hilton Head
During Season 5 of Southern Charm, there was a major fight between Ashley Jacobs and Kathryn Dennis during their trip to Hilton Head with Chelsea Meissner. Instead of enjoying a nice vacation, Ashley decided to question Kathryn's parenting skills because she was mad she didn't score an invite to Saint's birthday party.
"I see those children more than you see them," said Jacobs. "How many times did you visit your son?"
Later, Dennis warned Ravenel about Jacobs when they were at the Winter Ball, telling him that she is "psycho," and declaring that she won't accept Jacobs being around their children.
8. Thomas Ravenel's Arrest
The drama between Ravenel, Dennis, and Ashley was a major storyline during Season 5. But, just weeks after the season ended, police arrested Ravenel on charges of sexual assault, and Bravo ended up firing him from the show he had starred in since the very first episode in 2014.
Ravenel allegedly assaulted Nanny Dawn, who took care of his kids, as well as another woman he met on Tinder. Ravenel allegedly paid off his Tinder date to keep her quiet about the incident, but police arrested him in September 2018, three years after both incidents allegedly occurred.
7. Kathryn Dennis Goes to Rehab
After Kathryn and Thomas broke up in 2016, she failed a court-ordered drug test by testing positive for cannabis. This led to her losing custody of Kensie and Saint, the two kids she shares with Ravenel, so she ended up in a California rehab facility.
Southern Charm documented Dennis' recovery over the next two seasons, and in July 2018 the court granted her 50/50 custody of the kids. Now, she is fighting for primary custody after Ravenel's arrest, and he claims that she has a prescription drug problem.
"[Kathryn] abuses prescription drugs, is engaged in the use of illegal drugs, and consumes alcohol in combination thereof regularly," Ravenel claimed in paperwork he submitted to the court in January 2019. "[Kathryn] has been intoxicated by the abuse of prescription drugs and/or use of illegal drugs while in sole care."
6. Kathryn Dennis explodes on Whitney Sudler-Smith
In episode 9 of Season 2 of Southern Charm, the cast visits Jekyll Island, and when Craig Conover voices his concern about Kathryn Dennis and her struggle to fit in without Ravenel by her side (he was out campaigning for a Senate seat) Whitney Sudler-Smith called him out and accused him of being disingenuous. After all, Conover had a history of not liking Kathryn, but he said things changed when she had her baby.
At the exact moment Craig tells Whitney that nobody talks to Kathryn unless they are sleeping with her, Kathryn walks in. Craig then tells Kathryn that everyone is questioning their friendship, and this is when Kathryn loses it on Whitney.
"You wanna challenge me? You don't know s**t!" says Kathryn before telling Whitney that he should go home and take lessons from his mother. She then adds that he should go fall on a knife. Kathryn also accuses Whitney of thinking he is above everyone, then puts him in his place by calling him "scum."
Kathryn doesn't care how much money Whitney has because she has a good heart, to which he replies, "Your heart is a black space where a dollar sign is."
5. Everyone argues about Kathryn
During Season 4, episode 8, the Southern Charmers are gathered – sans Kathryn – at Patricia Altschul's for an Indian-themed dinner party. After dinner, Whitney brings up Kathryn and Thomas' custody battle and says that Kathryn reached out to him because she wanted to make amends (she was in a 12-step program at the time).
This leads to everyone in the group arguing about Kathryn, with some willing to welcome her back into the group, while others wanted no part of it. Shep Rose wants everyone to take the high road, but Landon Clements strongly disagreed.
That's when Rose tells Clements she couldn't find the high road with a map and a GPS tied around her neck. The dinner party came to an end immediately.
4. Craig Conover isn't a lawyer
During the earlier seasons of Southern Charm, Craig Conover went to great lengths to hide the truth about his law school education. By Season 3, his co-stars really started to question his claims about graduating from law school and passing the bar exam.
During the Season 3 reunion, Conover finally admitted that he didn't graduate from law school like he claimed because he didn't turn in his thesis paper, and therefore, he hadn't taken the bar exam. Finally, in 2018, Conover finished his thesis and took the bar exam, which he passed.
3. Friends with Benefits
Fans knew that Kathryn Dennis and Shep Rose hooked up during Season 1, but the common belief was that it was just a one time thing. But, during Season 5, the duo revealed that they hooked up numerous times after Kathryn gave birth to Kensie.
"After Kensie was born, Shep and I kind of like hooked up again. Actually, since then, a few times," revealed Kathryn. "But it never went anywhere. I still play with the idea because I don't know…we have good sex, whatever. And he's cute and fun."
2. J.D. Madison's financial problems and cheating
J.D. Madison showed off his business skills on Southern Charm when he opened The Gentry Bar & Room, which turned out to be a popular restaurant in Charleston – until he failed to pay the rent. Madison owed the landlord $163,233 in unpaid rent, forcing the restaurant to close in 2017.
A year later, police arrested Madison for allegedly writing a bad check. And, at the beginning of Season 5, Naomi Olindo claimed that Madison was unfaithful to his wife, Elizabeth.
"I literally go to your house almost every day and pick your wife up out of bed," said Naomi. "So don't pretend you are some great husband, some great family man, because it's a f–king bulls–t lie."
Olindo also accused Madison of going out every night and having sex with 20-year-old's, an accusation he denied.
1. Thomas Ravenel and Ashley Jacobs Split
After bringing the drama in Season 5, Ravenel and Jacobs suddenly split after the reunion aired, and he took to Twitter and accused his ex of cheating on him. Ravenel wrote that he finally understood the lyrics to the Chicago song If She Would Have Been Faithful.
After Jacobs threatened legal action, Ravenel backtracked and said he had no proof that Jacobs cheated on him. Not long after the breakup, Bravo fired Ravenel after police arrested him for sexual assault charges, and Jacobs' said she wouldn't return to Southern Charm.
However, when Bravo released the Season 6 trailer, Jacobs was back, and the Southern Charmers were not happy. She reportedly shot three different scenes with various cast members but has since moved back to California.
New episodes of Southern Charm air Wednesday nights on Bravo.