'The 100' Star Marie Avgeropoulos Reveals What Octavia Learned From Bellamy in the Final Season
'The 100' star Marie Avgeropoulos reflects on the softer side of Octavia in season 7, including the lessons she learned from her brother Bellamy (Bob Morley).
Siblings Octavia (Marie Avgeropoulos) and Bellamy (Bob Morley) have had a rocky relationship on The 100. She's disowned him, he's exiled her. And you thought you had sibling rivalry. As The 100 wraps up its seventh and final season, Octavia is utilizing more of Bellamy's teaching than she ever expected to, Avgeropoulos says.
[Spoiler alert: This article contains spoilers for previous episodes of The 100.]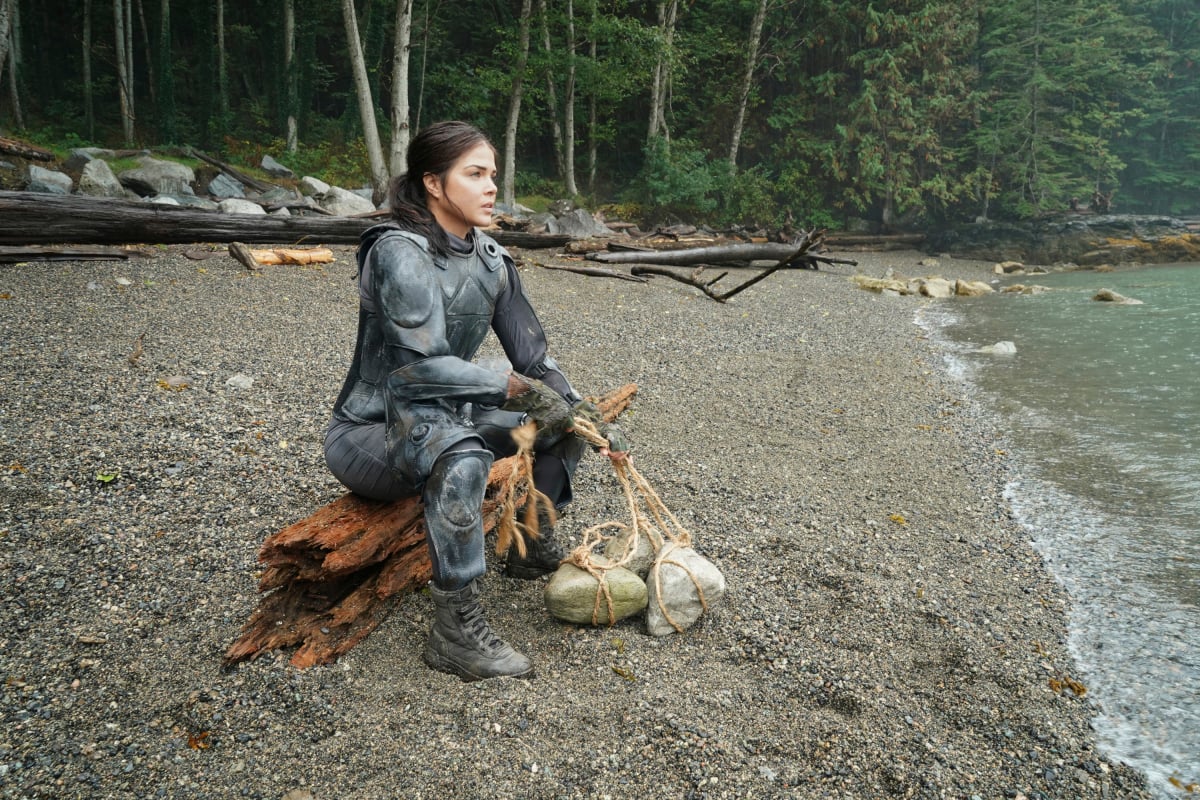 Avgeropoulos was part of The 100's San Diego Comic-Con@Home panel on July 26. Fans have been watching Octavia raise Hope (Shelby Flannery) in Skyring and waiting for her return. The 100 airs Wednesdays at 8 p.m. on The CW.
Marie Avgeropolous on how motherhood has changed Octavia on 'The 100'
The 100 has been a constantly evolving show and Avgeropoulos reflected on how much Octavia has changed every season. This leads her to her current role in season 7.
"It was a pleasure for me to play Octavia again because she's always changing her dynamics every single year," Avgeropoulos said. "We've seen her become a warrior and then she was trying to figure out who her family was. This year it was really cool to play a very nurturing, self-actualized version of herself because it's something we can all relate to right now."
How Bellamy influences Octavia raising Hope on 'The 100'
Octavia and Bellamy didn't get much of a chance to reunite. If Bellamy survived the grenade blast, fingers crossed, chances are they'll have a lot more ways to relate to each other now. Where Octavia may have pushed back against Bellamy in the past, now she understands.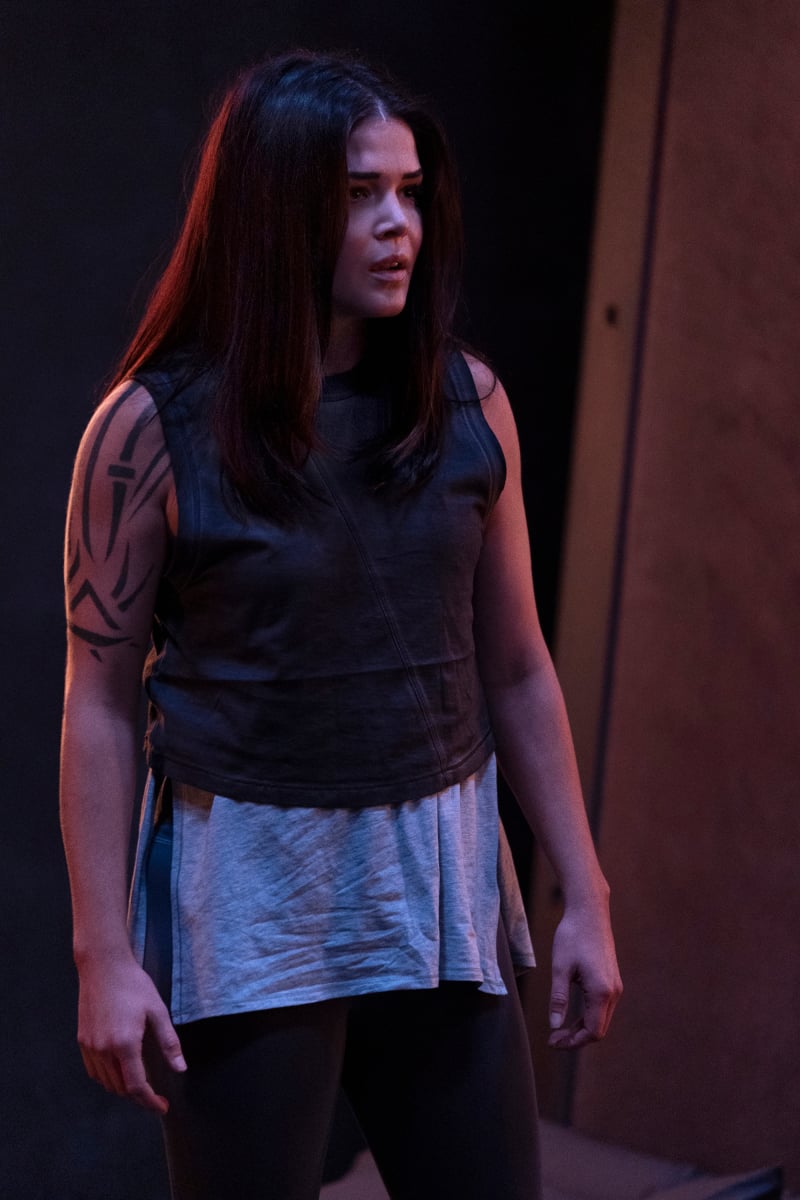 "Being in isolation, there on Skyring, she understands exactly what Bellamy meant all these years just by being in isolation," Avgeropoulos said. "When you're in isolation you're forced to think about your stuff. Of course, then there's Hope, lovely Shelby, and making this new makeshift family. Actually, she gets to use the tools Bellamy taught her to parent. I thought that was a really nice softer version of Octavia we hadn't seen before."
Keeping track of Skyring vs. Sanctum
Time flows differently on Skyring than it does on Sanctum, where Bellamy and the rest of the remaining survivors live. Cast members say they had charts in the hair and makeup trailer to help them keep track of where and when they were relative to each realm each day. 
"It's like when you read the funnies in the morning and then there's the crossword puzzle," Avgeropoulos said. "You can kind of go okay, and then start your day with that."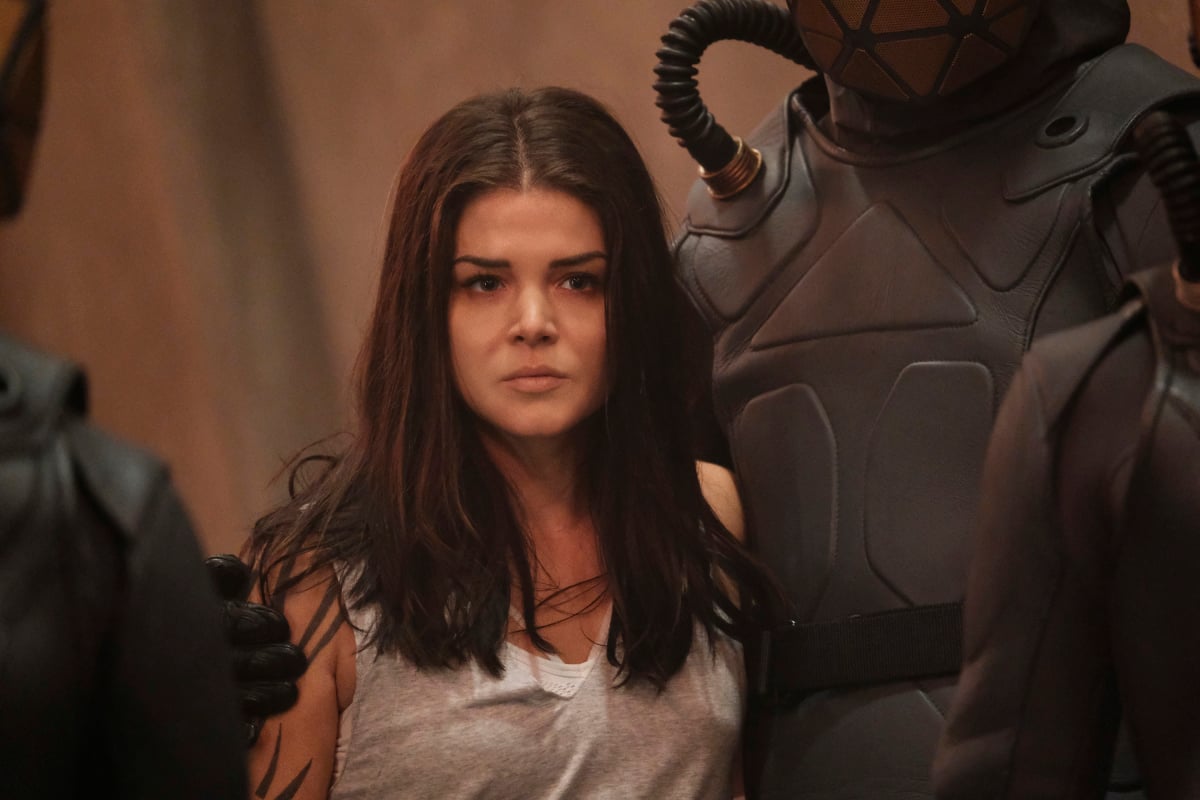 Flannery said the rapid portrayal of Hope's growth helped her play the character.
"You see her whole childhood pretty much immediately," Flannery said. "I'm getting all this beuatiful, beautiful context of her life made it a lot easier for me. Everything shifted right away so that was also a challenge, but an amazing acting exercise. Immerse is what you have to do. You have to throw yourself in 100% in order to find the magic. The cast made it a lot easier on me because they're all incredibly accepting and loving." 
'The 100' began and ended with diversity
As the final episodes of The 100 air, Avgeropoulos thanked Rothenberg for creating a series with roles for men and women from all different backgrounds. 
"I just think equality is so important," Avgeropoulos said. "I'm just so happy to be proud and I know all of you and my wonderful castmates that I've had the wonderful opportunity. And Jason as well and everybody behind the scenes who have made this collaboration work, to be part of a diverse show that's been diverse since day one. I think that's really important and I'm really proud to be a part of that team 100%."