The 15 Most Shocking 'Real Housewives' Fights Ever
These ladies know how to bring the drama! No matter which city they are in, the Housewives have had their share of nasty fights over the years. Here is our list of the 15 most shocking Real Housewives' fights ever.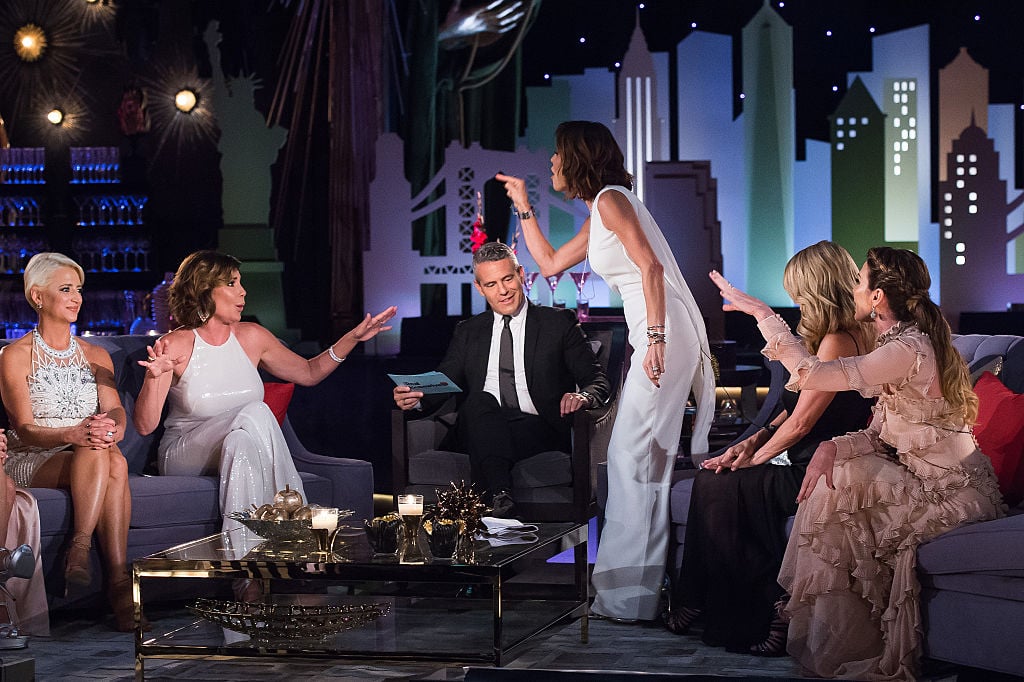 15. The Berkshires – 'Real Housewives of New York City'
Bethenny Frankel recently had a meltdown in Miami over Luann de Lesseps' selfish behavior, but that wasn't the first time the two women had it out. During a trip to the Berkshires, the women were at Dorinda Medley's house, and Frankel lost it over de Lesseps' hypocrisy. Their fight went on for hours after Frankel accused the Countess of sleeping around and made it clear she had no part in creating Skinnygirl, despite de Lesseps' claims.
14. The 80s Party – 'Real Housewives of Orange County'
Vicki Gunvalson and Gretchen Rossi have never gotten along, and things got nasty at an 80s party when Rossi's fiance Slade Smiley called Gunvalson ugly while she was dressed up in her 80s style, complete with crimped hair.
Gunvalson called Smiley a deadbeat, and then there was lots of shouting between the three, complete with bright neon colors.
13. Kim & Kyle Richards meet Brandi Glanville – 'Real Housewives of Beverly Hills'
At the beginning of RHOBH Season 2, Kim and Kyle Richards met Brandi Glanville at a game night. But, when an obviously drunk Kim hid Brandi's crutches, it led to an unforgettable confrontation. The former child stars were not too thrilled with Brandi since she was the new girl, but she wasn't afraid to call Kim out for drinking again.
Both Kim and Kyle denied Brandi's claims. But, as fans know, she was absolutely right. Kim was an addict and eventually ended up in rehab after producers fired her, but not before she and Kyle had another heated argument with Brandi in Season 2. Brandi accused Kim of doing "crystal meth in the bathroom," and Kyle defended her sister by calling Brandi a "slut pig."
12. The Leg – 'Real Housewives of New York City'
Before Aviva Drescher walked away from the Real Housewives of New York City in Season 6 after the cast questioned her asthma, she made it clear during a dinner party that "the only thing artificial or fake about me…is this!" She then proceeded to throw her prosthetic leg onto the table. The only reason this isn't higher on the list is that Drescher later admitted that it was a stunt for Bravo cameras.
11. Jill v. Bethenny – 'Real Housewives of New York City'
Jill Zarin and Bethenny Frankel used to be best friends, but their friendship exploded in front of Bravo cameras when Jill allegedly told the rest of the cast not to film with Bethenny because she was getting her own spinoff.
Jill wasn't happy that Bethenny wasn't there for her during her husband Bobby's battle with cancer, and when she allegedly leaked stories to the press about Bethenny, the Skinnygirl mogul told her to get a hobby. After battling all season, the two were "done," but eventually reconciled after Bobby passed away.
10. Don't Walk Away – 'Real Housewives of Miami'
During a lingerie party that was a benefit for breast cancer research, Girls Gone Wild creator Joe Francis showed up after claiming that he had slept with both Joanna Krupa and her sister, Marta. This led to Adriana De Moura saying, "Joe Francis was right, they're just Polish immigrants trying to get a plate to eat food in."
A nasty fight followed between Krupa, a Polish model, and De Moura. And, when De Moura tried to walk away, Krupa followed, which led to De Moura punching Krupa in the face.
9. Sisters at war – 'Real Housewives of Beverly Hills'
During the first season of Real Housewives of Beverly Hills, sisters Kim and Kyle Richards got into a nasty brawl after Kim accused Kyle of stealing her house, and then Kyle fought back by revealing that Kim was an alcoholic.
8. Scary Island – 'Real Housewives of New York City'
Bethenny Frankel and Kelly Bensimon fought a lot, but nothing beats their trip to St. John during Season 3. Bensimon was most likely intoxicated, and she wouldn't let her argument with Frankel go. She started rambling about Don King, satchels of gold, and vampires, and then Frankel got up from dinner and yelled at Bensimon to "go to sleep!"
7. The wig comes off – 'Real Housewives of Atlanta'
Sheree Whitfield and Kim Zolciak got into a heated argument outside of a restaurant during Season 2. And, when Zolciak tried to walk away, things got physical. Whitfield went for Zolciak's hair and ended up pulling off her wig.
6. The cancer hoax – 'Real Housewives of Orange County'
Season 10 of RHOC was all about Vicki Gunvalson's then-boyfriend Brooks Ayers cancer battle, which her co-stars questioned. Gunvalson fought the entire cast during the season until Ayers admitted that he had fabricated medical documents. He didn't have cancer, and Gunvalson ended the relationship. To this day, Gunvalson says she had no idea Ayers was lying.
5. Don't talk about Harry – 'Real Housewives of Beverly Hills'
During a trip to Amsterdam during Season 5, Kyle Richards threatened to reveal a secret about Lisa Rinna's husband, Harry Hamlin, implying that he had cheated on her. Rinna lost it on Richards, lunging at her and screaming "Never go after my husband!" while shattering a wine glass on the table.
4. The battle of the Joes – 'Real Housewives of New Jersey'
The Giudices and Gorjas were attempting to heal their two families with a retreat during Season 5. But, after Joe Gorga called his sister, Teresa, "scum," Joe Giudice attacked his brother-in-law. Things got physical as the two tackled each other, and it took two bodyguards to break it up.
3. Who gonna check me boo? – 'Real Housewives of Atlanta'
During Season 2 of RHOA, Sheree Whitfield met with her party planner, Anthony, to talk about an upcoming event. One of the party details was a poet who was supposed to write a poem, and Whitfield got upset because she hadn't met him yet.
Anthony and Sheree get into a heated war of words, leading to his co-workers closing the door so they didn't have to hear it. Sheree utters her famous line turned catchphrase: "Who gonna check me boo?" And then ends the fight by asking, "Whatever happened to customer service?"
2. The Reunion – 'Real Housewives of Atlanta'
There's nothing like a fight that ends with an arrest, and that's exactly what happened at the Real Housewives of Atlanta Season 6 reunion. Kenya Moore claimed that Porsha Williams cheated on her husband (who she has since divorced), and Williams lost it. Porsha pulled Kenya to the floor by her hair in a fit of rage, and security had to forcibly separate the two.
Porsha was asked to leave, and then Kenya filed a police report that resulted in Porsha's arrest on assault charges.
1. The table flip – 'Real Housewives of New Jersey'
Even if you have never watched an episode of any Housewives series, you probably know about the table flip. During the Season 3 finale of RHONJ, Teresa Giudice got into it with Danielle Staub over the book A Cop Without a Badge.
Giudice came hard with the insults, calling Staub a "prostitution whore," and then flipped over the dinner table while screaming every expletive known to man. It's an iconic moment that made Teresa Giudice a household name.