The 20+ Best Movies to Watch on St. Patrick's Day 2021
Many of us will be having a much quieter St. Patrick's Day in 2021. What better way to celebrate our "new normal" holidays than with a binge-watching session or two? Here are over 20 of the best movies you can dig into to celebrate the luck of the Irish at your low-key St. Paddy's Day celebration.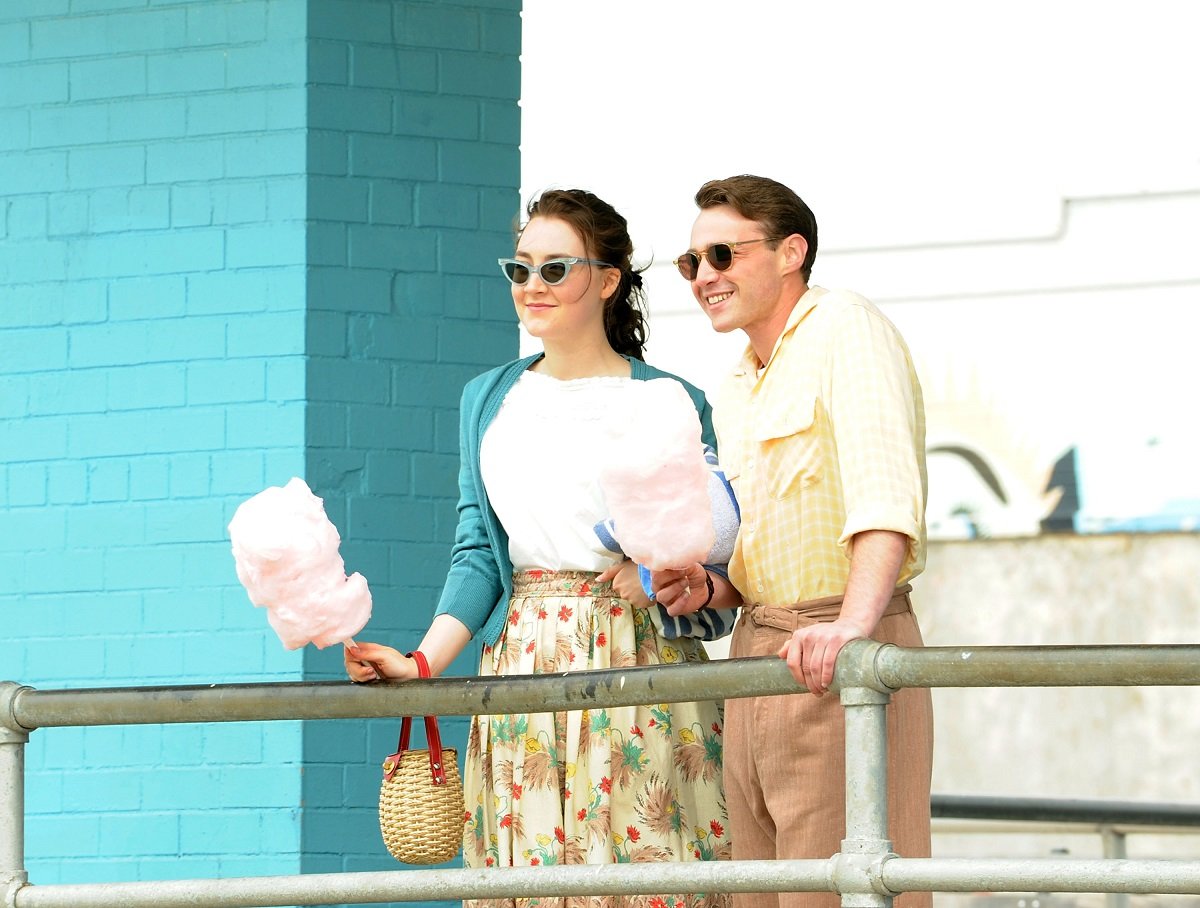 'Brooklyn'
Saoirse Ronan and Emory Cohen shine in Brooklyn, a 2015 romantic period drama based on Colm Tóibín's novel of the same name. Ronan plays Eilis, an Irish girl who moves to Brooklyn not long after World War II and wrestles with her identity while finding love with Tony, a local Italian-American boy.
'The Secret of Kells'
Academy Award-nominated animated feature The Secret of Kells (2009), which tells the story about The Book of Kells – an illuminated manuscript from 9th-century Ireland, during the age of Viking expansion – is the first in Tomm Moore's acclaimed Irish Folklore Trilogy.
'Song of the Sea'
Song of the Sea, the second installment in Moore's Irish Folklore Trilogy, was also nominated for an Academy Award. In this animated fantasy, a young Irish boy discovers that his nonspeaking sister, Saoirse, is a selkie tasked with setting faerie creatures free.
'Wolfwalkers'
Wolfwalkers, available on Apple TV+, was nominated for an Academy Award, a BAFTA, and a Golden Globe. In the third and final installment of Moore's Irish Folklore Trilogy, a young girl whose father is training her in the art of wolf hunting grows close to a Wolfwalker – another young girl who turns into a wolf at night.
'In the Name of the Father'
Daniel Day-Lewis and Emma Thompson star in the critically acclaimed, Academy Award-nominated film In the Name of the Father (1993). The movie follows the story of four falsely convicted people who were blamed for the Guildford pub bombings in 1974.
'Waking Ned Devine'
Shenanigans ensue when Ned Devine, the most reclusive man in a small Irish village of just over 52 people, wins the Irish National Lottery in the 1998 comedy Waking Ned Devine.
'Herself'
Herself, directed by Phyllida Lloyd and starring Clare Dunne (who co-wrote the screenplay with Malcolm Campbell), is a harrowing look at the problem of domestic violence in Ireland. A single mother fights her abusive ex for custody of their daughters – and finds hope, and a home, in her community – in this drama, which debuted at Sundance in 2020.
'Once'
A busker and a Czech flower seller fall in love after a chance meeting in Dublin in Once, a 2007 movie musical directed by John Carney. The film's soundtrack was nominated for a Grammy, and one song – "Falling" – won the Academy Award for Best Original Song in 2008.
'Good Vibrations'
Set in the 1970s, Good Vibrations (2013) tells the story of Terri Hooley, a groundbreaking record store owner and activist who played a key role in Belfast's underground punk scene.
'The Commitments'
The Commitments (1991), is a cult classic Irish film about a music lover who persuades a number of working-class Dubliners to join his soul band, The Commitments.
'Wild Mountain Thyme'
Jamie Dornan, Emily Blunt, Jon Hamm, Christopher Walken, and Dearbhla Molloy star in Wild Mountain Thyme, a 2020 romantic drama based on John Patrick Shanley's Tony Award-nominated play, Outside Mullingar. Rosemary has always been in love with her neighbor, Anthony – but he's never been aware. When Anthony's father threatens to leave the family farm to his nephew instead of his son, Rosemary jumps in to help.
'Michael Collins'
Liam Neeson stars as Irish revolutionary Michael Collins in this Academy Award-nominated and critically acclaimed biopic about the struggle for Irish independence. Michael Collins (1996) won the coveted Golden Lion at the Venice Film Festival.
'Sing Street'
In Sing Street, a Golden Globe-nominated musical comedy directed by John Carney, a boy tries to start a band in hopes of impressing a girl in inner-city Dublin in the 1980s.
'Wake Wood'
Wake Wood (2009) is a haunting supernatural horror film set in Northern Ireland. After their only daughter is brutally killed by a dog, a couple moves to the isolated rural village of Wakewood to escape their haunting memories. But they find themselves haunted once again when they decide to misuse a pagan ritual they witness there.
'P.S. I Love You'
Hilary Swank and Gerard Butler star in P.S. I Love You (2007), based on Irish novelist Cecelia Ahern's book of the same name. A widow finds her identity all over again when she discovers a series of notes from her late husband that urge her to continue on without him.
'The Crying Game'
The Crying Game (1992), a critically and commercially successful thriller, showcases the intense relationship between a member of the IRA and the lover of a British solider amid the Northern Ireland conflict.
'The Wind That Shakes the Barley'
Ken Loach directed The Wind That Shakes the Barley (2006), a well-received war drama that won the Palme d'Or at the Cannes Film Festival. The film follows two brothers who join the IRA during the Irish War of Independence and the Irish Civil War.
RELATED: EXCLUSIVE CLIP DEBUT: Upcoming Thriller 'The Vault' Starring Freddie Highmore, Astrid Bergès-Frisbey
'Hunger'
BAFTA-nominated drama Hunger (2008), starring Liam Cunningham, Michael Fassbender, and Liam McMahon, follows the 1981 Irish hunger strike among Irish republican prisoners.
'Citadel'
In Citadel (2012), an Irish psychological horror film, a widower fights for his baby's life amid PTSD and agoraphobia after his pregnant wife is brutally murdered by a group of teens.
'Calvary'
Brendan Gleeson stars as Father James, an Irish priest who is unexpectedly threatened with his imminent murder from behind the wall of a confessional, in Calvary (2014).
'Leap Year'
Amy Adams plays a woman who plans to propose to her longtime boyfriend in Ireland on Leap Day – but ends up pitted against a cynical Irish innkeeper instead – in the 2010 romantic comedy Leap Year.
'Ondine'
In Ondine, a 2009 romantic drama based on Irish mythology and folklore, Colin Farrell accidentally sweeps up a beautiful young woman – who turns out to be one of the selkie – into his fishing net.
'The Boondock Saints'
In the 1999 cult classic The Boondock Saints, Irish-American twin brothers, played by Sean Patrick Flanery and Norman Reedus, launch a new life and a bloody campaign as vigilante justice-seekers in Boston.
'The Magdalene Sisters'
The Magdalene Sisters is a harrowing, intense, and critically acclaimed drama based on the true story of the mistreatment of young girls by nuns in the Magdalene asylums for "fallen women."