The 2003 Music Video That First Sparked Beyoncé and Jay-Z Dating Rumors
In 2003, Jay-Z and Beyoncé performed together in Beyonce's Crazy in Love video; since then, the superstar couple has taken the music industry by storm and showed their fans the true power of love. It's been a long time since an issue of Vanity Fair had to inform readers how to pronounce Beyoncé's name (Beyoncé …
In 2003, Jay-Z and Beyoncé performed together in Beyonce's Crazy in Love video; since then, the superstar couple has taken the music industry by storm and showed their fans the true power of love. It's been a long time since an issue of Vanity Fair had to inform readers how to pronounce Beyoncé's name (Beyoncé [rhymes with "fiancé"] Knowles), she's now a household presence and a symbol of marriage and love to which fans can aspire. Their romance may be powerful, but it's also been pretty secretive. Their fame hasn't gotten in the way of their ability to keep their private life on the down-low.
Jay and Bey kept their relationship under the radar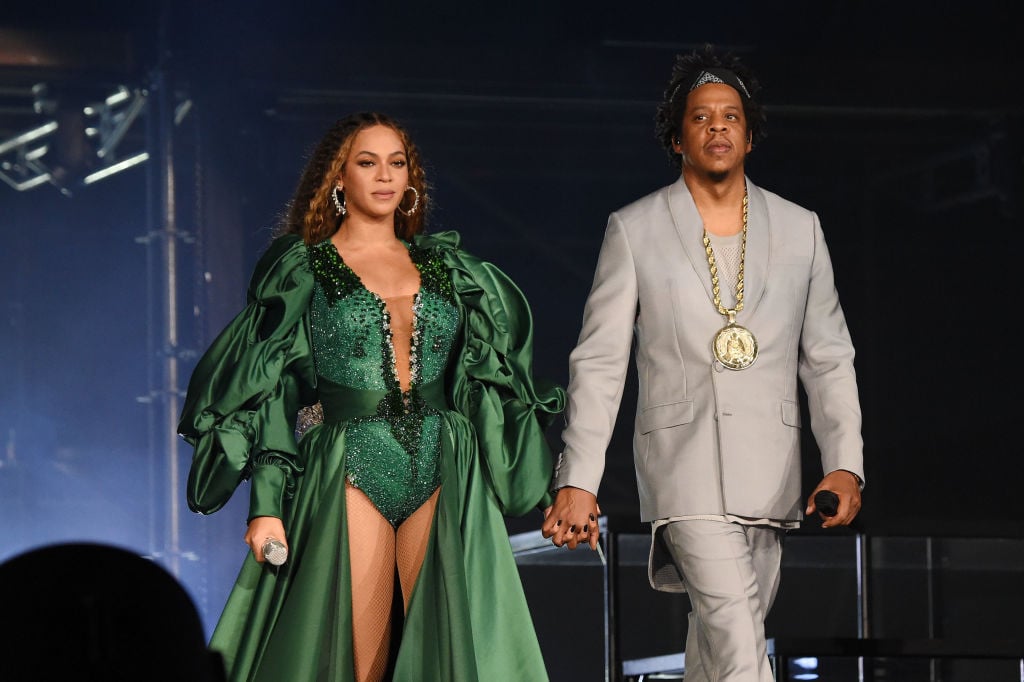 According to StyleCaster, it's been speculated that their relationship started as early as 2002 when Jay-Z's single Bonnie and Clyde hit the charts. Rumors about their relationship definitely began to spiral upward then. But, it was years until the couple would actually admit they were dating. Jay-Z did admit to Vanity Fair that he and Beyoncé were starting things up around the time they both posed for the magazine's music issue way back in 2001 but Beyoncé tells fans it was much later than that. On the magazine's cover, in which they posed with a number of other singers, the pair weren't even positioned on the same side of the fold, yet there were already sparks flying.
Their friendship was key to their relationship
Beyoncé told Oprah that they "were friends first for a year and a half before we went on any dates," she said, " … we were on the phone for a year and a half, and that foundation is so important for a relationship. Just to have someone who you just like is so important, and someone [who] is honest."
Their friendship has been evident from day one as evidenced in their diehard support for one another. Even before they publicized any kind of relationship they could be seen at each other's events offering support and encouragement.
Secretly, fans think Jay-Z and Beyoncé have always been 'Crazy in Love'
When the pair dropped their Crazy in Love video, fans were convinced that they were a couple. Though this was not the first time they had collaborated on music, the chemistry evident in this video was tangible. According to E!, Jay-Z denied any relationship when asked by Playboy if they were a couple. "She's beautiful." He admitted. "Who wouldn't wish she was their girlfriend? Maybe one day." Fans had a hunch that the pair were actually much closer than they were letting on. 
Beyoncé explains to fans in an MTV Making of the Video documentary, that the song is simply about a girl who is crazy in love. "[It] celebrates the evolution of a woman. It is about a girl who is at the point of a relationship. She realizes that she is in love…" Beyoncé elaborates that "she is doing stuff she would not normally do, but she does not care. It does not matter she is just crazy in love." Those emotions are evident in the elaborate dance sequences and how fast the song quickly rose to number one on the charts.
This power couple still makes music together despite some scandal
In true Jay-Z and Beyoncé form, reports of an affair were kept pretty quiet and details not leaked to the media. Speculations still swarm through message boards as to which women might have been involved in Jay-Z's adultery. The bottom line though? The couple worked through their issues because they valued their marriage.
After all of the cheating drama, the couple released their album "Everything is Love" in June of 2018. The last track on the album is a dedication to their commitment to each other. Beyoncé sings, "We're flawed but we're still perfect for each other, baby."