'Grey's Anatomy': The 5 Most Devastating Moments Ever— Ranked—For When You Need a Good Cry
Over the past 15 and a half years, Grey's Anatomy fans have been put through the trenches with devastation. There were several car crashes, a plane crash, a bus crash, a train crash, and a sinkhole.
Don't forget the active shooter, two explosions in the hospital, the earthquake, and the ferry crash. Somehow, viewers love every minute. Let's take a look at the most devastating moments in Grey's Anatomy history.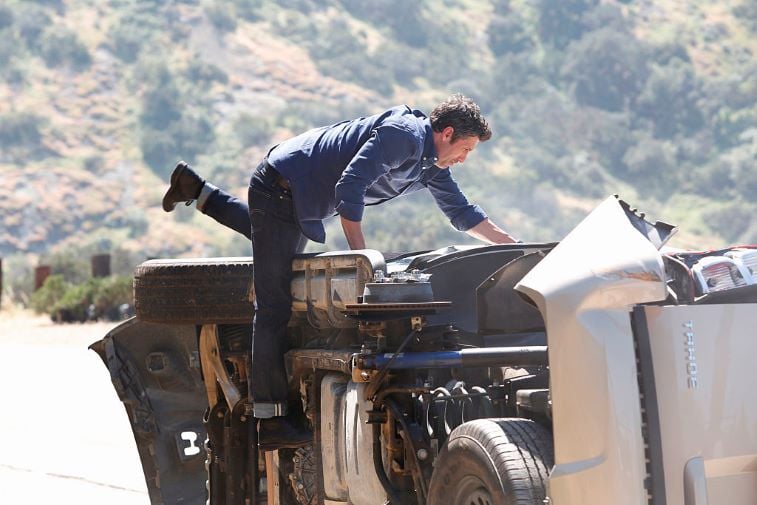 5. The first massive explosion and death on 'Grey's Anatomy'
For Grey's Anatomy's second season, Rhimes amped up her writing for the Prime Time slot after the Super Bowl. For two back-to-back episodes of full-out gut-wrenching drama, viewers sat on the edge of their seats, hoping that Meredith Grey (Ellen Pompeo) would not explode.
A patient came into the ER with live ammunition in his chest and paramedic, Christina Ricci, as the only thing holding off an explosion. Of course, Meredith ends up with her hand on the bomb inside the person's chest. When Meredith manages to remove the explosives successfully, she passes it to bomb squad leader Dylan (Kyle Chandler).
Fans let out a sigh of relief until Dylan blows up as he is walking away with the bomb. This event marks the first indication of the devastation to come on Grey's Anatomy.
4. The devastating bus accident that took the life of a major character
Next, we witnessed the first tragic demise of a fan-favorite character. The beginning of the bus accident episode during season five started as a typical case at Seattle Grace. John Doe jumped out in front of a bus to save a woman's life, and he is rushed to the ER.
Fans are left in the dark the entire episode as the surgeons work to save John Doe. It is too late for George O'Malley (T.R. Knight) when Meredith finally realizes that he is spelling out "0-0-7" in her hand. At the same time, Izzie Stevens (Katherine Heigl) flatlines and sees George in his Army uniform. Viewers are still distraught that George died, and Izzie did not.
3. The active-shooter in Seattle Gracy-Mercy West Hospital
Season six took the devastation to a whole new level with a two-part finale involving an active shooter. A grieving widower enters the hospital with a gun and proceeds to hunt down the doctors who he feels are responsible for the death of his wife.
He shoots both Alex Karev (Justin Chambers) and Derek Shepherd (Patrick Dempsey). Meredith suffers a miscarriage right after Derek flatlines. Reed (Nora Zehetner) and Charles (Robert Baker) are murdered, and Bailey (Chandra Wilson) is dragged out from under a hospital bed, where she was hiding after trying to protect her patient (Mandy Moore).
Richard Webber confronts the shooter when he has one bullet left. Instead of shooting Webber, the widower takes his own life.
2. The death of Derek 'McDreamy' Shepherd in a car crash
After helping several people out of a dangerous car accident, Derek got back in his car to return home, only to be hit by a semi-truck. When he is rushed to a local ER, he is conscious but cannot speak. He is silently begging the doctors to rush him in for a head CT scan, but they skip the scan and send him straight into surgery.
Derek dies on the table, leaving Meredith unable to say goodbye to her husband. Many fans ugly cried during this tragic episode. Viewers still argue that Derek deserved a better ending. However, Rhimes could only do so much when Dempsey wanted out of his recently-extended contract earlier than she expected.
1. The Catastrophic Plane Crash
Although some viewers might argue that the death of McDreamy should be at number one, others whole-heartedly sob during the plane crash you will never forget.
At the end of season eight, Meredith, Cristina (Sandra Oh), Derek, Lexie (Chyler Leigh), Arizona (Jessica Capshaw), and Mark (Eric Dane) board a small plane to Boise, Idaho to perform an epic surgery, separating conjoined twins.
On the way there, the plane crashes in a forest, leaving over half the cast of Grey's Anatomy fighting for their lives. Lexie dies as Mark confesses his love to her. Mark soon follows after spending an entire month on life support back in Seattle. Arizona loses her leg and is never the same again (at least not for many seasons). It was the tragedy fans are still not over.
If you are ready for more devastation, Grey's Anatomy is still going strong in its 16th season. It will return from winter break on Jan. 23, 2020, to ABC's 9 p.m. time slot on Thursday nights.