The 7 Most Hysterical 'Baby Yoda Problems' Memes Trending on Twitter Right Now
In the fall of 2019, a new baby took social media by storm. It wasn't Prince Archie or Psalm West. The little guy wasn't even human, and Baby Yoda isn't his real name. We don't even know what his given name is, but we love him all the same.
The little green creature from Disney +'s new Star Wars series, The Mandalorian, was the most Googled baby of 2019, but he didn't stop there. Now, there's a new hashtag trending on Twitter featuring the child; #BabyYodaProblems.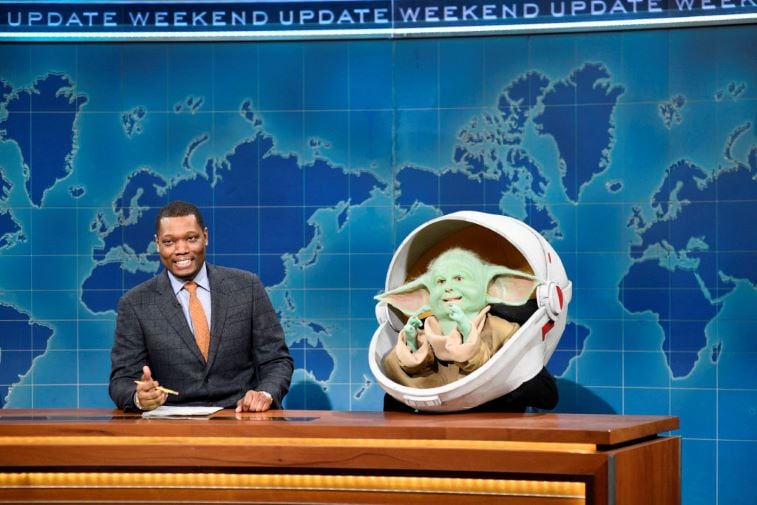 Where did #BabyYodaProblems come from?
We know that Baby Yoda is Mando's sidekick in The Mandalorian; however, the series completed their first season on Dec. 27, 2019. Why is the tiny green guy still trending on Twitter, over two weeks later? 
"The fact that #BabyYodaProblems is trending is the best thing in my life right now," wrote one Twitter user.
We have no real explanation for the trend, except for the feeling that he is adorable, and the memes are hysterical. Let's take a look at the top seven favorites right now.
The other side of the room is 3 hours away
The poor little guy is so short that it takes that much longer to walk everywhere. Fans are here for it. Viewers on the shorter side can surely relate to this one.
"I wonder how many steps it would take him," commented one fan.
When all you want to do is drive and go 'pew, pew, pew'
"But Dad says, 'no," wrote the Twitter user.
This clip of Baby Yoda trying to drive the speeder is used in an enormous number of #BabyYodaProblems with various other hysterical captions.
"When you're not getting enough attention, so you decide to crash the ship," from another fan, is also a noteworthy caption to this gif.
Pureed isn't the same as fresh
"This is brilliant," added one fan in the comments of the tweet.
One Twitter user added Baby Yoda's head to the Gerber baby food jar, along with a frog. The baby food jar now reads, "Frog and gravy." It's no secret that our favorite little green creature eats frogs whole, not pureed. This one is very clever.
When the bartender keeps ignoring you
"55 years old, won't even look at his ID," comments one Twitter user.
This tweet has fans cracking up over the realness of the issue for anyone who was in a busy bar recently.
Cats still don't care about how cute I am
"When I see a cat," reads the top picture with an adorable Baby Yoda peeking around the corner, looking longingly at a cat.
"When I psst, psst, psst at it, but it won't come to me," reads the bottom picture with a very troubled Baby Yoda.
We know cat memes are hugely popular on Twitter, so if you combine a cat joke with a Baby Yoda meme, it's sure to skyrocket to the top of the trending tweets.
I just wanted to play with the cat
The Star Wars creature in this gif is not a cat, but it's close enough. Cat-like animals just do not want to play with our little green friend.
Baby Yoda steals the 'woman yelling at a cat' meme
It turns out that Baby Yoda might be funnier than even cats. Taylor Armstrong from The Real Housewives of Beverly Hills found herself the subject of a viral cat meme in May of 2019. In the photo, she is part of an emotional confrontation with Camille Grammer, while Kyle Richards tries to calm her down, according to Oprah Magazine. 
When placed next to the cat who also looks like he is screaming, the meme quickly went viral. Now, Baby Yoda is in place of the cat, and fans cannot stop laughing.
If that is not enough #BabyYodaProblems memes for you, hit Twitter and you will find countless more to hold you over until The Mandalorian returns in the fall of 2020.