The '80s Called and We Need More 'Stranger Things' Fashion from Hopper
Stranger Things fans have certainly grown to love Chief Hopper over the past 3 seasons. We've watched him transform from a grumpy, beer-swilling sheriff to a full-blown hero who walks freely between the dimensions. Throughout it all, he's maintained his dad aesthetic, stoic attitude, and of course, a hefty dose of Stranger Things '80s fashion.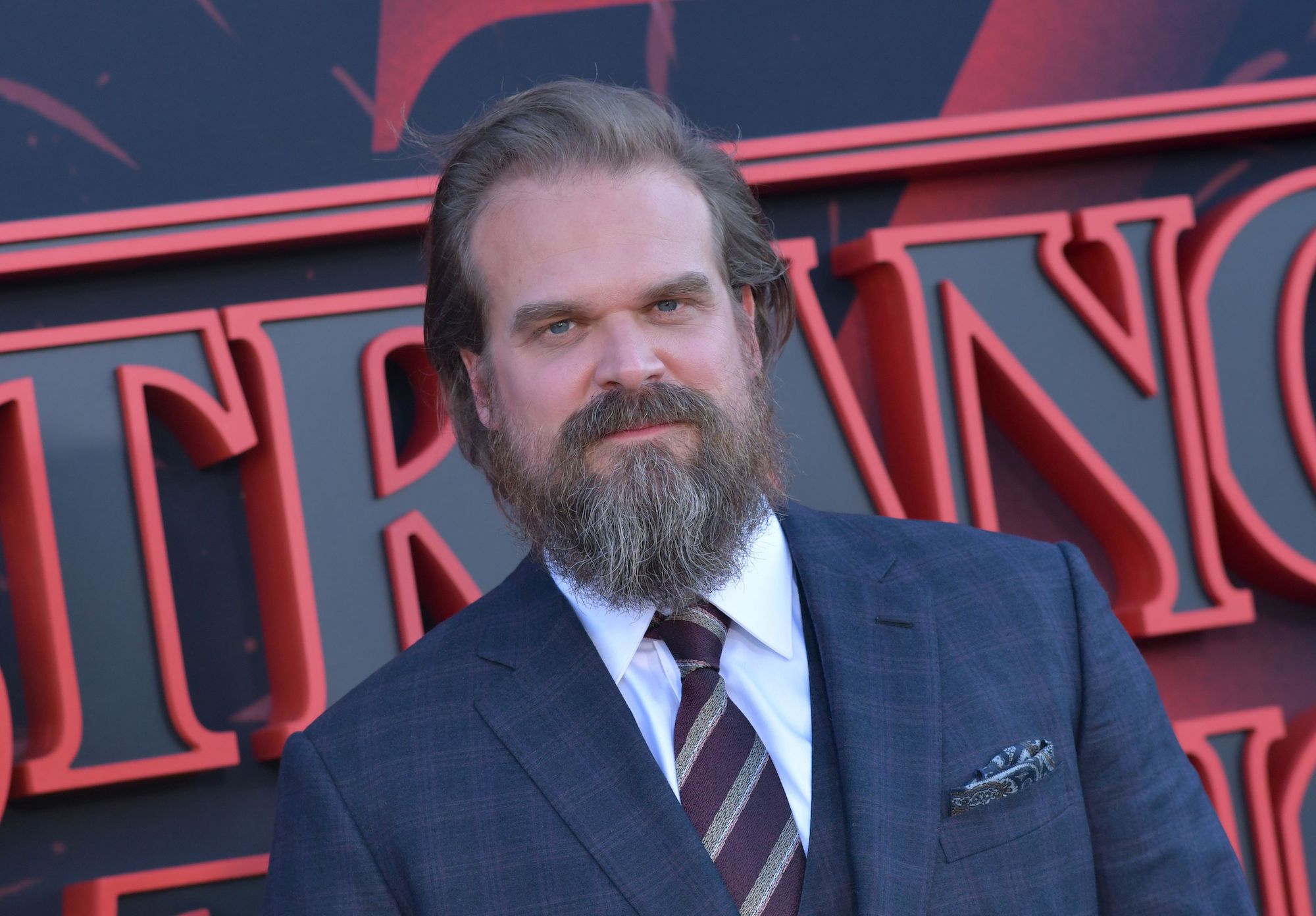 Hopper lives to tell more tales
Thanks to the trailers for Stranger Things season 4, we know our beloved '80s icon isn't dead. Although confirmed, S4 is now delayed due to circumstances beyond anyone's control, but we at least know our Hopper exists somewhere in Russia. Whether he's in a time-loop, on another dimensional plane, or just took a long, cold ride in a transport plane remains to be seen.
What we do know is that season 4 will take a deep dive into Jim Hopper's backstory, which promises to be a dark one. Actor David Harbour who plays Hopper says that the character will be painted with a "darker palette" and also that viewers will see some Indiana Jones level action and adventure.  Although fans are comforted by the knowledge that Hopper lives on, Elle, Joyce, and the entire Hawkins gang are still mourning his passing, and we have no idea if anyone will be reunited. 
How will the Russian plot play out in season 4? Will we see some winter fashion looks that turn our hero into a bear-like figure in Russia? Style will be the least of his worries now that he's on the other side of the world, but we do hope he at least stays warm. 
A 'Stranger Things' vibe for Halloween
Stranger Things is perfect fodder for Halloween inspiration, and this year, there are some great ideas to go as all the characters. You could recreate Dustin's "Camp Know Where" shirt and the geekiest hat ever, don an ice cream shop uniform, or shave your head bald, grab a medical gown, and do Halloween as a barefoot season 1 Eleven. 
If you want to get Chief Hopper's look, you could look for a police officer's uniform in a vintage shop, grow out that mustache, and pull up in a 1980 K5 Chevy Blazer. If you're feeling really daring, you could get another Hopper look we see in the show and arrive in nothing but a towel, holding a Schlitz's can and a prop cigarette. Read on for a much easier idea to go Hopper for Halloween.
Get Hopper's shirt from Stranger Things 3 for yourself
A simple way to get Halloween buttoned up is by donning Hopper's iconic pink and green printed shirt from season 3. After finally asking Joyce out (well, sort of) we see him get dolled up in his best going-out gear – combed hair, a blazer, and yes, a jaunty pink and green button-up shirt.  He winds up wearing the distinctive shirt through many of his adventures during S3.
For an awesome Halloween costume, you can get the shirt for yourself online at Hot Topic for an instant Hopper look. To complete the outfit, just don't forget the faded Levi's, big black watch, khaki webbed belt, and to roll up the shirt sleeves just a little. That's it! You're now our favorite '80s Stranger Things sheriff for Halloween. 
While we don't know what kind of fashion looks are in store for Hopper in season 4, or what his adventures will be, we do know we can look forward to a lot more Stranger Things episodes. The Duffer Brothers have confirmed a season 5.  They've promised the next two seasons will provide all the thrills and twists we've come to expect from the series, and we hope more iconic '80s fashion looks from Chief Hopper.