The Adorable Way Kate Middleton and Prince William Are Preparing Prince George to Be King
Prince William and Kate Middleton are reportedly already preparing for the day when their oldest son, Prince George, becomes King. Amid some major turmoil for the royal family, inside sources claim that the Duke and Duchess of Cambridge have been teaching George the ins and outs of being a royal. How are William and Kate preparing George for his time in the royal spotlight?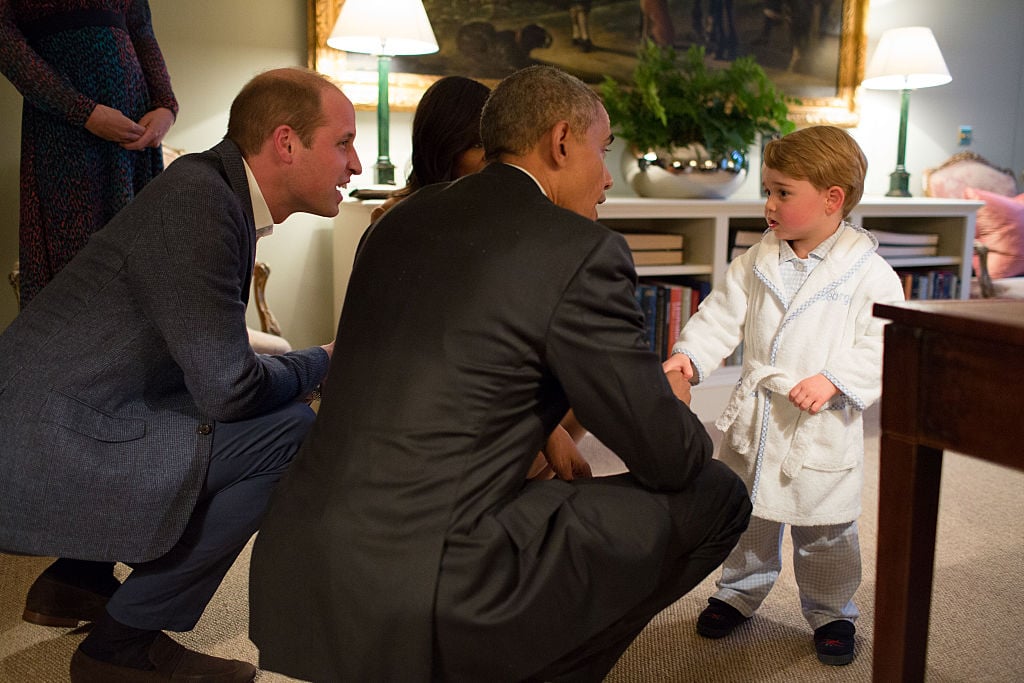 When will Prince George sit on the throne?
Prince George is currently third in line to the throne, following his father, Prince William, and grandfather, Prince Charles. George's younger siblings, Princess Charlotte, and Prince Louis are fourth and fifth in the line of succession.
Charles has waited longer than anyone to inherit the crown. Queen Elizabeth has been at the head of the monarchy for 68 years. She ascended to the throne in February of 1952 following the death of her father, King George VI.
With Queen Elizabeth turning 94 years old this year, it is only a matter of time before Charles takes the throne. There is no telling how long Charles will remain on the throne, but Prince George will still have to wait until William is gone before he takes the crown.
Although George has a few decades to prepare himself for the throne, his parents are reportedly laying the groundwork to get him ready to be King.
This is how Prince William and Kate Middleton are preparing Prince George
An inside source claims that the Duke and Duchess of Cambridge are slowing preparing George for the day he is in charge of the monarchy.
According to The Sun, the source revealed that William and Kate are teaching George how to be King through storytelling. The parents do not want George to feel overwhelmed and believe using a "storybook" tactic is the best way to ease him into the subject.
"William and Kate have already talked to George and Charlotte about their future roles, but in a child-like way so that they understand without feeling overwhelmed," the insider shared. "George knows there's something special about him and that one day he'll be the future King of England."
Prince George is only six years old at the moment and it sounds like William and Kate have discovered a fun way to teach him about being King.
William, of course, knows exactly what it's like learning that you will become King at a young age. When he first learned about his future, William was reportedly hesitant about taking the crown. His younger brother, Prince Harry, however, was very eager to take the spotlight if William didn't want it.
How Prince Harry's exit affects Prince George
At the beginning of the year, Harry and his wife, Meghan Markle, announced that they are stepping down as senior members of the royal family. The two plan on living a quieter life outside of the royal spotlight.
While we cannot blame Harry and Meghan for wanting out, their exit does have a negative effect on George. With the Duke and Duchess of Sussex essentially abandoning their royal duties, it will be up to other members of the royal family to pick up the slack.
This will undoubtedly place more attention on Prince George and his younger brother and sister, who might be expected to take on more responsibilities once they reach an appropriate age.
Royal watchers caught a glimpse of this over the holidays when George and Charlotte greeted people on Christmas Day. The two waved to fans following the royal family's annual Christmas service and even hugged a woman in a wheelchair.
Did this photo spark Megxit?
While royal watchers continue to speculate about why Harry and Meghan left the royal family, sources claim that a holiday photo was what really pushed the couple over the edge.
As fans will recall, the royals shared a photo of Queen Elizabeth, Prince Charles, Prince William, and Prince George posing together. The image was meant to show all of the current royals who will sit on the throne, but Harry and Meghan were reportedly upset by the decision of putting George in the spotlight.
"That picture was the clearest indication that Harry and Meghan are not considered part of the future of the institution. From that point of view, from that moment on, there was no point hanging around," a source stated.
Harry and Meghan, of course, have kept their first son, Archie Harrison, out of the public eye. The couple has been very open about giving Archie a normal upbringing, which is probably one reason they decided to step away.
Prince William and Kate, meanwhile, have not commented on the reports surrounding Prince George.