The Awkward Thing Justin Verlander Said When He First Met Kate Upton
Houston Astros pitcher Justin Verlander and supermodel Kate Upton have never been shy about sharing details of their relationship with their fans. From their adorable and playful posts on Instagram to discussing more serious topics including Verlander's battle with depression and how he credits his wife with helping him get through it.
But the story of how they actually met for the first time is one not too many people are aware of. That may be because the meeting was a little awkward thanks to a comment the All-Star pitcher was overheard making. Here's what Verlander said the first time he laid eyes on Upton.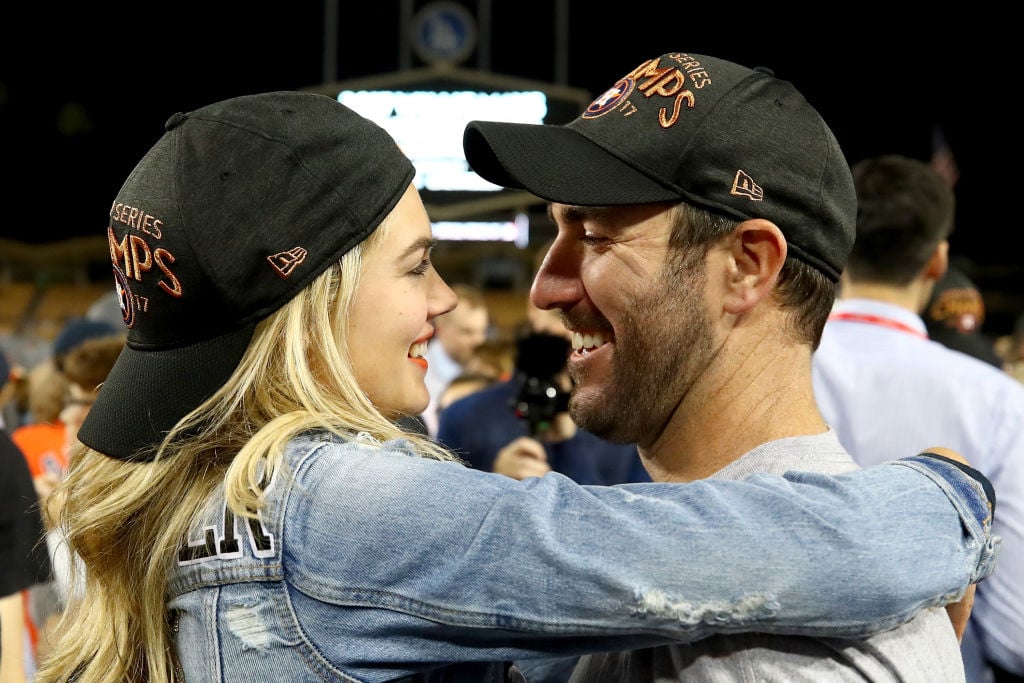 How they met and what Verlander said
The model and the MLB star met while shooting a commercial together for a video game in 2012.
Verlander was smitten with Upton and told his friends on the set that he was going to get her number. What he didn't realize when he said that was his microphone was on and she actually heard him.
Things obviously worked out though because not long after that they began dating on and off and got engaged in 2016 before tying the knot the following year.
Why they almost missed their own wedding
When the couple first began planning their wedding Verlander was still a member of the Detroit Tigers, but he was traded to the Houston Astros in August 2017. He ended up helping his new team make the postseason and eventually reach the World Series. The issue was that the Astros and Los Angeles Dodgers series went to a Game 7, which was played on Nov. 1, just days before he and Upton were set to say "I do" in Italy. So instead of flying there they were in L.A. for the final game while their friends and family were in Tuscany.
During an appearance on The Tonight Show Starring Jimmy Fallon, the pair spoke about missing part of their wedding festivities.
"Everybody is in Italy! Everyone is at the venue!" Upton explained. "We had an event that night and everyone's texting us like, 'Your wedding's so pretty, wish you were here.'"
The Astros ended up winning the World Series but Verlander wasn't able to attend the team's victory parade in Houston days later since he and Upton had to get to Italy for their nuptials.
How many children they have together
Upton and Verlander have one child together. They welcomed their daughter in November 2018 and Upton revealed that deciding on a name for her ended up being much more complicated than she had anticipated.
"It's so high-pressure. We were going back and forth, even in the hospital we were going back and forth, and Justin had some real name-commitment issues," she told Extra during an interview last year.
Instead of going with something like Blue Ivy, Apple, Psalm, or North the couple went the George and Amal Clooney route by opting for a more common name. They named their daughter Genevieve, which Upton said was what she wanted but she put the final decision in her husband's hands.
"He knew that Genevieve was my favorite so I just left him to fill out the paperwork. I was like I can't deal with that right now."
Read more: Who is Mike Trout's Wife, Jessica Cox?