'The Bachelor' 2022: Who Gets Their Rose Taken Away on a Group Date on Clayton Echard's Season?
If one thing remains the same for ABC's hit reality dating show The Bachelor, it's the amount of drama viewers get to see unfold on their television screens. This season with Clayton Echard as the leading man looks no different. From Salley Carson rejecting Clayton's rose to Claire Heilig having a little too much to drink on the first night, The Bachelor Season 26 is serving up plenty of action, and it's just getting started. There's one lady who actually gets her rose taken away after it's been awarded to her on a group date. Here's everything you need to know.
[Warning: This post contains spoilers regarding 'The Bachelor' 2022 with Clayton Echard.]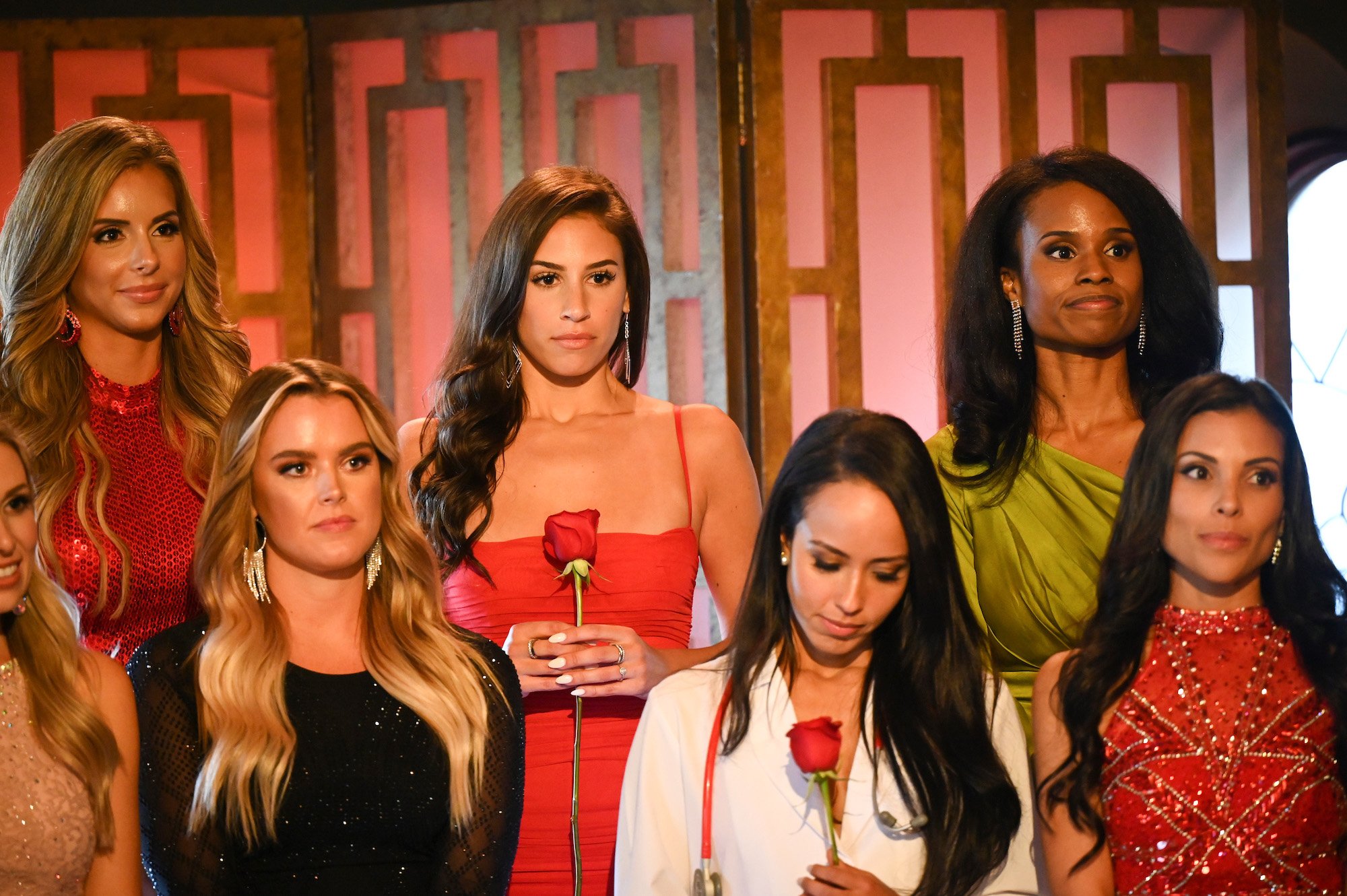 Who gets their Group Date Rose taken away in 'The Bachelor' Season 26 Episode 2 with Clayton Echard?
The premiere of The Bachelor Season 26 offered up plenty of dramatic moments for audiences. Throughout the show's history, jaw-dropping incidents are a staple for the franchise. Clayton juggled plenty on the ladies' first night in the mansion. After giving Claire Heilig the boot before the first Rose Ceremony of the season, some fans might hope for smooth sailing from here on out. However, don't hold your breath.
Thanks to Bachelor franchise super sleuth, Reality Steve, we know one woman receives the Group Date Rose, only to get it taken away before the night ends. The woman in question is none other than Cassidy Timbrooks.
Why does Cassidy Timbrooks get her Group Rose Date taken away by Clayton Echard?
According to Reality Steve, Cassidy Is caught texting another guy. The blogger wrote, "At the cocktail party before the rose ceremony, it's found out either because she told someone who then spread it or something to that effect, that Cassidy Timbrooks was still texting a guy while she was in quarantine before she got her phone taken away. This news made its way back to Clayton, and even though Cassidy already had a group date rose from that week, he decides to take it away from her and send her home."
The blog post isn't the first mention of Cassidy's texting either. Reality Steve tweeted on Nov. 19, 2021, "It's Friday Fun Day! (not a real nickname). A mini spoiler from Clayton's season: There is a woman this season who was texting a guy in the hotel pre-show before she got her phone taken away. This becomes a storyline on the show."
Folks will have to watch to see exactly how all of this plays out during this season of The Bachelor. However, Reality Steve rarely posts a spoiler like this without having confirmation.
'The Bachelor' 2022 with Clayton Echard includes dramatic moments with multiple women
Salley, Claire, and Cassidy aren't the only ones involved with drama this season either. Reality Steve tweeted out several other spoilers over the last few months. This included who the villain is during Clayton's season and who she gets into an argument with on the show.
To watch all of the drama and the romantic moments, too, tune into The Bachelor on Monday nights on ABC. The series also streams the next day on Hulu.