'The Bachelor' Alum Accuses Nick Viall of 'Anti-Tayshia Propaganda': 'It's Borderline Harassment'
Recently, ABC announced Clare Crawley as the upcoming season's star of The Bachelorette. Crawley was a contestant (and the runner-up) on Juan Pablo Galavis's season of The Bachelor Season 18. She also appeared on Bachelor spin-offs Bachelor in Paradise and Winter Games. But before Crawley was announced as the next Bachelorette lead, rumors were swirling that producers interviewed fellow alums Tia Booth and Tayshia Adams.
It appears Nick Viall, a former lead on The Bachelor, was not exactly on the "Tayshia for Bachelorette" train. Adams' friend and fellow Bachelor in Paradise contestant Nicole Lopez-Alvar accused Viall of campaigning a little too hard against Adams, even calling it "borderline harassment."
Nick Viall, the season 21 lead of 'The Bachelor', doesn't seem to think Tayshia Adams would make a good bachelorette
Earlier this month, The Snatchelor posted about Crawley as the new bachelorette on their Instagram account.
"Weird flex but ok #thebachelorette," the fan show wrote in their caption, seeming to imply Crawley was not a great choice.
Viall replied in an Instagram: "this is great, I promise."
When one Bachelor fan wrote, "Give me Tayshia or give me nothing," in the comments, Viall responded to that, too.
"Tayshia is a lovely human, she would also have you in bed by 8:30," he wrote.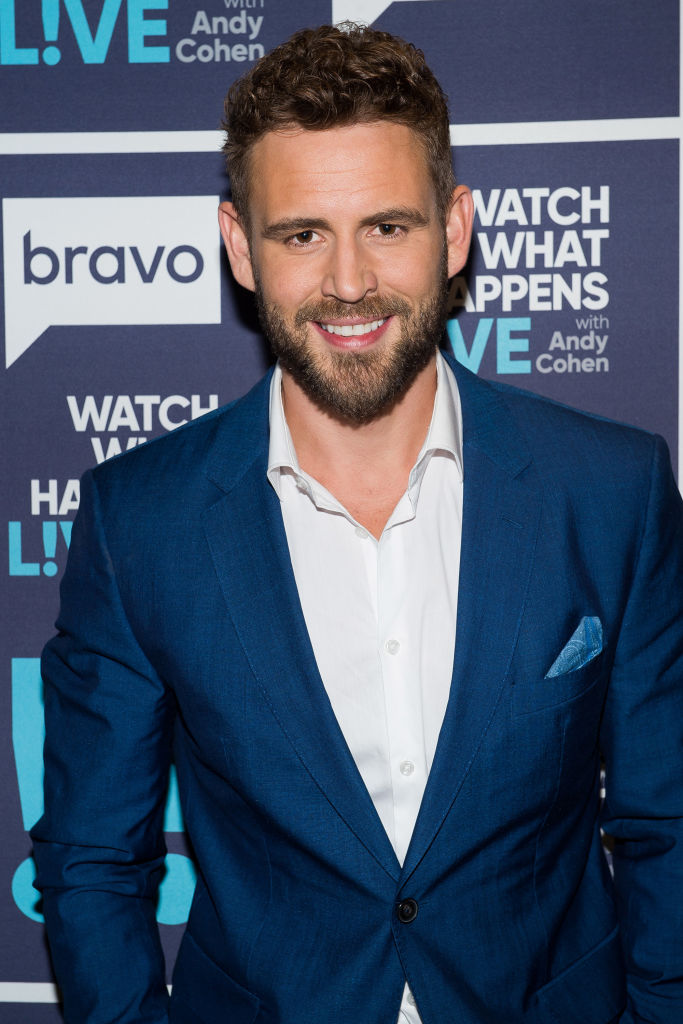 Viall's opinions on Adams didn't end there. In another Instagram comments section, this time on an E! News post, a user commented that it "should have been Tayshia."
"Nah," Viall replied. "Everyone on here [is] acting like they are good at dating. Clare will be fun to watch and is as deserving as anyone."
Former 'Bachelor in Paradise' star Nicole Lopez-Alvar defends her fellow contestant Tayshia Adams for 'The Bachelorette'
Nicole Lopez-Alvar, who was a contestant on the same season of The Bachelor and Bachelor in Paradise as Adams, took to Twitter to defend her friend.
"Can we address Nick Viall's bizarre obsession/dislike of Tayshia?" Lopez-Alvar tweeted. She also included an article that outlined Viall's online commentary about Adams. "It's one thing to have an opinion, but it's another to deliberately comment 'anti-Tayshia' propaganda on numerous posts." She referred specifically to The Snatchelor Instagram post and the E! News comment.
"It's borderline harassment," the reality television personality claimed about Viall.
The Bachelor in Paradise alum continued her thoughts in a second tweet:
You can support Clare without dragging Tayshia— who, by the way, has no relationship with him whatsoever and has never said anything fowl against him? Nor has anything to do with The Bachelorette? How do you think this makes her feel, when her fans alert her 24/7 of your remarks?
When one Twitter user pointed out that Viall called Adams a "lovely human," she wasn't buying it.
"He's a pro, ain't he," Lopez-Alvar replied. "He's good at this."
Nick Viall claims his opinions on Tayshia Adams were nothing personal
The next day, Lopez-Alvar followed up, saying her opinions hadn't changed.
It's a new day and I still feel the same way! People assume we all have this magical thick skin, but we're all the same — this man was trying to negate women's opinions online over their support of T. Thankful I'm irrelevant enough that I'll never be on his podcast.
While the former star of The Bachelor didn't respond to Lopez-Alvar directly on Twitter, he did tweet out something that appeared to be reacting to the criticism. Viall tweeted: "Additional people who I think are too boring to be #TheBachelorette 1) my mom 2) most of my sisters 3) ideally my future wife."
Case closed? Probably not, in Bachelor Nation. Vive la drama!