'The Bachelor' Alum Nick Viall Posts Instagram Thirst Trap: 'Because I Got Dumped Again on National TV'
ABC recently reran Kaitlyn Bristowe's Bachelorette season. In just three hours, the June 15 episode showed all the highlights from, let's be honest, perhaps actually one of the most dramatic seasons of The Bachelorette. How did her the runner-up on Bristowe's season, Nick Viall respond? The Bachelor alum posted a shirtless selfie, of course.
Nick Viall has experienced his fair share of heartbreak as a cast member of the Bachelor franchise
Viall originally competed on Andi Dorman's season of The Bachelorette. But, he popped back up on Kaitlyn Bristowe's season, once again making it to the final two. However, both times, he was sent packing.
On Bristowe's finale, Viall had some lovely words to share with her:
I've been thinking about how in love I am with you and what you mean to me. Look, I'm not ready to let you go. And I don't want to let us go. I am in love with you. I look at you and I have such confidence in you — and us. I'm yours forever if you'll have me.
But, as he brought out the ring to propose, Bristowe started to say no.
"No? Alright," Viall responded.
Bristowe decided on Shawn Booth instead. While the Bachelor Nation couple made it longer than many in the franchise, Booth and Britsowe eventually split up. She's now dating another Bachelorette alum, Jason Tartick.
RELATED: Are Kaitlyn Bristowe and Nick Viall Still Friends After 'The Bachelorette'?
The 'Bachelor' and 'Bachelorette' alums are friends now
While having an ex-boyfriend from your television show is no easy matter, Viall and Bristowe have been on better terms recently. Viall wrote about Bristowe's Bachelorette season re-airing on Instagram, looking at the experience with nuance and gratitude.
"I look back on this time of my life and have nothing but positive memories," he said. "I just didn't think ABC would make us relive the entire failed proposal tomorrow night."
However, Viall acknowledges that Bristowe's time on The Bachelorette was "a season for the ages."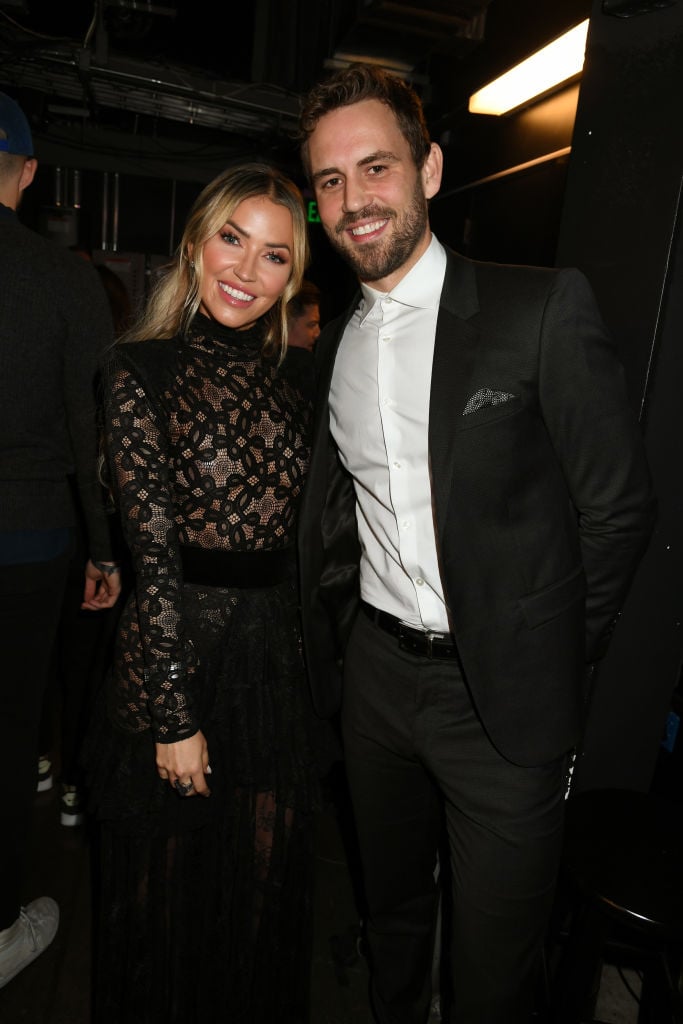 RELATED: Nick Viall Says This Contestant of Peter Weber's Is 'Too Normal' for 'The Bachelor'
"You never know how you view things as time passes," he continued. "Glad to be able to call KB a good friend!"
"So glad we are friends now too," Bristowe commented under his post.
Nick Viall accuses Instagram users of body-shaming after recent post-workout pic
However, Viall's next post was a bit more, well, eye-catching. In the picture, Viall stands in front of the mirror shirtless, his muscles impossible to miss.
"Because I get dumped AGAIN on National TV tonight," Viall wrote, referring to Bristowe's Bachelorette June 2020 special.
"Judging my angles," he commented below his own post.
One former Bachelor producer, Elan Gale, commented to Viall: "Thanks, needed this for my vision board."
'The Bachelor' alum says comments on his social media post made him feel self-conscious
While Viall is not one to be lacking in confidence, the response to this picture shocked him. In a follow-up Instagram post, Viall wrote a long caption sharing his thoughts.
Dear internet," the Bachelorette contestant said. "I never thought you would make me self conscious about my body."
However, the former Bachelor lead says he "woke up to hundreds of comments on the shirtless pic. People made remarks about Viall's "weight, eating habits, and mental health."
"All from posting a post workout pic where I looked particularly lean," Viall lamented. He continued:
I have never lacked confidence about my body (I know this isn't news to most of you) but if the internet can get to me it can get to anyone. …be careful with your words before you give your feedback on people's physical, emotional, or mental health. I don't want to even admit that the comments made me feel self-conscious, but I assume many of you would think I can't be bothered. So I'm here to say it did. 
Viall went on to say that he currently feels like he's in the best shape of his life. However, he was upset at the fact that he had to defend his own body at all.
"If told you how much pasta I eat, I would just annoy you," he wrote. "The point is, the next time you want to criticize someone based on a bad angle, just be careful."
He warned commenters not to — intentionally or otherwise — not bring others down for how they look.
"You could be stripping down months of work and process someone has made on their own self-improvement."
However, Viall assured fans at the end of the post that he'll be OK.
"I'm still pretty sure I look fantastic naked," the Bachelor alum quipped.