'The Bachelor' Alums Jade and Tanner Tolbert Are Expecting a Third Child
Alums of The Bachelor and The Bachelorette, Jade Roper Tolbert and Tanner Tolbert, originally met on the spin-off series Bachelor in Paradise. Since their appearance on the reality show, the two got married and are currently raising two adorable children. The couple recently announced the exciting news that 33-year-old Roper Tolbert is pregnant with their next child.
The former 'Bachelor' cast members have two kids already
Jade Roper and Tanner Tolbert, the BIP it-couple, got married in 2016. (Chris Harrison hosted the two-hour special of their wedding). They now reside in Southern California.
The following year, Jade Roper Tolbert gave birth to their first daughter, whose name is Emmy. The couple's son Brooks came in 2018. Roper Tolbert's second birth became something of a trending story when the Bachelor couple revealed that Roper Tolbert "accidentally" had the baby in their bedroom closet. (Brooks showed up 75 minutes after her water broke). Medical professionals were called to the scene, but everyone turned out safe and healthy.
"I've been still processing the shock of this all, as this was not all at what I had planned, but I am so so thankful for each person who helped bring our son into the world safely," Roper Tolbert shared after Brook's arrival.
Jade and Tanner Tolbert are expecting their next kid, according to a new Instagram post
"HERE WE GROW AGAIN!!!" Roper Tolbert began her Instagram caption. She'd been waiting to share the thrilling news with her followers. The Bachelor alum also revealed that she had been dealing with some tough side effects from the pregnancy. Roper Tolbert wrote:
It feels so good to be able to finally talk about this pregnancy! If you noticed I haven't been on social media much the past couple of months, it's because I was dealing with terrible nausea and fatigue, on top of taking care of two kiddos during a pandemic. Although this time has its uncertainties, we are so thankful and excited for this baby.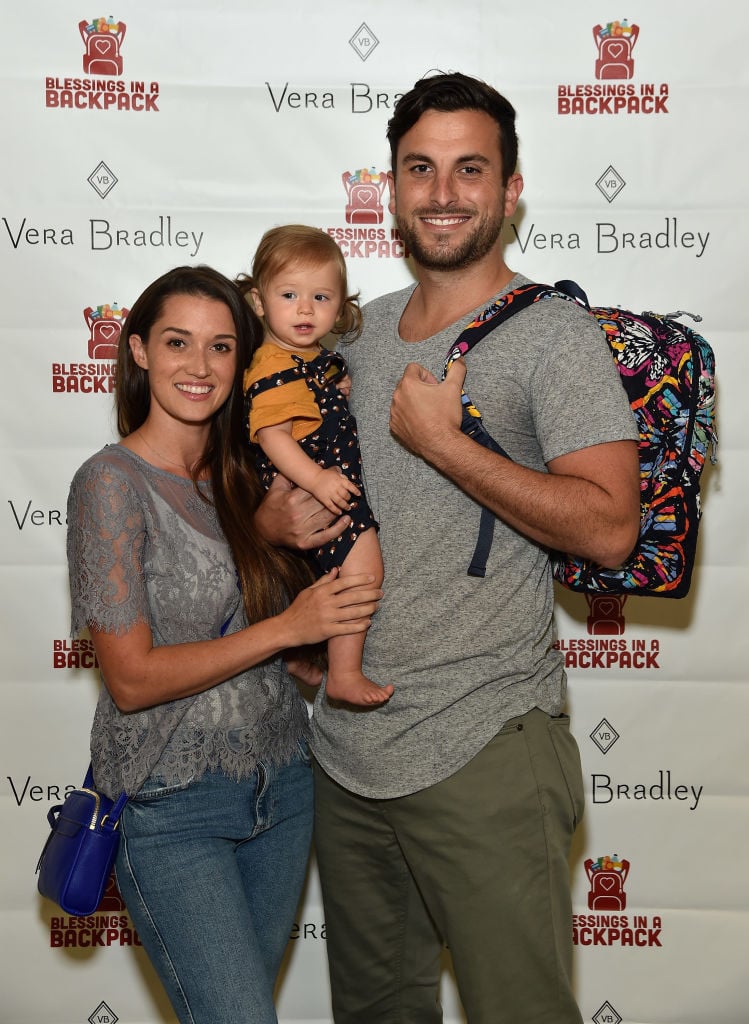 RELATED: 'BIP': Does Tanner Tolbert Want to End the Feud with Demi Burnett?
The Bachelor in Paradise star went on to say that the timing of this third pregnancy felt purposeful.
"I truly believe babies being born during this time are here for a special reason, to be light workers," Roper Tolber wrote. "We are beyond happy to love another baby, to give Emmy and Brooks another sibling and to have our children be so close!"
The photograph to match the caption was social media gold; then again, the Tolberts are pretty good at being adorable on Instagram. (Have you seen their family Halloween costumes?)
In the reality star's brand new photo, you can see 2-year-old Emmy and 9-month-old Brooks piled on top of their father. Tanner Tolbert's face isn't even visible, so metaphorically overwhelmed by the weight of the news, he's on the floor — we hope in a good way. Tolbert is also showing off his wife's sonogram of the brand new Bachelor Nation bun in the oven. Congrats to the Tolberts!