'The Bachelor': Australia's Bugs Ruined Madison Prewett's 'Surrender'
Bachelor Nation is one step closer to finding out who Peter Weber will choose to spend the rest of his life with. During part one of The Bachelor finale, Weber's final girls got to meet his parents, Barbara and Peter Sr., as well as his baby brother Jack.
After a difficult meeting with Weber's family, Madison Prewett had a difficult conversation with Weber. But as Prewett was doing so, the Australian outback seemed to have other plans. 
[Spoiler alert: This post contains spoilers for Part One of The Bachelor season finale.]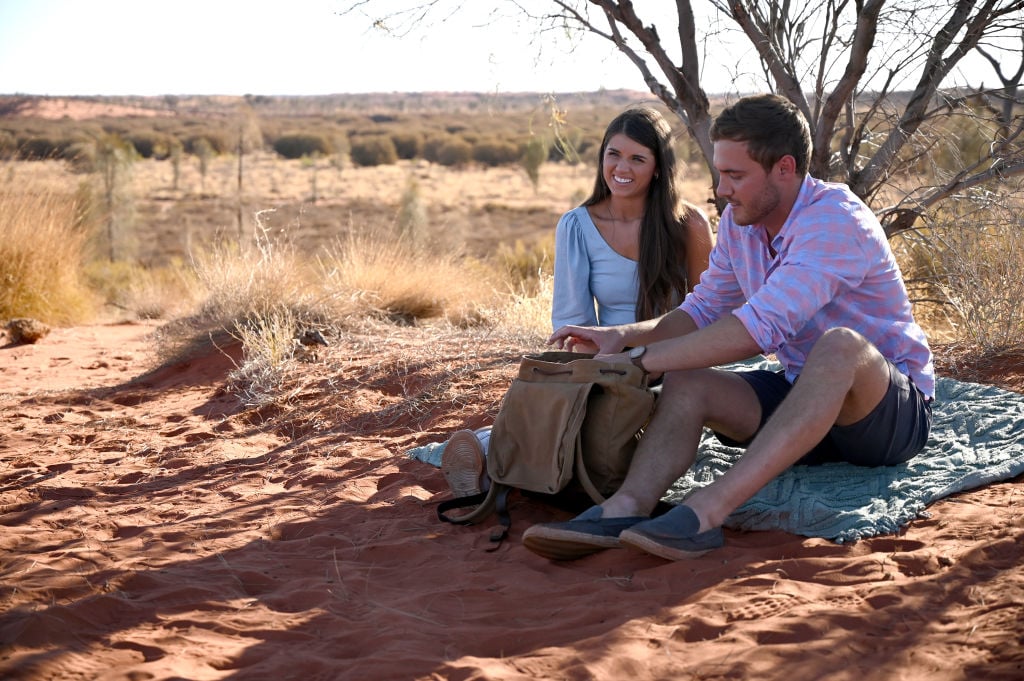 Peter's family had their minds made up
Weber's parents first met Prewett when he brought her to their vow renewal. It was early on in the competition, but the Webers seemed to think Prewett was a good match for their son. When Barbara and Peter Sr. learned of Prewett's ultimatum, their feelings began to change.
Before Prewett even arrived at their Australian villa, Weber's parents had their minds made up — Hannah Ann Sluss was the woman for Weber, as far as they were concerned. It's hard enough to be the second girl visiting with the bachelor's parents, but even harder for Prewett because Weber's parents mistook her "sharing her heart" as an ultimatum. 
Madi breaks up with Peter
Prewett's final date with Weber took place after her awkward family encounter. The couple took a helicopter over Uluru, but not even a sacred rock could protect Weber from what was coming next. Prewett expressed over and over again how she loved Weber, but she could also clearly see how different they were from each other. That's when she decided to "surrender." 
After their helicopter flight, Weber poured some sparkling apple juice for Prewett, further demonstrating their differences in lifestyle. Weber's mom made it clear to Prewett that Weber liked to drink, liked to party, liked to socialize. It was at this point Prewett questioned whether or not love could conquer all.
"As much as we want this, I don't know that we can give each other what we need," Prewett said. Considering Barbara's wishes, Prewett told Weber she didn't want him to change for her. In letting him go, Prewett hoped Weber would be able to find his soul mate. 
The Australian outback distracts Bachelor Nation
As Prewett was breaking Weber's heart, the Australian outback seemed to be rebelling against their separation. Throughout Prewett's entire breakup monologue, she and Weber swatted away pesky bugs. 
"I just got more of a sight into life outside of this," Prewett explained as a small fly landed on her face. Distracted, she swatted the bug away and continued: "I wouldn't want you to feel like you have to change any of that for someone that you want to be with (swat) and I wouldn't wanna feel like I have to change any of that for someone I want to be with (swat)."
At this point, Weber was rendered speechless and could only sway his head back and forth between his shoulders to prevent bugs from landing on him. When he finally found the words to explain to Prewett that he was "willing to do whatever it took" to be with her, the bugs were back with a vengeance.
Weber's arm flew distractingly so amidst his intense and emotional conversation with Prewett, and Bachelor Nation had a hard time ignoring it.
One fan on Twitter called the producers of the show "the real winners" for "setting the couples up in the middle of the Australian outback to have serious discussions in that red clay with all the bugs." 
Did The Bachelor producers do this on purpose, or was it an honest mistake? That's neither here nor there — what's important is part two of The Bachelor finale tonight. Will Prewett return to fight for love, will Weber settle for Sluss, or will something completely unexpected happen? Tune in to The Bachelor tonight on ABC.