'The Bachelor': Is This The Reason Couples Hold Off on Getting Married?
There are plenty of reasons why the cast of The Bachelor and its spinoff shows have super long engagements. But, we may have uncovered one huge one.
Ask nearly anyone who joins the cast of The Bachelor or one of its many spinoff shows (The Bachelorette, Bachelor Pad, Bachelor in Paradise, The Bachelor Winter Games, or The Bachelor Presents: Listen to Your Heart) and they'll tell you that the feelings on the aforementioned reality TV shows are 100% real. Against all odds, some couples really do fall in love on the shows despite the limited time frame that the shows provide. Even more surprising is that some couples actually get married and stay together long-term.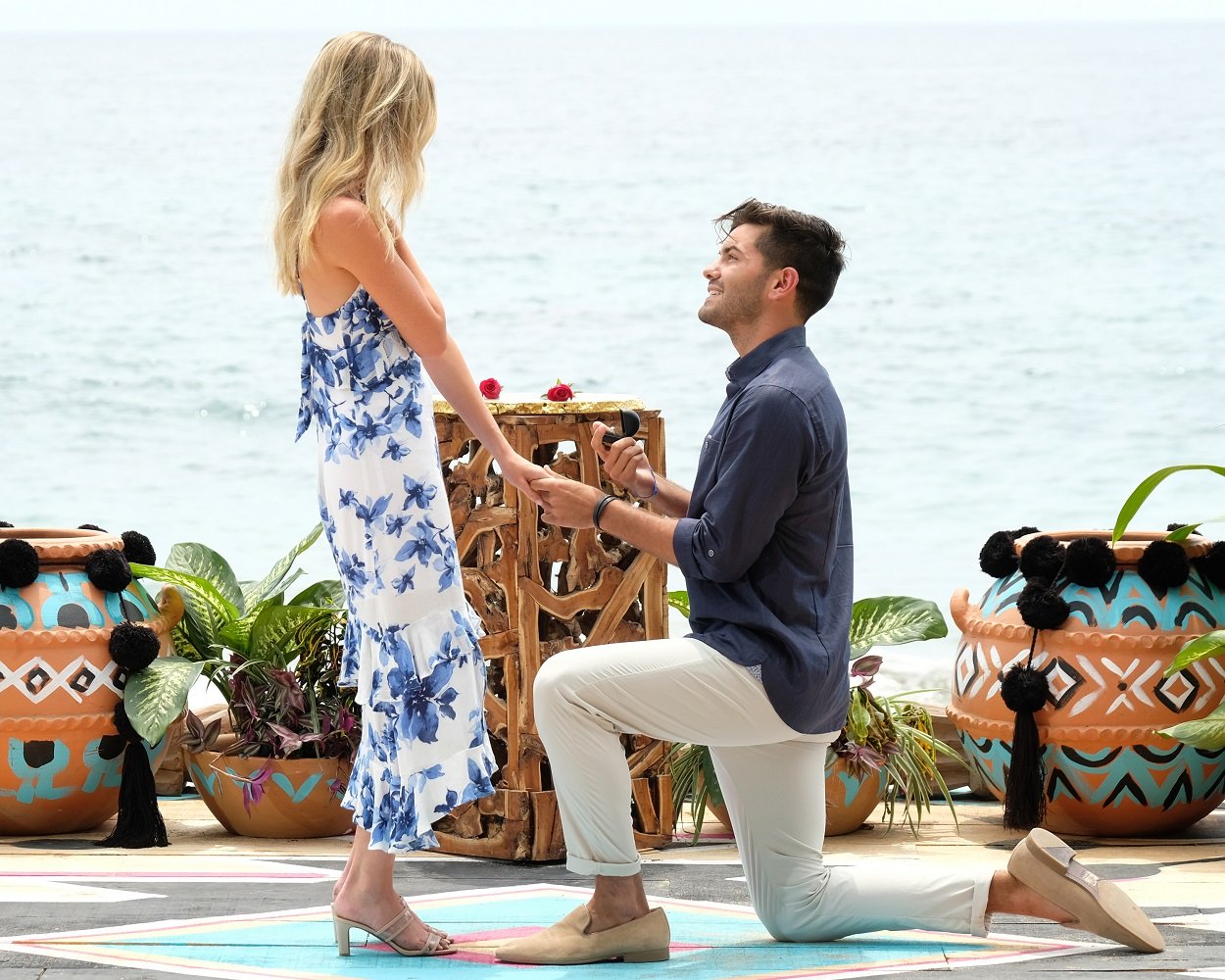 While the statistics of Bachelor cast members getting married to someone from the show are still pretty low, it's enough people for the franchise to claim that love is still the core of what they do. Married couples like Ryan and Trista Sutter and Evan Bass and Carly Waddell are championed by the franchise as proof that the process really does work.
'The Bachelor' couples often have long engagements before they get married
But, thanks to Bachelor in Paradise, more and more cast members are becoming engaged. Despite most of those engagements being short-lived, some of them are actually going the distance. In fact, while some couples from Bachelor in Paradise didn't get engaged on the show, the number of proposals that have come later on from couples who met on the beach are steadily increasing. Prime examples of this include Astrid Loch and Kevin Wendt as well as Raven Gates and Adam Gottschalk.
But even cast members who get engaged on The Bachelor and are sure they want to get married often wait a few years to tie the knot. But why exactly is that? For a long time, Bachelor fans just assumed that couples decided to wait for obvious timing reasons. As the timeline of The Bachelor is so swift, many couples use their engagement to date normally and truly get to know one another. Naturally, they want to see if their relationship can work in the real world without all the private jets and the fireworks. Other couples simply want to enjoy their engagement.
Why Hannah Godwin and Dylan Barbour put their wedding planning on hold
"We just decided that we really want to take this time to focus on being engaged and just enjoying that," Hannah Godwin explained in a YouTube video about why she and her fiancé, Dylan Barbour put their wedding planning on hold. "Like what's the rush? We're both young. It might be in a few months when we start talking about it again or it might be next year or the next. Who knows, we'll see. But, we definitely want to get married we just want to make sure that we're planning because we're ready to not because everybody else is ready," the former Bachelor cast member shared.
But that may not be the only reason that couples are choosing to wait. Apparently, it could also have something to do with contracts. According to Amy Kaufman, author of Bachelor Nation: Inside the World of America's Favorite Guilty Pleasure, the show owns exclusive wedding rights for couples who marry within a given amount of time.
Could contracts be the reason some cast members from 'The Bachelor' delay getting married?
"If you make it to the end of The Bachelor and decide to get married within the two years following the show, the producers own the exclusive rights to your wedding," Kaufman confessed. We're sure that this also extends to The Bachelorette. This may even extend to Bachelor in Paradise couples, which could be the reason fans have seen footage of past couples' weddings.
We can definitely see why leads like JoJo Fletcher have waited for their contracts to expire so they can plan a more private and intimate ceremony. Contracts are likely not the only reason that The Bachelor cast members choose to wait to get married; but we'd wager they're a huge contributing factor.