Chris Harrison Turned off Instagram Comments Following Intense Backlash From 'Bachelor' Fans
It's no secret that The Bachelor doesn't have the best track record for conversations about race. The reality show has been called out time and time again for its lack of diversity. In 2020, the franchise announced that Matt James would lead the shows 25th season, becoming the first Black Bachelor. Of course, this was after thousands of fans signed a petition demanding a Black lead. Though the franchise has been called out many times, Chris Harrison, who has hosted the show since its inception, is usually able to shirk criticism. But this time the host is in hot water too.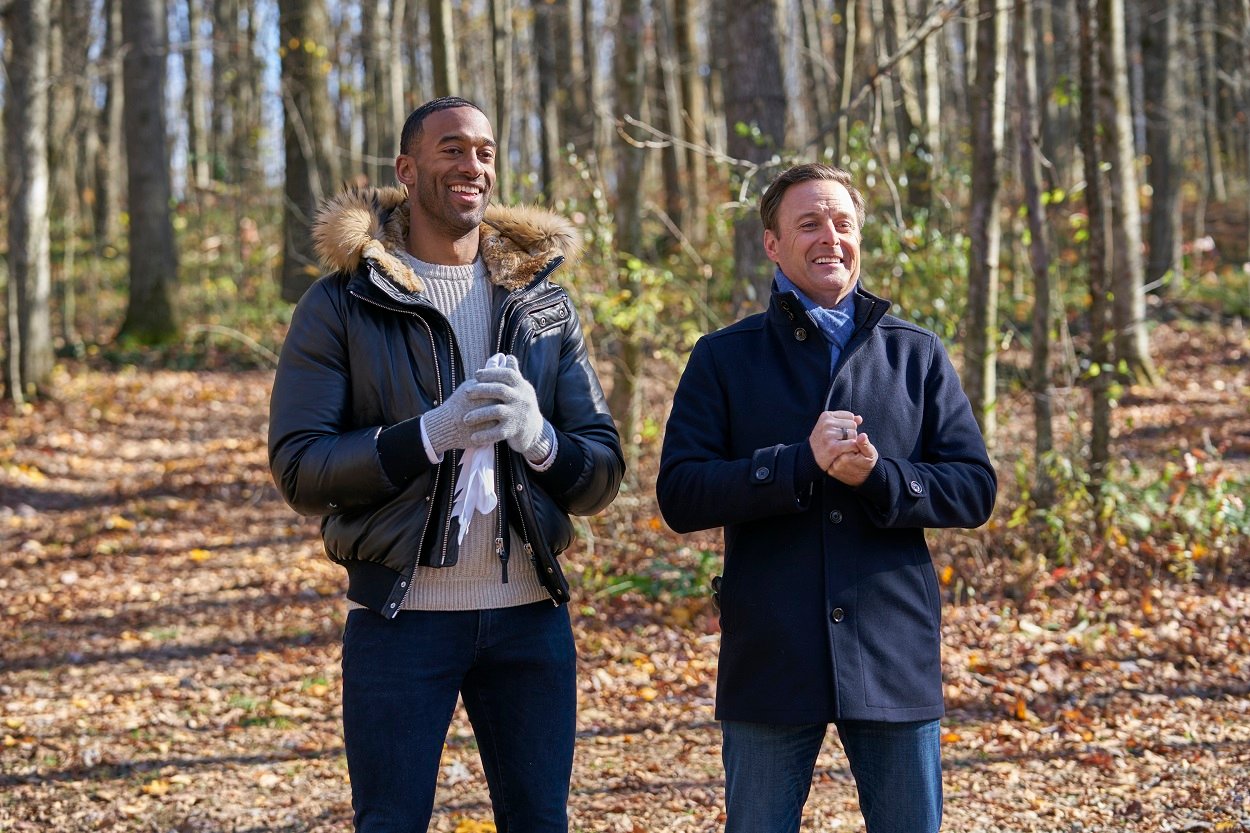 It's not uncommon for contestants on The Bachelor to get called out for past behavior. Fans of the show often do digging and find arrest records and other past problematic behavior for the cast. For James's season, controversy has surrounded frontrunner, Rachael Kirkconnell. Kirkconnell has been accused of past racist behavior. The controversy began when a TikTok user claimed that Kirkconnell and her group of friends teased her for liking Black men back in high school.
'The Bachelor' contestant, Rachael Kirkconnell has been called out for racist behavior
As if that wasn't bad enough, other fans of The Bachelor found evidence that Kirkconnell had a history of liking racist photos on Instagram. Kirkconnell even attended an antebellum plantation-themed fraternity formal back in 2018. As of yet, neither the franchise nor Kirkconnell have spoken out about her past behavior. However, Rachael Lindsay (a former Bachelorette) did have a conversation with Harrison via Extra about Kirkconnell's behavior and the host urged fans to have "compassion" for her.
RELATED: 'The Bachelor' Finale Spoilers Are In, and Chris Harrison Has Some Serious Explaining to Do
"First and foremost, I don't know," Harrison shared about The Bachelor frontrunner. "I haven't talked to Rachael about it. We all need to have a little grace, a little understanding, a little compassion. I have seen some stuff online, again, this judge, jury, executioner thing where people are just tearing this girl's life apart… Until I actually hear this woman have a chance to speak, who am I to say any of this… I saw a picture of her at a sorority party five years ago that's it."
Chris Harrison urges fans to have compassion for Kirkconnell
Harrison continued on to defend Kirkconnell sharing that issues weren't looked at the same way in 2018 as they are today. The Bachelor host also shared that say that while "social issues" were discussed during the Women Tell All, Kirkconnell wasn't in attendance. This indicates that Kirkconnell is in James' top three contestants with the potential to win. He added that the show likely wouldn't speak about Kirkconnell's past before she did.
RELATED: 'The Bachelor': Fans Can't Get Over This Photo of Chris Harrison
Naturally, some fans were incensed by Harrison's reaction to the controversy surrounding Kirkconnell. In fact, some fans even took to the host's Instagram page to express their disappointment with his statements. When he posted a photo promoting a Valentine's day giveaway, fans began to flood his comments with their responses to his discussion with Lindsay.
'The Bachelor' 2021 viewers express outrage on Instagram
"It's time to boycott the rest of this season. First, you owe @therachlindsay an apology," one fan of The Bachelor wrote on Harrison's post. "Second, Rachael needs to be allowed to speak out on her racist past. We all believe she wins and it's unacceptable that ABC glazed over obviously racist views when casting her for the first black male lead. You all need to be held accountable."
RELATED: 'The Bachelor': What's Matt James' Height and How Much Taller Is He Compared to Chris Harrison?
"There is no question you are a racist gaslighting a*shole after that interview with Rachel Lindsay," another person commented. "Be ashamed." "It's okay to be racist in 2018, but not 2021?" yet another Instagram user commented. "Strange take, Chris Harrison." As negative comments for the way The Bachelor host handled his conversation with Lindsay continued to pour in, some Instagram users accused the host of deleting comments.
The long-time host disables comments on his latest Instagram post
"Wow deleting my comment for holding you accountable for upholding white supremacy???? Seriously? #dobetter," one person wrote. As the comments continued to pour in calling out Harrison and demanding that he and The Bachelor franchise be held accountable, the host made the decision to turn of commenting on his post. But despite Harrison utilizing muting tactics on Instagram, the conversation about him persists in other places so we don't see it disappearing completely anytime soon.