'The Bachelor': Chris Harrison Said 'We Had to Force Some Situations'
After 24 seasons of The Bachelor, many fans have started to wonder how much of the show is produced. For every situation that feels genuine, there is another situation that seems almost manufactured. While The Bachelor is considered non-scripted reality television, it's no secret that the producers can sometimes influence the way certain scenes play out. In an interview with The Ben and Ashley I Almost Famous Podcast, host and producer of The Bachelor Chris Harrison came clean about the role producers play in making the show as entertaining and as truthful as it can be.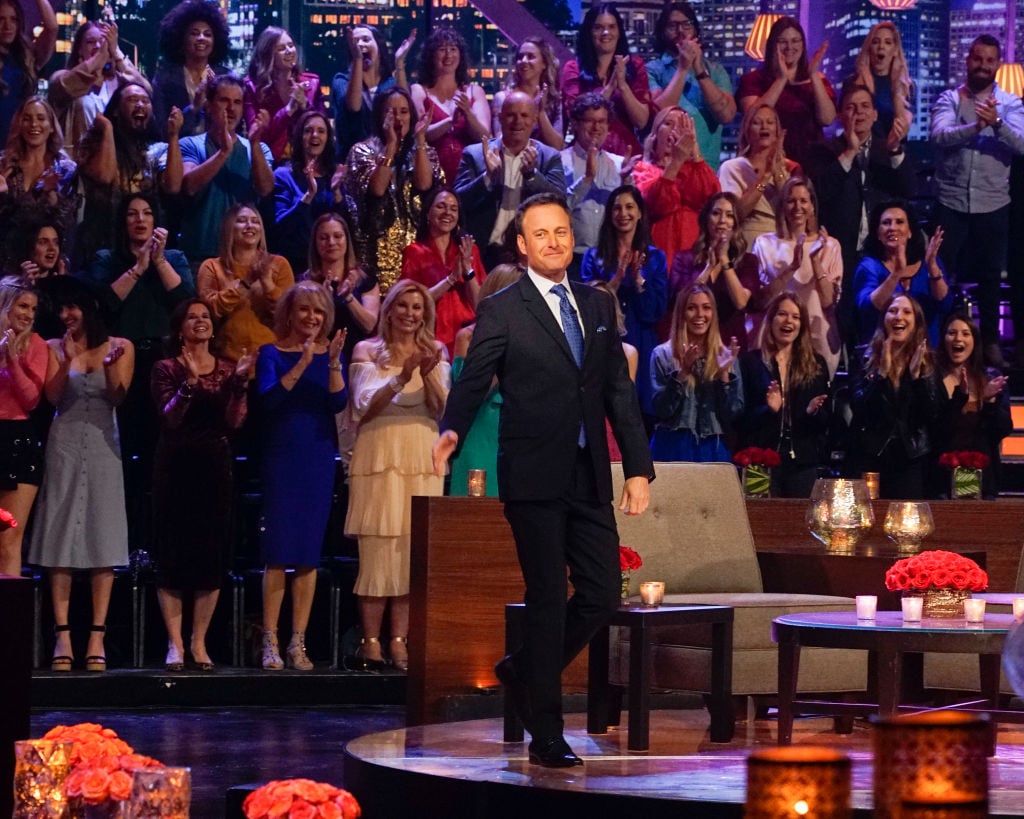 Madison Prewett's ultimatum
Before Fantasy Suite week, Bachelor Nation watched Madison Prewett give current bachelor Peter Weber an ultimatum. Prewett is saving herself for marriage, which Harrison called "wonderful if that's [her] choice," but when she explained this desire to Weber, Prewett never actually told him she was still a virgin. Instead, Prewett elaborated on how she would struggle if Weber chose to be intimate with either Hannah Ann Sluss or Victoria Fuller during their Fantasy Suite dates.
While Prewett and Weber both say it's not an ultimatum, Harrison said: "When you say 'If you do something, this will be the repercussions of that,' that is an ultimatum." Prior to Fantasy Suite week, Prewett had yet to explain to Weber what "saving herself for marriage" truly meant. In doing so, Harrison said, "[Madison] only gave [Peter] really enough information to fail." As a producer, he felt that they needed to "force a conversation that would bring about a resolution."  
The forced situation on this season of 'The Bachelor'
Despite being given the opportunity to speak to Weber after a rose ceremony, there were still certain details Prewett neglected share about her personal choice. Because of this, Harrison said "When push comes to shove, we're gonna shove and we're gonna force this situation."
That shove came in the form of changing the room situation during Fantasy Suite week. Unlike in past seasons of The Bachelor, the remaining women roomed together during Fantasy Suites. In doing this, Harrison hoped to encourage Prewett to face her ultimatum head-on. "We have to force certain situations at times to force people into an uncomfortable position or to face something that they need to face," Harrison explained. "This was one of those situations where it really centered around Madison." By forcing Prewett to room with the other women, she became frustrated enough to confront Weber during her Fantasy Suite date.
Is 'The Bachelor' fake?
While Harrison conceded that the "show and situations are produced," he said it's not done in a "heavy-handed way." Harrison explained how when situations like Prewett's are forced, they aren't forced in a way that would lead fans to believe "'Oh they're just doing this for drama, they're just doing this for T.V.'"
Instead, he says these situations are designed to genuinely bring particular individuals face to face with tough choices and encourage them to make decisions about their future. In Prewett and Weber's case, Harrison said by pushing this situation, he was able to make them "really come to terms with what they're really grappling with." 
With just a few episodes left in Weber's season of The Bachelor, fans are wondering if Prewett has removed herself from the show or she'll be one of Weber's final two. Overall, Bachelor Nation can't wait to find out which woman Weber will end up with, or if he's truly dating one of the producers of the show.