'The Bachelor' Host Chris Harrison Finally Reveals Summer Season with New Content
The Bachelor fans are begging for new content, and Chris Harrison finally revealed what's in store for Bachelor Nation this summer. The Bachelorette with Clare Crawley won't be coming anytime soon due to the coronavirus (COVID-19) pandemic. So, the producers have a uniquely new idea that refreshes already seen footage with updates on your bachelor favorites.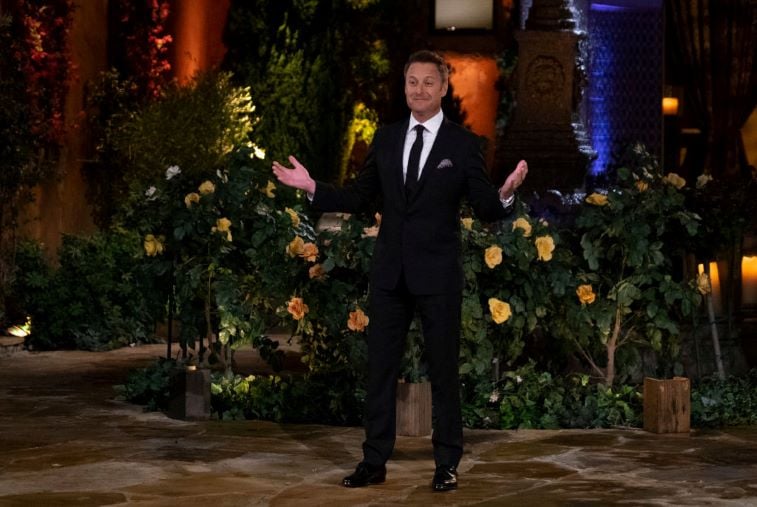 What did Chris Harrison announce for 'The Bachelor' summer programming?
There will be new Bachelor content this summer. Every episode will include virtual check-ins on the Bachelor and Bachelorettes. So, we will find out who they are dating or married to currently. For some fans, that video chat between Harrison and the fan-favorite will be the best part of the episode.
Each 3-hour long show will include a full season from start to finish. It will highlight all of the drama, rose ceremonies, proposals, and breakups of an entire season in one night.
"We really wanted to give Bachelor Nation something to watch, and immediately, there was this clamoring and desire from our fans to watch old seasons," Harrison told Variety.
When will the 'The Bachelor: The Most Unforgettable – Ever!' premiere?
The Bachelor's new greatest hits show will air on June 8, 2020. It will run for 10 episodes, concluding on August 10, 2020. Chris Harrison will host the show from outside the famous Bachelor Mansion with a small production crew.
Which seasons will be on 'The Bachelor: The Most Unforgettable — Ever!'
With 24 seasons of The Bachelor and 15 seasons of The Bachelorette to choose from, we know not all seasons will have a recap edition. Peter Weber's season will not air since it was on recently.
Season 18 of The Bachelor with Juan Pablo Galavis is a definite on the list because of our future Bachelorette, Clare Crawley. 
Other seasons that are certain include the very first seasons of both The Bachelor and The Bachelorette with Trista Sutter. The Bachelorette Season 11 with Kaitlyn Bristowe is on the list as well as The Bachelor Season 17 with Sean Lowe.
The Bachelor Season 20 with recently engaged Ben Higgins is also on the list of shows to have a recap and updated edition. That brings the total to six seasons on the record with four surprises left.
JoJo Fletcher and Jordan Rodgers are a fan-favorite couple that is still together from The Bachelorette, so season 12 might be on the list as well as Colton Underwood's season.
Fans are ready for the greatest hits 'The Bachelor' edition
"Will we also be getting never before seen footage that is SO INCREDIBLY GOOD but didn't make it into the season?" one fan asked on Twitter. "I'm so hyped for 30 hours of content!"
Fans want to know if there will also be clips that never made it out of The Bachelor vault. We know there will be updates on the fan-favorites, but we are hopeful it will include some new footage, too.
"Nice! Looking forward to it!" another fan tweeted. "It'll be fun to watch Juan Pablo get blown up by Andi and Claire again. And there better be some Colton fence jumping thrown in for good measure."
Fans are ready for new content, even if it's old shows revisited. The Bachelor: The Most Unforgettable — Ever! will premiere on June 8, 2020, at 8 p.m. EST on ABC.