'The Bachelor': Could These 3 Chase Rice Songs Be About Victoria Fuller?
Did Victoria Fuller's ex, Chase Rice, write several songs about her before she went on 'The Bachelor?'
Next week's episode of The Bachelor promises some real drama for fans. Through the promo for week four, we find out that Peter Weber takes Victoria Fuller on a one-on-one date to see Chase Rice in concert. However, it turns out that the country singer is Victoria's ex-boyfriend. What's more interesting is that it seems as though several of the musician's songs might be about the 27-year-old nurse who is stealing Weber's heart.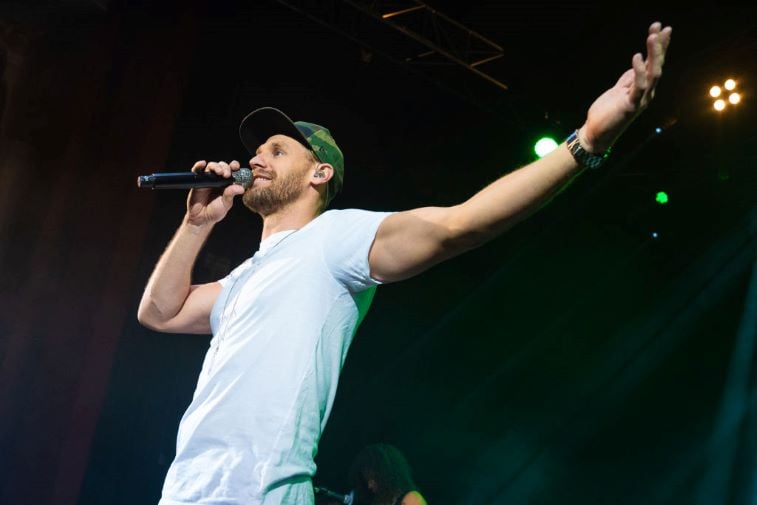 Who is Chase Rice?
Rice is a country-music star who began his career in 2010. He started playing guitar in college, but his father suggested he learn to sing as well. The musician took his father's advice, and it paid off. 
The 34-year old singer and songwriter had his first #1 single on country radio in 2019 with "Eyes On You." Before starting his career in the music industry, he was a linebacker for the University of North Carolina. 
The former football player was born in Florida but grew up on a farm in Asheville, North Carolina. Rice was also runner-up on the 2010 season of Survivor: Nicaragua. In 2015, Rice was voted by viewers as the 10th "steamiest" male contestant in Survivor history.
These two Chase Rice songs might be about Victoria Fuller
Now that we know the country music singer is, in fact, Victoria's ex-boyfriend, it seems possible that the songs, "Best Beers of Our Lives," and "The Little Things" are both about the 27-year-old former Miss Louisiana. 
"A little slow groove pull her in real close," Rice sings in the first of the two songs. "Victoria's secret little smoke show, mmm, damn, how these country girls roll."
Fans of the song initially assume that the country singer was talking about lingerie from Victoria's Secret. However, with the revelation that the star dated Victoria, it seems like the song might be about her. It isn't a love song, but a tribute to the best nights, drinking with great friends, and having a good time with a group of country girls. 
"And it's watching that damn Bachelor every Monday night," Rice sings in the second of the two songs. "And loving her like I don't have her and shutting up even when I'm right, And it's playing her this new song I just wrote on this ole' six-string."
The second song is a romantic love song that many fans say they picked as their wedding song. He's singing about his girl who only needs, "the little things." The country star writes about how his woman watches The Bachelor every Monday night.
Many of the contestants are avid fans of the show, so this one might likely be about Victoria. It also describes her from what we have seen so far. She's a country girl from a small town in the South, who loved country-line dancing with Weber. It seems pretty fitting.
What happened with Chase Rice and Victoria Fuller before she was on 'The Bachelor?'
We do not know very much about the relationship between Rice and Fuller. What we do know is that Victoria was in one long-term relationship before being on the show. She dated a guy for two years before finding out that he was cheating on her, according to her ABC bachelorette biography.
We also know that Rice and his touring friends often write songs about what is happening in their lives, so it's possible Victoria might be featured on his albums.
"We write about our lives," Rice said in his artist bio on the ECE Touring website. When we hear a line that sparks our interests, you'll see one of us typing it on our phones."
The last song we think might be about Victoria is "If I'm Being Honest," which was released a few years after the previous two mentioned. If Rice and Victoria dated for two years and then broke up over his infidelity, this song might be about his regret over the situation.
"I f*cked things up, and now I'm man enough to finally face that truth," the country star sings. "Since I'm being honest, baby, I got no clue what to do. So, I stay drunk and high all the time to get me over you."
Victoria is visibly upset when she sees Rice is playing during her date with Weber in the scenes from next week's episode. She cries and runs off after telling Weber that she dated the country singer.
It makes sense that she might be so upset because Rice is the ex that broke her heart when he cheated on her. Hopefully, we will find out the whole story when The Bachelor returns on Monday, Jan. 27, 2020, at 8 p.m. ET to ABC.
Read More: 'The Bachelor': Has Peter Weber Already Been Intimate With These Two Contestants?