'The Bachelor': Did Peter Weber Kiss More Ladies Than Any Other Bachelor On the First Night?
The Bachelor is finally back, and things are already heating up. The three-hour-season premiere kicked off on Jan. 6, with limo night, group dates, and the first one-on-one date. We can't forget that Hannah Brown also makes two appearances.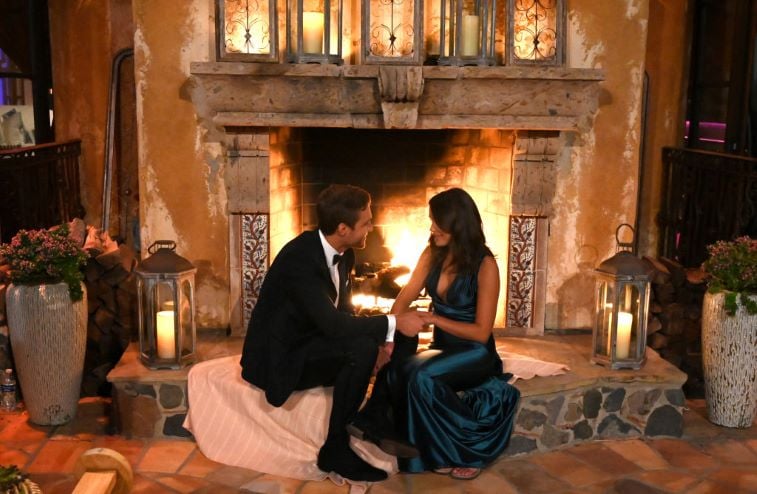 However, his exes arrival did not stop Peter Weber from getting to know several women more intimately. Many fans are wondering if this is the most contestants a bachelor has ever kissed on the first night in the mansion. Let's take a look at the past ten seasons of The Bachelor to compare. 
[Warning: The Bachelor Season 24 spoilers ahead ]
Colton Underwood (2019) ended up kissing three ladies night one
Our token virgin bachelor, Colton Underwood, kissed three ladies on the first night. All three were heartfelt and Colton's choice.
Caelynn won him over with her love of travel and her old soul. Katie spoke about family and never expected to get a kiss on her first night. Hannah G. reminded Colton of home and won not only a kiss on the first night, but the first impression rose. 
Arie Luyendyk Jr. (2018) only kissed one contestant on the first night
Despite his nickname as the kissing bandit, Arie Luyendyk Jr. did not start the excessive lip-locking until after the first night. Luyendyk gave Brittany T. a winning kiss during the inaugural cocktail party thanks to her crafty use of a couple of props.
Brittany scooped up some highly-coveted alone time with Luyendyk, then challenged him to a race in some tiny kiddie cars. His prize for winning the race was a kiss from her, of course!
Nick Viall (2017) locked lips with two women on the first night
The Bachelor season 21 began with one romantic kiss and one stolen kiss. Corinne interrupted a tender moment between bachelor Nick Viall and Vanessa. Then she proceeded to kiss him in full view of the other women, which is against the rules of the show.
Viall's second kiss of the evening was a more heartfelt one. Nick revealed to Rachel that he was taken by her "aura," prompting him to give her the first rose. She accepted, of course, and they exchanged a romantic kiss.
Ben Higgins (2016) knew going in there would be no kissing the first night
Season 20 brought in Ben Higgins, who explained he purposely did not kiss anyone on night one. He believed that first impressions were more critical without the physical aspect of things. Although others admit they did not intend to kiss on the first night, Higgins stuck to what he said.
Chris Soules (2015) kisses a lot of women, but only one on the first night
Although midway through season 19, fans balked at how many women Chris Soules was kissing each week, things didn't start that way. The first night he only locked lips with the woman he gave the first impression rose to.
Britt gave the bachelor a "free hugs" note along with a very long hug when she met him. Later on, they had a full-on make-out session after she received the first impression rose. 
From 2010 to 2014, only one bachelor locked lips on the first night
Both Juan Pablo Galavis (2014) and Sean Lowe (2013) waited until after the first night to plant a kiss on any of the contestants.
During season 16, Ben Flajnik doesn't kiss anyone but receives a strange kiss from Emily. The Ph.D. student pulls out hand sanitizer and breath spray and proceeds to sanitize both her and Ben. Then she asks him for the first kiss. He does not turn her down, but if it weren't for her, he likely also would not have kissed anyone the first night.
No kisses occur on the first night of Brad Womack's (2011) or Jake Pavelka's (2010) seasons of The Bachelor. 
How many women did Peter Weber smooch on the first night of 'The Bachelor' Season 24?
This season of The Bachelor, Weber has women practically jumping on him with kisses. First, Savannah Mullins immediately blindfolds Peter so that he can "feel" something and then jumps right in for the kiss
Although Peter is not the one initiating the kisses, he is not rejecting them either. During the cocktail party, Hannah Ann gives Peter a painting that she made for him. The bachelor finds this very touching, and the two exchange several kisses.
Then, Tammy handcuffs the bachelor, pats him down, and then proceeds to make out with him, as well. He kisses back, so it seems like he is into it.
"I didn't expect to be kissing so many girls, but it just happened," Peter admits.
Before the night is over, he ends up kissing one more person. When a 22-year-old fashion blogger, Mykenna Dorn, goes in for a kiss, he does not turn her down, either. That makes it a count of four for the first night.
By our calculations, that means he is the first bachelor in over ten seasons to kiss four women on the first night. We wonder if that means there will be more kissing, make-outs, and fantasy suites than any other season, as well. The Bachelor airs Mondays at 8 p.m. ET on NBC.