'The Bachelor': Did Production Force Hannah Brown to Crash Peter Weber's Season?
Since the premiere of 'The Bachelor,' everyone has been talking about Hannah Brown's return to the show. But had she really been pinning after Peter Weber all that time or was production behind the whole thing?
If you thought we were done seeing Hannah Brown after Dancing with the Stars, then you were sorely mistaken, my friend. Brown is like a pimple that just keeps coming back. After participating in Colton Underwood's season of The Bachelor, Alabama Hannah returned to Bachelor nation as the Bachelorette. When things didn't work out with her fiance, Jed Wyatt, it seemed like Brown would have to find her Prince Charming outside of the Bachelor world. But then, she showed up on Peter Weber's season and suddenly had all of these feelings for him again.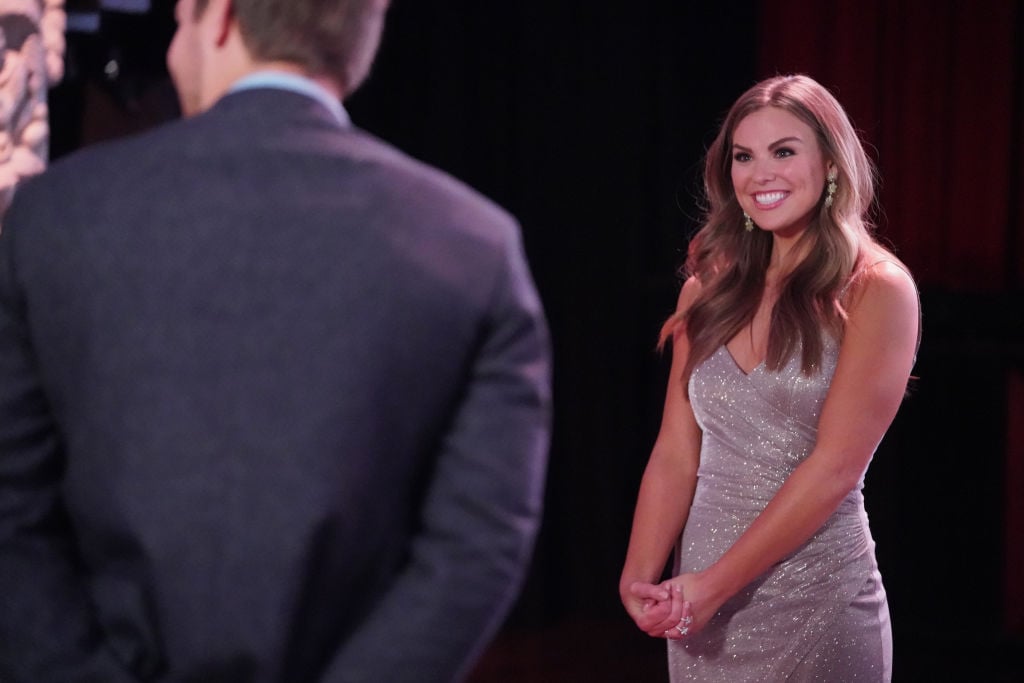 Months had passed since she ended things with Weber. Chances are, she knew how to get in contact with him during that time. So, if her feelings for the pilot were really that strong, why did she wait until his season of The Bachelor to say anything?
Hannah Brown and Peter Weber's connection
Brown and Weber hit it off on her season. He made it all the way to the top three before getting sent home. When Brown chose Wyatt and Tyler Cameron over Weber, fans screamed at their television screens and took to Twitter to express their disap pointment. It was obvious that Brown was making a mistake, but she didn't realize it until she was engaged to a man who already had a girlfriend.
Hannah Brown shows up on Peter Weber's season
On night one of Weber's season, Brown popped up to wish him good luck and give him back the little wings that he had given her on her first night. At first, it seemed like a simple, genuine gesture, but later she showed up again on the group date and began rehashing some intimate moments that she and Weber had shared. Later, she completely broke down and told Weber that she still had feelings for him.
"Even though that convo wasn't planned, it needed to happen and the hardest part for me was just struggling with the fact that I knew I had amazing women that just showed up," Weber told reporters at ABC's TCA presentation of the conversation he and Brown had. "I still didn't have any feelings yet for anyone. It was too soon to really have any legit connection. So it was awkward, it was uncomfortable, but it needed to happen. And I was very lucky that the women were understanding. So, had to happen."
Ultimately, Weber decided that it was time for him to move on from the former beauty queen and continue his journey as the Bachelor.
Did production make Hannah Brown go after Peter?
While Brown's emotions for Weber seemed completely genuine during their intense conversation, they kind of came out of nowhere. When Brown saw both of her runner-ups at the After the Final Rose ceremony, she chose to ask Cameron out and not Weber. And even after that didn't work out, she didn't contact him. So, why show up at the Bachelor mansion all of a sudden?
"I would 100 percent imagine producers made her go back on. And I think that she was in an emotional state," Bachelor alum Melissa Rycroft told Us Weekly. "We all know she was on Dancing With the Stars at the time. But I also think that she found herself now with Peter, who she did have a really great connection with, and now Peter's the big deal of the moment, everybody's there for him. And I think she let all of that lead into, 'Maybe I made a mistake.'"
Though the conversation didn't end in Brown's favor, it was necessary for fans to get closure.
"I mean, I follow her a little bit, sounds like she's a little embarrassed about the conversation," Rycroft told the outlet. "She probably went home and was like, 'Oh my God, I can't believe I did that.' But, at the same time, the audience, I feel like we kind of needed to see that conversation, and see the complete closure of the relationship. So that we'll be OK to see Peter move on, if that makes any sense. … [The producers] gave her some champagne, they reminded her how great her and Peter were together, and then said, 'Off you go. There you go.'"