'The Bachelor': Do Producers Encourage Drinking?
Drinking is obviously a huge part of being on The Bachelor. It feels like contestants have a drink in their hands from the moment they step out of the limo that first night to whenever they're sent home. And of course they do. Alcohol can make people looser, friendlier, and more outgoing. It can also make people argumentative and unable to judge situations with a clear head, which makes for good reality TV. But what's the drinking vibe like on the set of The Bachelor? Are producers straight up pouring drinks down contestants' throats or is it just always there?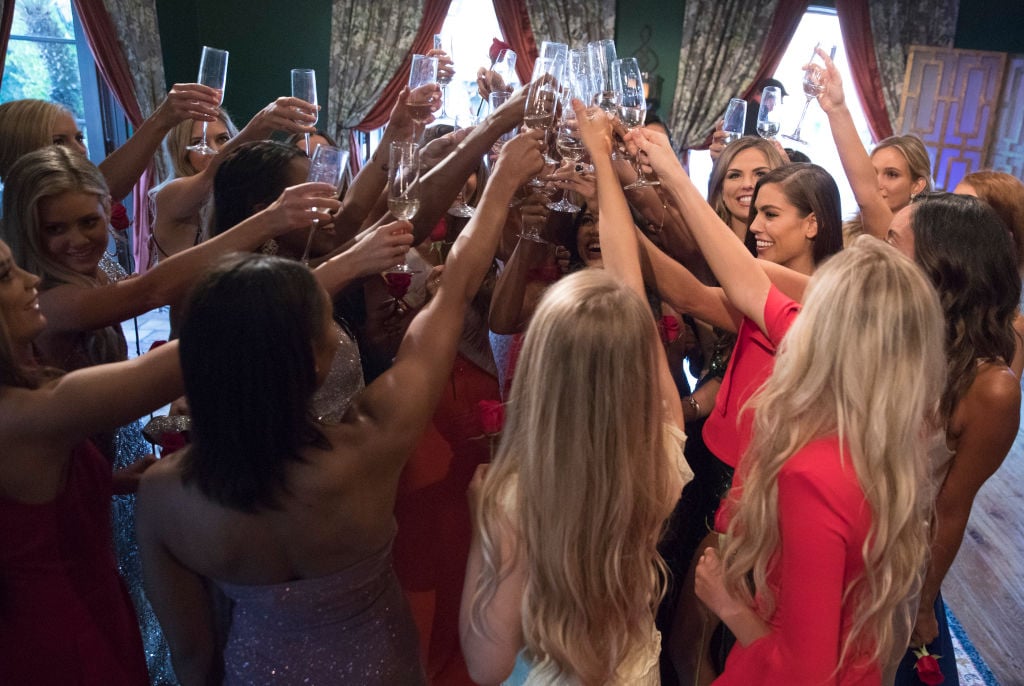 'Bachelor' producers cultivate a party atmosphere

Former Bachelor contestant Leslie Hughes told The Daily Beast that producers supply every kind of alcohol you'd ever want.

"It's how they get you to be more talkative, more sensitive," she said.

She also told The Daily Beast that The Bachelor crew isn't afraid to start drinking early. Day-drinking is a regular part of mansion life and is, in fact, encouraged.
"When I came in for the producers' weekend, I remember it was like 12 noon, and they were like, 'You want some champagne, wine?' And I was like, 'It's 12 p.m., noon!' And they're like, 'Welcome to the Bachelor family.'"

Former Bachelor contestant and former Bachelorette Ali Fedotowsky told A Drink With that it's smarter for contestants to make a conscious decision to not drink too much.

"A lot of people drink. If you are smart you don't drink that much! I was in the middle," she said.

Yes, there's always alcohol around, and yes, drinking is encouraged, but no one's forcing anyone to get wasted.

She also mentioned that in addition to encouraging knocking (more than) a few back, producers would also encourage the women to chat about The Bachelor.

"I remember there were times we'd start talking about something that wasn't related to the bachelor, like where we worked and the producer would come in and say, 'Come on guys, wouldn't you rather talk about how hot Jake is?' And we'd be like, 'Really?!' You're always encouraged to talk about the bachelor. It almost felt like we were rewarded if we did. It's a very strange situation."

Late nights and lots of drinks

The only thing that mixes worse with a few too many drinks than emotional turmoil is lack of sleep. Not only are contestants encouraged to keep drinking while filming, but they're often filming late into the night.

Former Bachelor Ben Higgins wrote on his blog about the long filming days The Bachelor and The Bachelorette are famous for.

"The first night often lasts for more than 12 hours — and it starts at 7 pm! For the bachelor or bachelorette, a normal day starts at 8 am and ends around 1:30 am the next day. He or she may have a couple hours during the day to take a break, but those days are few and far between," he wrote. "The cast's days start around 8 am and end around 11 pm."
Read more: Do Producers Tell The Bachelor and Bachelorette Who To Give Their Roses To?
Check out The Cheat Sheet on Facebook!