'The Bachelor' Fans Are Angry Peter Weber Kept This Contestant After She Started a Nasty Rumor
The drama continues on The Bachelor. That's because Tammy Ly and Kelsey Weier got into a big argument this week. Tammy started a rumor about Kelsey and it was brought to Peter Weber. Find out why fans are angry he kept one of them around in the end and more. Warning spoilers for "Week 5."
Tammy said Kelsey was drinking and taking pills
Tammy spent her alone time with Weber to talk about Kelsey. She didn't really have anything positive to say.
"Last night Kesley was like having a mental breakdown because Sydney [Hightower] went off with you in a helicopter," said Tammy. "I've seen multiple times that she's been drinking excessively," she added.
Weber brought these concerns up to Kelsey. She denied that it was a mental breakdown. She then went back to confront the rest of the girls who were on the group date.
"I don't need to drink myself to death and cry about it for a whole day," Tammy told Kelsey when they talked about how they handle emotions differently. "I did that once," Kelsey said back.
Tammy and Kelsey later had a private conversation. "I wasn't the one drinking. I know exactly what the words were said," Tammy told her. "You're projecting that," said Kelsey. "I was tipsy. I'm not going to lie. But I wasn't wasted. I was emotional."
Kelsey decided to straighten things out by talking to Weber. "For some reason Tammy's going around telling everybody that she thinks I have a drinking problem and then it turned into popping pills," she told him. "I don't know where it's coming from but it's very hurtful."
Weber decided to give Kelsey a rose. There was still a rose ceremony involving the rest of the women.
Weber gave Tammy a rose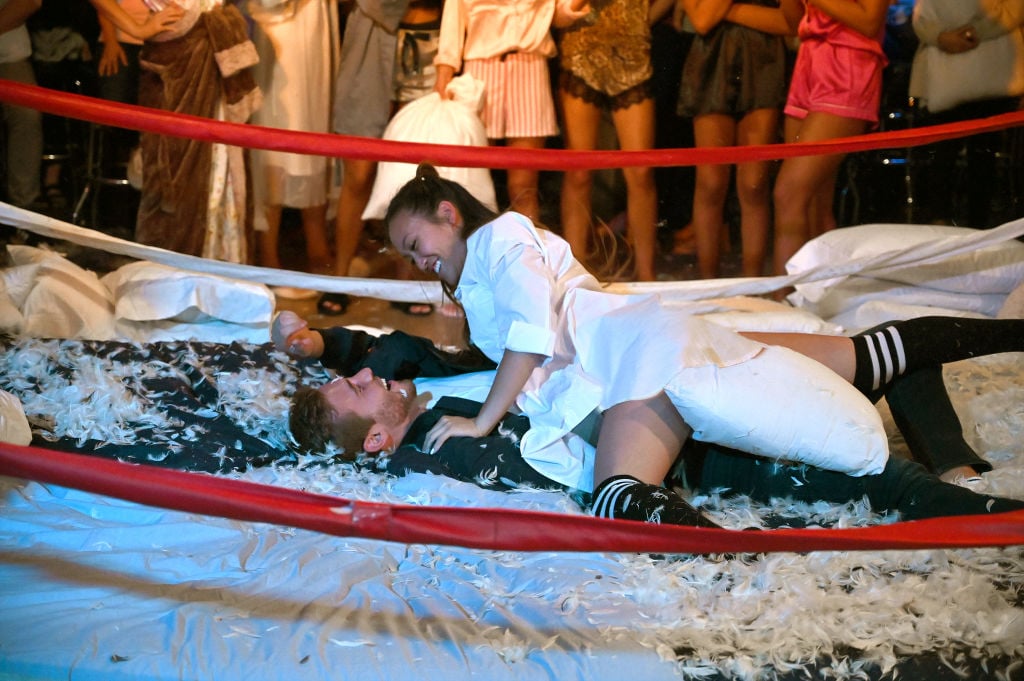 Later the women turned on Tammy for talking to Weber about Kelsey. They thought she should be focused on her own relationship with him instead of other women. They also blamed her for not getting time with him before the rose ceremony.
It looks like Tammy might go home after Weber and Kelsey's conversation. However, Tammy made sure to pull him aside before he handed out roses.
"I would just hope that you would never think that I was coming from a malicious place. I'm here to focus on my relationship with you," Tammy told Weber.
In the end, he did give Tammy a rose. It's hard to say whether her last conversation is what kept her around.
Fans are angry he gave her a rose
Fans had a lot to say about Kelsey and Tammy's fight. One person tweeted, "Tammy why are so fixated on how much Kelsey cries and drinks? Like what does that have to do with you? I'm so confused! What are you the crying police? Like just stop! #TheBachelor."
This is a similar reaction to Weber choosing to keep Alayah Benavidez and Victoria Paul after their argument. Fans will have to watch the next episode to see if he'll actually choose a side.