'The Bachelor': Fans Are Cringing at This Awkward Picture of Matt James
Each year, The Bachelor production team picks a lead who they think is suave and attractive enough that 30 women would be willing to look ridiculous on tv vying for their hearts. Matt James was their biggest curveball pick in that he did not compete on a Bachelor show before being cast as the lead so production had no idea how he would do on camera. So far this season, James has been super smooth but this newly released awkward picture proves he wasn't always that way.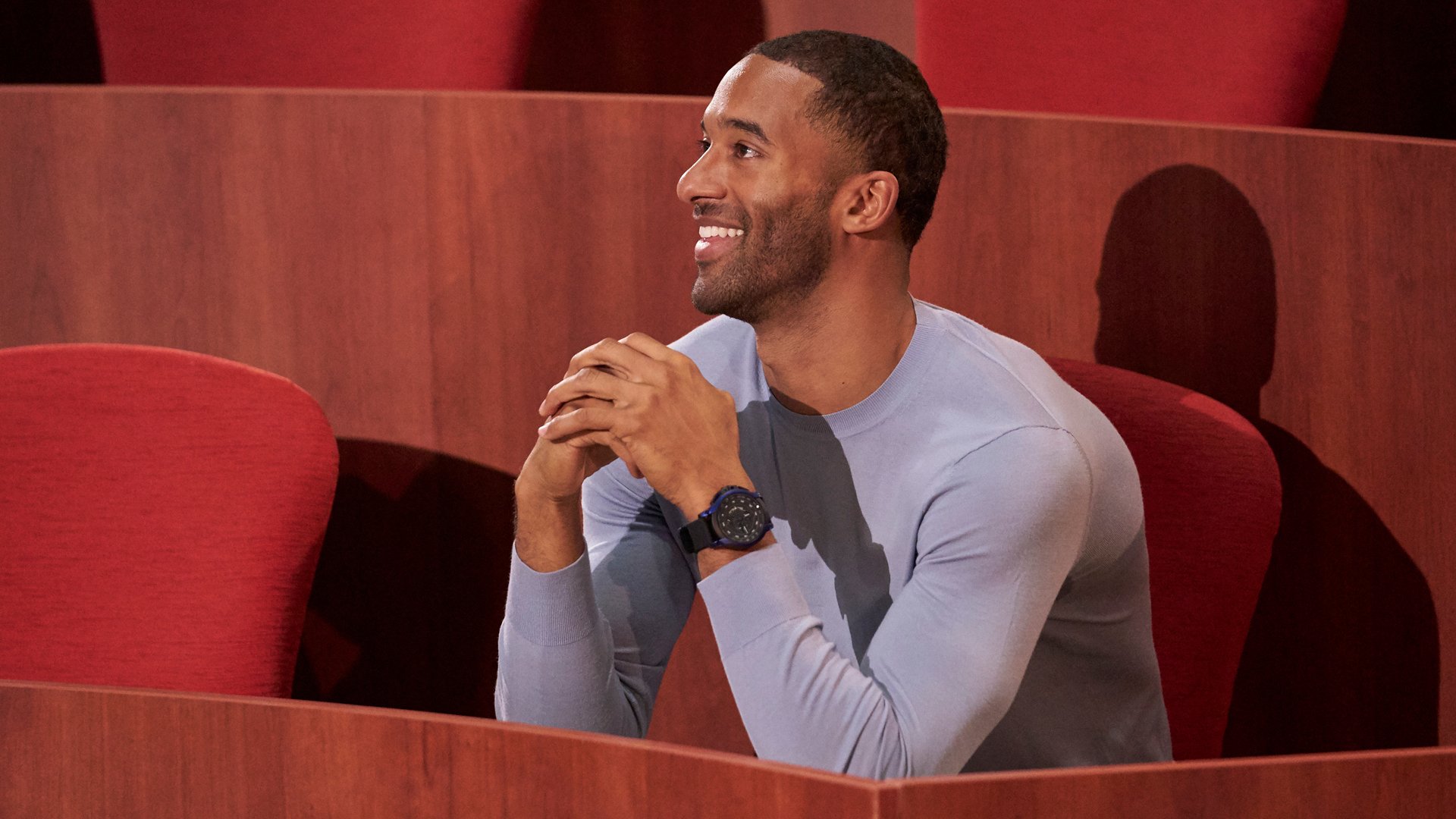 What happened on this week's episode of 'The Bachelor'?
This week was hometowns. First up was Michelle Young. Michelle had her mom and dad come up. Her parents immediately loved Matt.
"As soon as you walked in the room, we could tell you were happy," Michelle's dad Ephraim told her. He did express concern about the other women on the show but overall, Matt got the seal of approval from her parents.
Next up was Rachael Kirkconnell. Before Matt and Rachael even made it to meet her parents, they went skydiving and Rachael had a seriously painful looking crash-landing. Somehow, Rachael hurting herself brought them closer together.
 "My heart hurt when I was watching you," Matt said. "Because you weren't moving for a second."
Rachael's dad, mom, and sister were there to meet Matt after the accident. Immediately it was clear that Rachael's dad was not a fan of the Bachelor process.
 RELATED: 'The Bachelor': Has Chris Harrison Ever Left the Show Before?
"I don't see how you could get to that point [of engagement] in such a short period of time," he said to Matt. "To me, it'd be difficult to truly care about somebody when you're seeing other people. I don't see how that works."
Bri Gibbs was next and she had her mom, best friend, and new baby sister there to support her. Her family seemed to like Matt but were obviously skeptical as Matt had three other women he was still dating. After Bri told her mom that she was falling in love with Matt, her mom was practical.
"Worst case scenario, we are mending a broken heart together. But we'll survive," she said.
Finally, Matt went to meet Serena Pitt's family. Serena had her mom, dad, and sister Talia there. While interacting with her family, Serena started to realize that there was just something missing between her and Matt. In the end, Serena broke up with Matt.
"I felt so excited and good about everything, but I think you also know that I've had moments where I've struggled and had doubts," she said. "I thought that it was fear, initially… but I think if I'm being honest with myself, it's more than that. I think that it just comes down to the fact that I don't think that you're my person."
Matt's awkward picture
Throughout the hometown dates, Matt was pretty cool, calm, and collected. Even when Serena broke up with him, he managed to keep his composure when he was on the verge of tears. But recently, he shared an old school photo from 2009 that proved that he wasn't always like that.
In the photo, Matt pulls an awkward face that makes him almost unrecognizable.
"Yearbook Superlative; best smile," he captioned the strange photo.
"Yo, who is this?" one fan commented on the photo. Others wrote an assortment of "dying" and "stop" throughout the comment section.