'The Bachelor': Fans Have Mixed Reactions to "Women Tell All" Segment About Online Bullying
Emotions ran pretty high on the latest Bachelor: Women Tell All special.
While the episode included the usual drama we're used to seeing this season, it also had a moment of seriousness when Peter Weber's contestants took the time to share their experiences with online hate and bullying.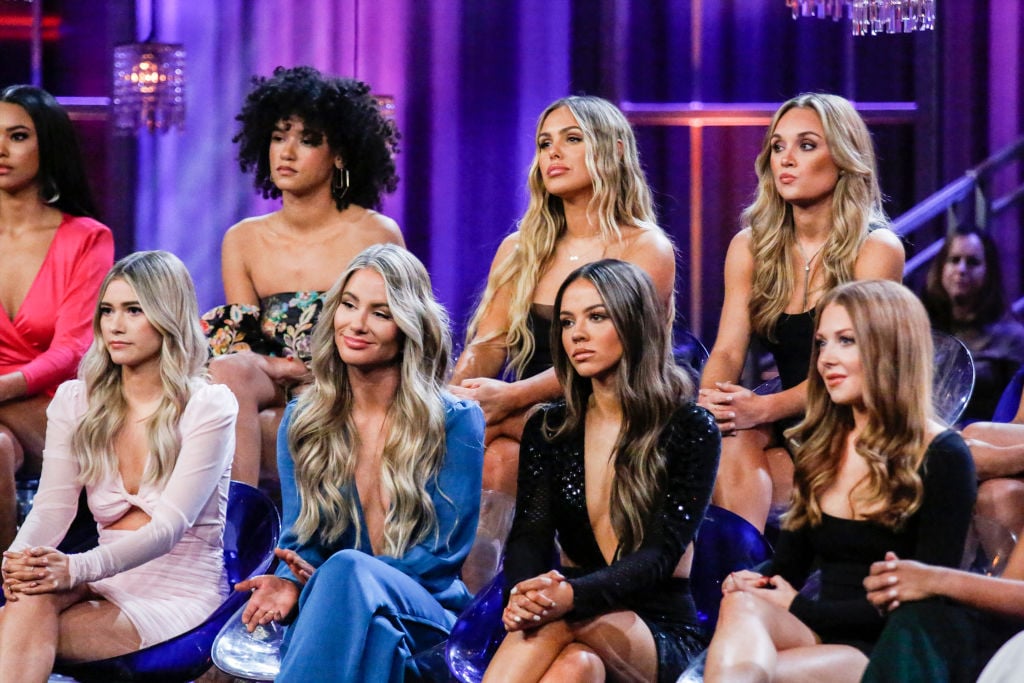 While many fans applauded the women for opening up about this harsh reality, others called this segment hypocritical — claiming the women themselves are the real bullies.
Bachelor Nation wants to put an end to online hate
Many celebrities have been open about their experiences with hateful social media comments, but members of Bachelor Nation know first hand just how hurtful people's words can be.
On March 2, former Bachelorette Rachel Lindsay led an emotional segment during the Women Tell All episode where she opened about this issue with the contestants from Weber's season.
During the emotional sit-down, Lindsay read some comments she called "graphic, explicit, and shocking" that have been sent to a few of the women.
Since the messages were extremely upsetting, we're not going to rewrite them, but they did include name-calling, trolls telling the women to kill themselves, threats, even racial slurs.
After Lindsay read through the comments, the women broke down in tears as they shared how much these remarks have affected them and pleaded with trolls to stop spreading negativity.
Even the women who didn't open up about online bullying offered support to those who did while onstage.
Though the conversation was hard to watch, it was something that needed to happen — not only to raise awareness but to stand in solidarity with those who've dealt with online hate.
Since this was an unconventional WTA episode, of course, fans were quick to share their reactions to this emotional segment on Twitter.
While many fans loved that the show took time to address the hate, others were quick to point out that online trolls aren't the only ones guilty of bullying.
Fans are calling the women hypocritical
Although this segment pulled at many people's heartstrings, it didn't have the same effect on some Twitter users.
During the emotional moment, many fans took to Twitter to call out the women for wanted to put a stop to bullying even though they weren't the nicest to each other throughout the season.
Since the contestants were always arguing and putting each other down, fans felt that it was hypocritical of the women — who spent the beginning of the special arguing over past drama with each other — to all of a sudden be against the spreading of negativity.
"Kind of hypocritical for Sydney and Tammy to cry about being bullied online when they've legit bullied other women on the show," one fan tweeted.
"These girls crying about the bullying they are receiving online when 70% of them have been the biggest bullies and meanest group of girls I've ever seen on this show has left me baffled" another fan wrote.
"They're really having an anti-bullying PSA on a show that thrives on girls bullying each other??," someone else mentioned.
Some even feel as though the women should have been put on the spot for verbally attacking each other multiple times this season.
"Obviously not advocating for internet bullying, but why isn't anyone calling out these girls for the abhorrent behavior and bullying they showed to one another? Sydney crying about being a role model while attacking multiple girls with her clique, so hypocritical," one person questioned.
Although some people considered this segment to be hypocritical, it still shed light on the disturbing reality many people live in.
Online bullying continues to be a problem, but now that Bachelor Nation has brought attention to this issue, hopefully, this behavior will finally start to subside.