'The Bachelor' Fans Now Feel Strongly That Hannah Brown Asked Tyler Cameron Out Over Peter Weber Due to Producer Meddling
Peter Weber's season of The Bachelor is full of producer meddling, according to fans. Bachelor Nation is sure that the producers worked hard to fuel Champagne Gate as well as Hannah Brown's two appearances on the show.
With fantasy suites soon, fans cannot stop talking about the four times Weber and Brown had sex in a windmill. The resurfacing of these details brought about an extensive discussion over why Brown ended up choosing Tyler Cameron over Weber during 'After the Final Rose' (AFR). Fans feel the producers had more to do with this than they are letting on.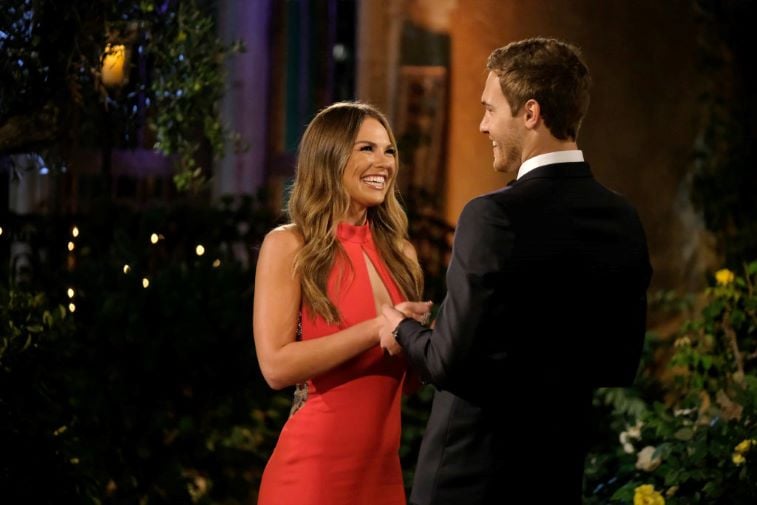 What happened during Hannah Brown's After the Rose on 'The Bachelorette?'
During Brown's AFR, she immediately tells the audience that she is no longer with Jed Wyatt.
"I am not with Jed anymore," Brown says to applause. "The engagement's over. We're not together."
It turns out that Wyatt had a girlfriend back home the entire time he was on Brown's season of The Bachelorette. He confessed the truth to Brown, but the damage was already done. She's not sticking around for it.
Instead, she chooses Tyler Cameron. He comes out on stage, and fans can see the chemistry that is still between them. However, later — much later — on Weber's season of The Bachelor, we find out that Brown regrets her decision to choose Cameron over Weber. 
So why did she choose Cameron? Were the producers behind the whole thing?
What are fans' conspiracy theories regarding the Brown/ Weber/ Cameron love triangle? 
"My conspiracy theory is that Hannah would have chosen him over Tyler and Jed, but knew he'd been tapped as a bachelor prospect and knew it'd be selfish to harm his chances," one fan wrote on Reddit.
So, fans believe that because Weber was chosen as the next bachelor, the producers did not allow Brown to pick him at AFR. However, viewers saw the chemistry.
"Also, looking back at it now, Peter and Hannah were very touchy flirty during AFR," added another fan.
Later, during an interview with Rachel Lindsay and Becca Kufrin after the Jan. 6 premiere of his Bachelor Season 24, Weber admitted he would have given things a go with Brown.
"I was prepared at [After the Final Rose] to, like, give it a shot, and I knew there was a chance [to be] The Bachelor and I was going to say 'no' to the show," Peter explained to Lindsay and Kufrin.
Will Hannah Brown return to Peter Weber's season of 'The Bachelor?'
Many fans and celebrities still feel that there is a chance to see Weber reunite with Brown. Season 24 of The Bachelor did not have many amazing choices for the pilot. Bachelor Nation is not happy with how things are going, and they think the tables might be turned in the end.
"I really think Hannah Brown comes back," former bachelor Ben Higgins told Ashley Iaconetti on their Feb. 3, 2020, podcast. "I will stick to it until we watch this thing. I just get a sense based on the press, based on interviews, based on what we have talked to people about." 
At this point, we will have to wait and see if Brown returns to sweep Weber out of the trenches of the drama this season. Monday, Feb. 17, 2020, we will watch the pilot visit each of the girls' hometowns and send another contestant home.
Read more: 'The Bachelor': Has Peter Weber Already Been Intimate with These Two Contestants?