'The Bachelor': Fans React to Victoria P.'s Story About Her Difficult Childhood
Former pageant queen Victoria P. quickly won over plenty of Bachelor Nation with her openness and honesty. On the Jan. 20 episode of 'The Bachelor,' Victoria also won a piece of Peter Weber's heart when she shared difficult details about her painful childhood.
Victoria Paul, or Victoria P., has quickly emerged as a fan favorite on Peter Weber's season of ABC's The Bachelor. 
27-year-old Victoria, a college grad and former sorority sister, works two jobs, serving as both a nurse and a sales and marketing specialist for a dermatologist's clinic. She was also 2019's Miss Louisiana and competed in various other pageants, including finishing in the top 15 at the Miss USA pageant (where she notoriously met fellow Bachelor contestant and pageant queen Alayah Benavidez).
But on the Jan. 20 episode of The Bachelor, Victoria revealed a darker side to her history when discussing her troubled childhood on a one-on-one date with Weber. Victoria ended up with a date rose, and along the way, she made a lot of Bachelor Nation fall in love.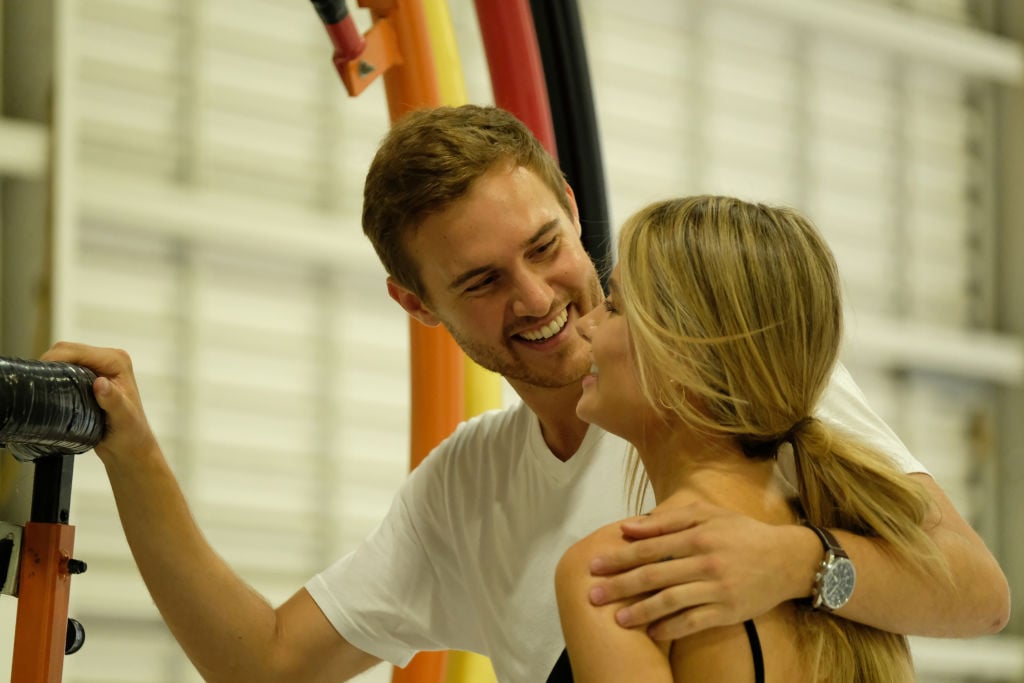 Victoria P. opened up about her heartbreaking past on a one-on-one date
After buying cowboy hats and boots and driving around Weber's hometown together, Victoria opened up to the Bachelor about her painful past. Usually, Bachelor contestants get real about former heartbreak (which Victoria has experienced too, having ended her one and only two-year relationship over her ex's infidelity), but Victoria's wounds were even deeper.
"You have that nurturing side and so much love to give, and I see that," Weber said as he snuggled closer to his date.
The Bachelor contestant looked flattered, but vulnerable. "I am a caregiver and I'm a positive person, but there are, I think, reasons why I am that way," the pageant queen told Weber. 
As she became increasingly emotional, Victoria revealed the details of her difficult childhood. "My dad passed away when I was really young, and after that, my mom really had a hard time and kind of fell into addiction," she shared. 
The Bachelor contestant continued with even more heart-wrenching details from her past, including having to serve as the main caregiver and advocate for her sister while her mom wrestled with addiction. 
"I grew up in and out of shelters growing up. My mom really struggled," Victoria told Weber. "I really had to be the rock for her and for my sister. We didn't know if my sister and I would even have food…I would literally like peel a potato and cut it in half and put salt and pepper on it and make sure my sister was taken care of."
Through it all, Victoria said, she longed for something more. "I dreamed a lot of dreams, and one of my dreams was just to get out of that place and to have a healthy and happy life and to make something of myself and to have a family," she said. "I think it's affected my relationships sometimes because I didn't feel deserving of someone."
Weber was supportive of Victoria's vulnerability
Seeming to realize just how much she'd shared, Victoria stopped herself. "I'm sorry," she whispered. 
But Weber was supportive. "Don't apologize," he told her.
The Bachelor contestant said she was thankful for the opportunity to get to know Weber on a deeper level, especially given her history with poor self-esteem and low self-confidence. "I just feel so grateful, because I feel like you've shown me the kind of love that I deserve," she gushed.
Weber said sweetly in response, "You deserve it all."
Victoria seemed nervous about having told her new boyfriend so much on their first one-on-one date. "I'm so scared to have this conversation because I know it's a lot," the pageant queen confessed. "I know it's heavy and you've had a heavy week."
But Weber insisted that this was exactly what their time together was for. "No, no, this is what matters," he said, holding her close. "You are what matters to me, okay? Thank you for opening up to me and telling me that. I can't even imagine what that must have been like growing up. It just shows me what kind of person you are."
"I just didn't always feel worthy of this," Victoria admitted emotionally.
"You are," Weber said. "Are you kidding me?"
Victoria's willingness to open up earned her Weber's respect and admiration, as well as a Week 3 date rose. "I have never been inspired by someone so much," the Bachelor told Victoria. "You have shown me so much of your heart. It feels so right with you, insanely right. And so early on, I know, but that's totally okay with me," he said before offering her the rose, which she gratefully accepted.
Fans flocked to social media to offer their support for the contestant
Bachelor Nation was in awe of Victoria's openness and vulnerability with Weber, especially so early on. During the episode, fans took to Twitter to express their admiration for all she'd overcome and for bravely sharing her story.
"In the midst of this Kelsey vs Hannah Ann Civil War, can we just all agree that Victoria P is  [a] beautiful woman inside and out who deserves the world???" one Twitter user wrote.
Plenty of Bachelor fans hoped Victoria would end up with Peter after she shared her difficult past, while others think she's likely to end up as the next Bachelorette. "I swear to god, Peter, you better not break Victoria P's heart," wrote one fan.
Of course, others joked about just how suddenly the tone of the date had changed from lighthearted to dark and serious. "Peter when he asked Victoria P to open up but realized she had an actually hard life instead of just a s***** ex-boyfriend," one Twitter user wrote alongside a meme reading, "f*** go back."
Another Bachelor viewer joked on Twitter, "Peter: I want to get deeper," adding a GIF of someone jumping directly into ice water in reference to Victoria "taking the plunge" into more serious waters.