Has Peter Weber Replaced Juan Pablo and Arie Luyendyk Jr. as the Worst 'Bachelor'?
The Bachelor finale 2020 concludes tonight, and for fans who haven't seen spoilers, it's anyone's guess as to what Peter Weber will do. Though the genial pilot wasn't the overwhelming favorite of Hannah Brown's season, when he was selected as The Bachelor, he had a ton of support. Unfortunately, for Weber, that support has significantly wavered in the past several months.
[Spoiler alert: This article contains spoilers for The Bachelor finale 2020.]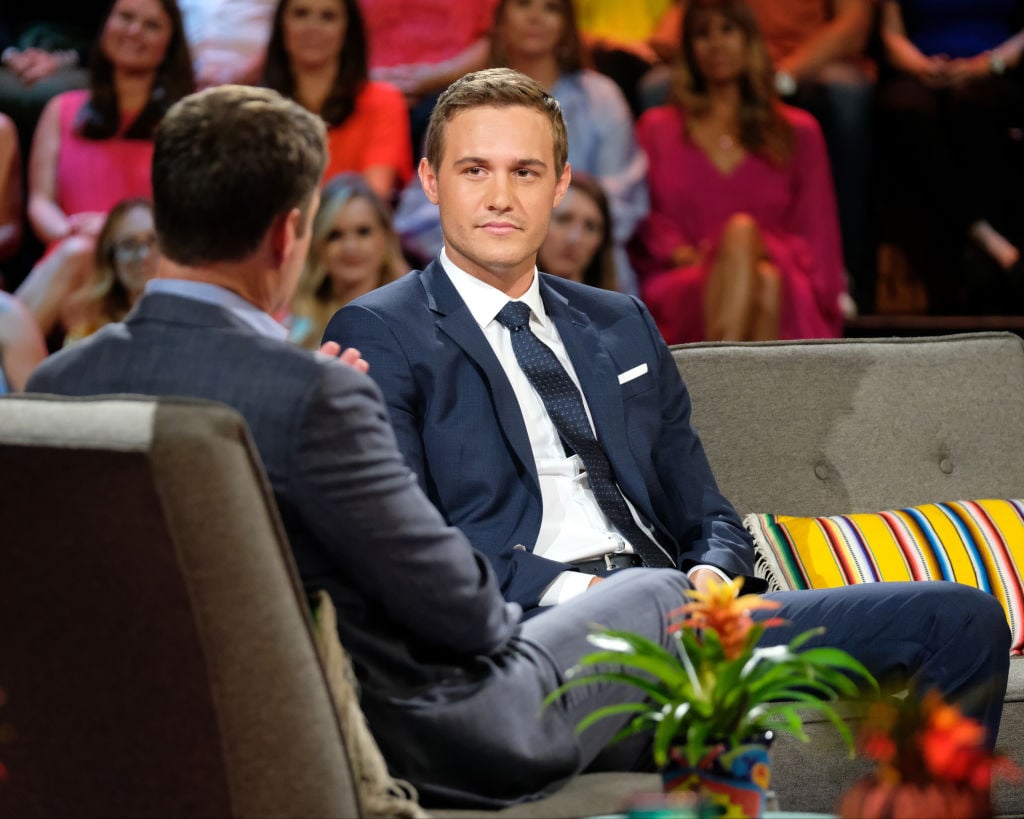 Backlash for Weber started brewing long before The Bachelor finale began airing. The 28-year-old pilot was called out by fans and contestants alike for constantly rewarding drama rather than deepening his relationships. Furthermore, his constant bickering with eliminated contestant, Victoria Fuller, and his apparent need to have his contestants cry in order to see that their feelings were "genuine and real", raised red flags for Bachelor Nation. But, nothing compares to the backlash that Weber needs to prepare for once fans have seen The Bachelor finale.
A quick recap on 'The Bachelor' finale 2020 part 1
To recap on what fans have seen thus far on The Bachelor finale, Weber is down to only one contestant, Hannah Ann Sluss. In a surprising move, Weber's other contestant, Madison Prewett, self-eliminated because she thought their lifestyles were too different. Furthermore, Weber's family met Sluss for the first time and made it no secret that the preferred her to Prewett. Calling Sluss an "angel on earth" they failed to see why Weber's heart was torn between someone who was "perfect" with no issues and one who "raised red flags." This made for a pretty messy start to The Bachelor finale, but thanks to Reality Steve and his spoilers, we know things are about to get a whole lot messier.
Reality Steve shares spoilers of what will happen tonight
There are a lot of moving parts for The Bachelor finale, but the biggest shockers center around Weber's behavior. On March 9, 2020, Reality Steve updated his spoilers. According to the popular blogger, Sluss considers leaving but ultimately makes the choice to stay. Weber then proposes to the Knoxville native and the two get engaged in Australia. However, soon after, Weber pulled an Arie Luyendyk Jr. and broke things off with Sluss to pursue a relationship with Prewett.
Will Peter Weber propose to Madison Prewett live and secure a second engagement?
The one thing that Reality Steve's spoilers don't tell us about The Bachelor finale is where Weber and Prewett stand now. Reality Steve believes the pair are together, but it's been a long journey to get there. The blogger did say it's possible that Weber would propose to Prewett and that's why Chris Harrison keeps saying "even Peter doesn't know how his season will end." But, we guess Bachelor Nation will have to tune in tonight to get answers to that question.
Fans are dragging Weber on Twitter
After reading spoilers for The Bachelor finale 2020 many fans are extremely frustrated with Weber and they have no qualms about making their ire known. Weber is getting called "the worst" and many fans of The Bachelor are adamant that both Sluss and Prewett deserve better. "The only thing that could redeem this season is if Madison flips it around and dumps Peter on national tv, truly have never seen that happen and it would be justified," one fan tweeted out.
"This has been a waste of a season. Peter is as bad as Juan Pablo and Arie Luyendyk if not worse," another person said in reaction to the spoilers."I didn't watch Juan Pablo but from what I heard, he didn't tell multiple women he loved them and he did make one decision, right? Peter has just been masking how douchy he is by acting like a puppy dog. Not buying it," yet another person added.
Only time will tell how the rest of Bachelor Nation reacts to The Bachelor Finale 2020. But, if these spoilers are to be believed, things don't look great for Weber.