'The Bachelor' Finale: Nick Viall Weighs in on Clayton Echard's Relationship Status and the Next Bachelorette
Leading up to the finale of Clayton Echard's season of The Bachelor, Nick Viall teased the episode on Twitter. "I'm just shaking my head in disbelief … and then there are some iconic moments," he said at the time. The Bachelor Nation star, who appeared in The Bachelor Season 21 and proposed to contestant Vanessa Grimaldi, had even more to say about the way things ended for Clayton — who isn't single. Plus, Nick's thoughts about who ABC cast as the next star of The Bachelorette.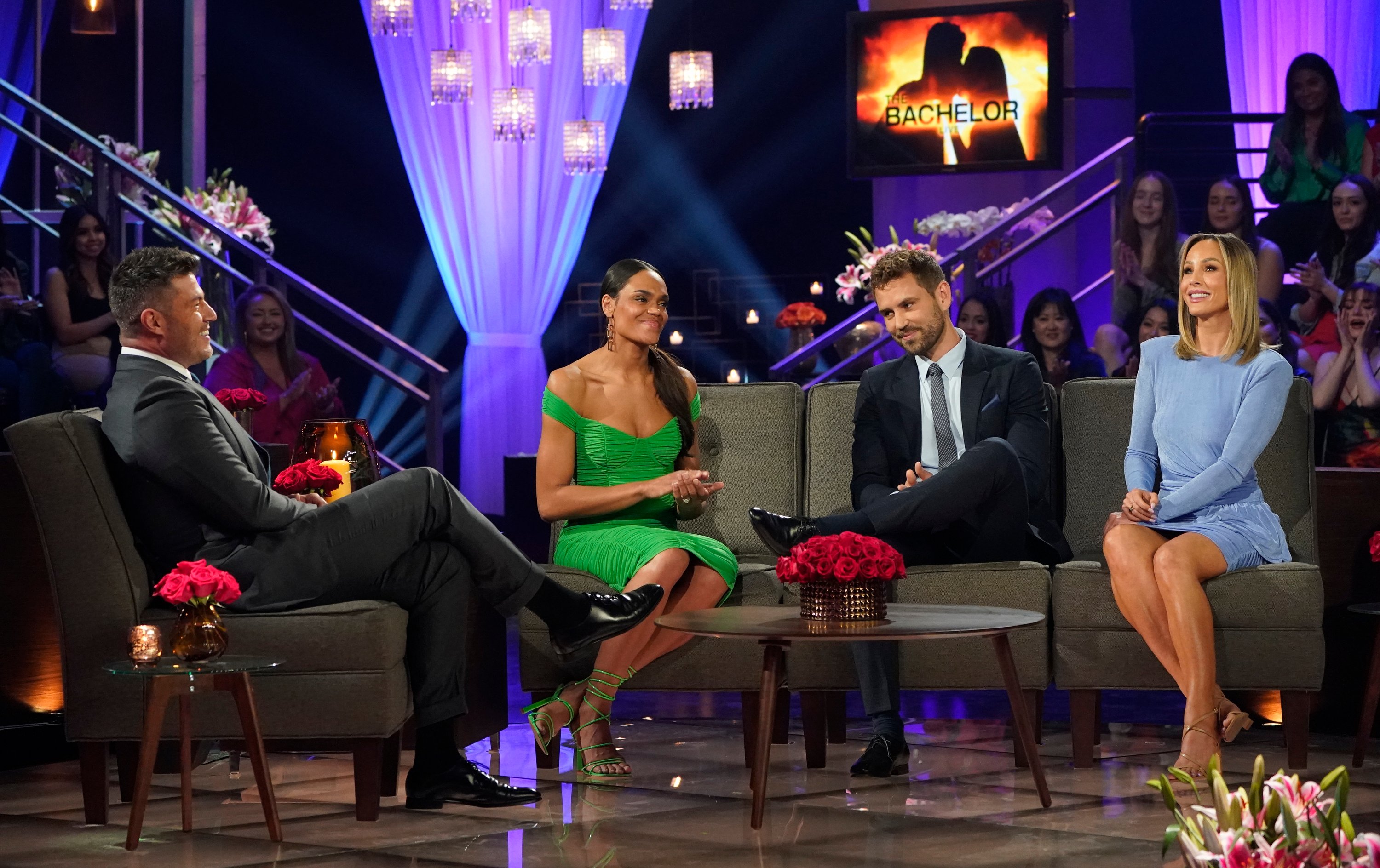 Clayton Echard and Susie Evans reunite during 'The Bachelor' finale
As Nick promised, The Bachelor Season 26 finale was full of twists. Clayton broke up with Gabby Windey and Rachel Recchia simultaneously in Iceland during the finale episode. In a last-ditch effort, he asked Susie to meet him in what would have been the place he proposed. But instead of getting down on one knee, he asked Susie to give him a second chance. She denied him. 
As Clayton revealed during the finale, he and Susie reconnected after filming for his season wrapped when she reached out to The Bachelor star. "I know he was following his heart and I have a lot of respect for him for doing that," Susie said. "But I just had to choose myself in that moment and that allowed me to take a better look and get the answers we both needed."
They aren't engaged, despite Neil Lane's presence in the audience. But Clayton did say he was moving in with Susie "in the next couple of days." 
Nick Viall thinks Gabby Windey and Rachel Recchia as the next 'Bachelorette' leads is a 'great idea'
At the end of The Bachelor Season 26 finale, host Jesse Palmer announced who the next star of The Bachelorette would be. This time, the show will have two leads — Gabby and Rachel.
"Honestly … this is a great idea," Nick tweeted during the finale. Right now, it's unclear how ABC will handle two leads in the upcoming season. Will Gabby and Rachel date the same men or get their own group of guys to choose from? 
Either way, Nick supports the idea, comparing it to Bachelor in Paradise. "They are going to bring Paradise to the Bachelorette and it's going to be a mess," he said in another tweet. 
Nick Viall previously called Clayton Echard out for 'being a d***' to Susie Evans
During the Fantasy Suites episode of The Bachelor, Clayton and Susie got into a heated discussion about their relationship. "I think you're incredible, but … knowing there's an engagement, there are things I feel like I can't compromise," Susie said. "I know you just told me you feel like you're in love with me, but do you feel that way with someone else? Have you slept with another woman? Those are things I feel like would be impossible for me to move forward with an engagement." 
Clayton was upset Susie didn't present him with this information sooner, leading several fans to feel like Clayton gaslit her and invalidated her feelings. Nick shared similar sentiments on Twitter. 
"Susie tried to express her feelings while trying to empathize with Clayton's POV," he wrote. "Clayton expressed his feelings to Susie by being a d***."
Now, Nick seems to have changed his tune. "Wishing you two all the best," he commented on Clayton's Instagram post regarding his relationship with Susie.
Stay tuned to Showbiz Cheat Sheet for the latest on The Bachelor and The Bachelorette. 
RELATED: 'The Bachelor' 2022 Finale: Clayton Echard's Dad Brian Wins Bachelor Nation's Hearts