'The Bachelor' Finale Spoilers Are In, and Chris Harrison Has Some Serious Explaining to Do
The Bachelor finale finally airs tonight, but spoilers have been made available to fans since yesterday morning. And while pilot Peter Weber is getting his fair share of deserved flack, alongside his family, someone else is also catching some unexpected heat. Plenty of Bachelor Nation has lots of questions for long-time host, Chris Harrison.
[Spoiler alert: This article contains spoilers for The Bachelor finale 2020.]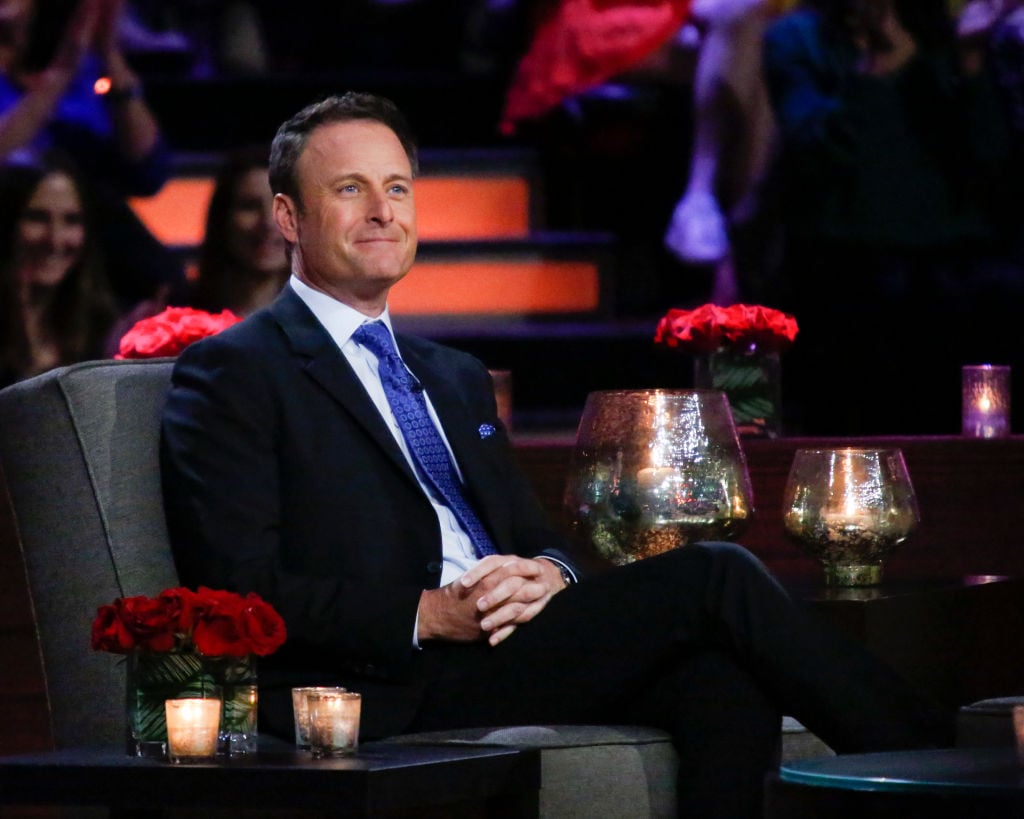 Harrison has been a staple of the show since its inception back in 2002. After 18 years of hosting The Bachelor and all of its spinoff shows, he has become a celebrity in his own right. Harrison knows how to give countless interviews without revealing any spoilers and has over 1 million followers on Instagram alone. But, with increased popularity comes increased scrutiny and criticism and some of Bachelor Nation isn't too happy with him after learning about the spoilers from The Bachelor 2020 finale.
Reality Steve reveals 'The Bachelor' finale 2020 spoilers
On March 9, 2020, Reality Steve updated his spoilers for The Bachelor finale. The popular blogger reveals that after Madison Prewett self-eliminated, Weber proposed to Hannah Ann Sluss. Sluss accepted (even though she too was considering leaving prior to the proposal) and they pair got engaged. The engagement was short-lived, however, and Weber breaks things off with Sluss in order to pursue things with Prewett. According to Reality Steve, Prewett and Weber are together now, and Weber may propose live tonight during After The Final Rose.
A quick recap of past seasons of 'The Bachelor'
While these spoilers for The Bachelor finale are messy, they certainly aren't as dramatic as Bachelor Nation has been led to believe by Harrison and promos. In fact, we've seen these things happen before. Only two seasons ago, fans of The Bachelor watched as Arie Luyendyk Jr. got engaged to Becca Kufrin only to break things off to pursue a relationship with his now-wife, Lauren Luyendyk nee Burnham. Funnily enough, the pair got engaged during the After The Final Rose special also.
But, veteran fans of The Bachelor will note that Luyendyk wasn't even the first lead to pull a switcheroo. During Season 13 of The Bachelor (which is available for streaming on Netflix) Jason Mesnick got engaged to Melissa Rycroft only to break it off with her during the After The Final Rose special because he was still in love with his now-wife, Molly Mesnick nee Malaney. He proposed to her and the pair got engaged during After The Final Rose and have been happily married since.
Madison Prewett's self-elimination isn't unprecedented either
Some fans who have seen the spoilers believe that Harrison was referencing Prewett's self-elimination during finale week as the unprecedented part of The Bachelor finale. But, we need only to look at another show in the franchise to see that it's happened before. One of Desiree Hartsock's contestants self-eliminated during the finale week because he wasn't in love with her, so truly there isn't much new or fresh about The Bachelor finale 2020.
Fans are underwhelmed by the spoilers
Seeing the spoilers, much of Bachelor Nation had no qualms about calling Harrison out about his declaration that this Bachelor finale was unlike anything we've seen before. "Where is the unique ending Chris Harrison promised? This is Arie and Jason 3.0," one fan wrote on Instagram.
Fans question Chris Harrison on Twitter and Instagram
"Soo a combination of Arie + Jason + Desiree's seasons. Still not unique. We've also seen families before who originally prefer one of the final two who the bachelor or bachelorette doesn't ultimately end up with in the end. Altogether this is nothing we haven't seen before," another fan wrote about The Bachelor finale spoilers.
Other fans felt it prudent to defend Harrison and his statements. They are convinced that Reality Steve doesn't have all the information. As the blogger has updated his spoilers multiple times, it's quite possible he doesn't have it all right. "I think there has to be something missing," one person wrote. "I think you're exactly right, and that's why @realitysteve is not 💯 % right this time, there has to be some nuance missing for it to actually be different (or the advertising is just lies, and that's silly!)" another fan co-signed.
What will happen live?
No matter what the spoilers say, Bachelor Nation will ultimately have all their questions answered one way or another. The Bachelor finale airs tonight at 9/8c on ABC.