'The Bachelor': Former Contestants Ashley Spivey and Olivia Caridi Call Out Rachael Kirkconnell for Resurfaced Picture
Rachael Kirkconnell, a contestant on The Bachelor this season, has been involved in another social media controversy. A new picture of the Georgia-native has emerged, and former contestants such as Ashley Spivey and Olivia Caridi have spoken out against the content of the picture. Read on to see what the former contestants said to call out Kirkconnell.
[Spoiler alert: The following article contains spoilers about Matt James' season of The Bachelor.]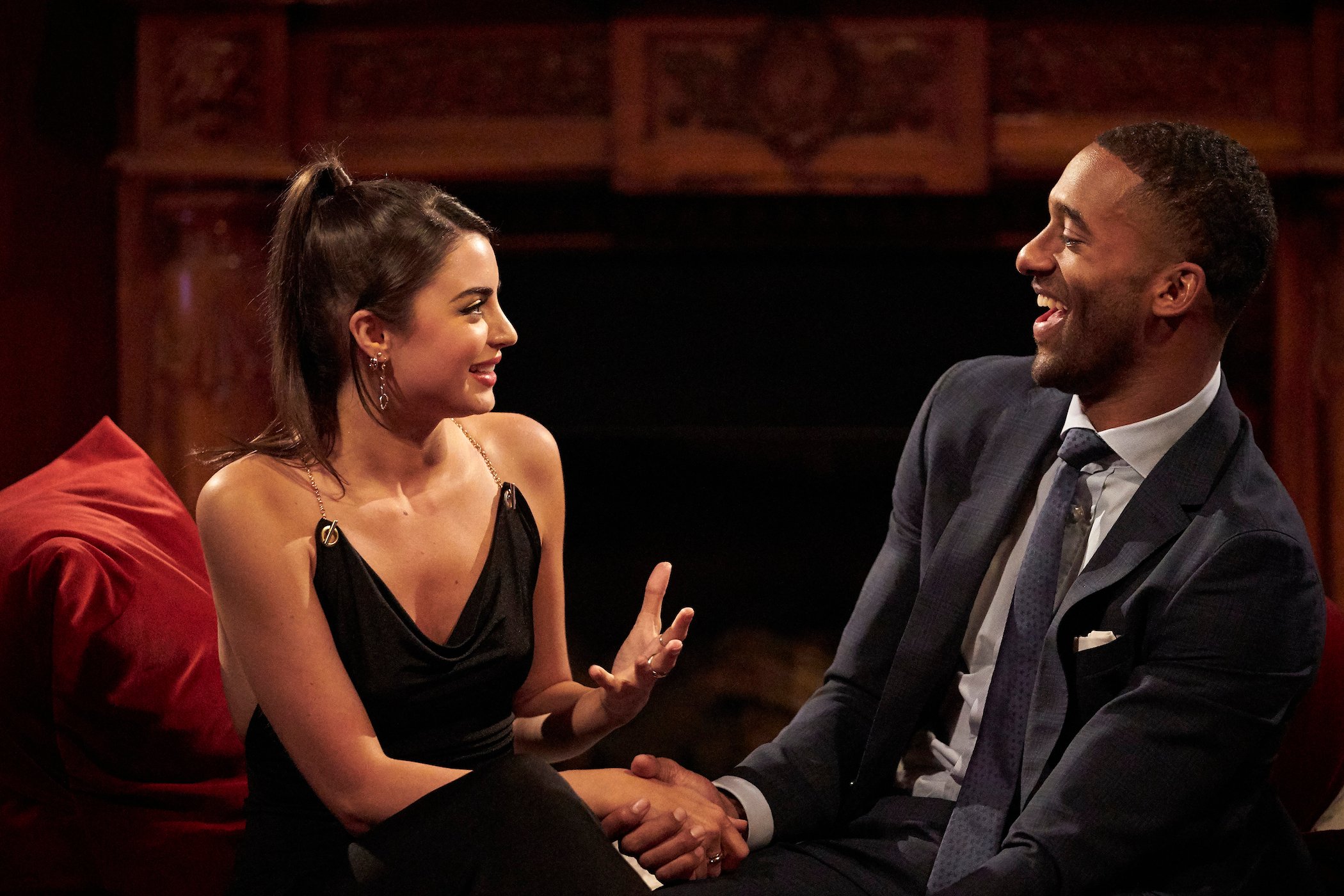 What the Rachael Kirkconnell picture shows
A fan account on Twitter with the handle @TeaAndRoses21 shared a picture of Kirkconnell at an alleged "Antebellum plantation-themed fraternity formal in 2018."
The picture shows Kirkconnell with other women posing in stereotypical Antebellum South apparel. This style consists of "Victorian hoop skirts, grandly embellished with ribbons and bows," per Michigan State University's LEADR research.
Former contestants and fans alike called out Kirkconnell for dressing up in this style. They also expressed their disappointment that she allegedly attended an event that was Antebellum-themed while pursuing Matt James, a Black man, on reality television.
How former contestant Olivia Caridi reacted to the new picture
RELATED: 'The Bachelor': Could Reality Steve's Spoilers Be Wrong Again?
Caridi, who was on Ben Higgins' season of The Bachelor, spoke out against the photo immediately.
"This is downright vile," she said. "And LOL at all the people excusing this because it is 'common,'" Caridi commented.
"These are white, privileged kids who are dressing up and glorifying a time in which slave owners dehumanized Black people," Caridi continued in a separate tweet.
"And treated them as property," Caridi wrote in another post. "I am from the South. I went to school in the South. These kids have educations and they know history and they still glorify slavery. For what? For an Instagram photo in a cute dress? To be popular?"
Caridi concluded: "Being 'not racist' is not enough."
What Ashley Spivey said about Rachael Kirkconnell's picture
Some fans took to Twitter to say that these kinds of themed events regularly occur in the South.
Spivey spoke up on why she thought Kirkconnell — and these events — are wrong. The former was on Brad Womack's second season of The Bachelor in 2011.
"If you are educated, you know that this is simply not a southern theme," Spivey expressed on her Twitter account. "This is romanticizing the Antebellum South."
Spivey then wondered about another frontrunner contestant who had a similar social media scandal.
"I'm wondering why ABC let Garrett [Yrigoyen] make a statement about his 'mindless double-taps' but they aren't letting Rachael make a statement about her racist behavior," Spivey said.
She then expressed her disappointment that Kirkconnell's social media actions will be the "dominant story" regarding James' season of The Bachelor since she is the predicted winner.
"The first Black Bachelor's season has already been torpedoed by white women attacking [Women of Color] in the house and now Rachael's racism will be the dominant story going forward," Spivey continued. "It's almost like they never truly cared about the historic nature of this season."
Kirkconnell has yet to speak out about her social media past.