'The Bachelor': Hannah Ann Sluss Agrees That Mason Rudolph Is a Major 'Upgrade' From Peter Weber
Even amidst the coronavirus (COVID-19) pandemic, Hannah Ann Sluss has been living her best life after The Bachelor. Her Instagram followers have watched her decorate her new Los Angeles apartment, try new recipes, take pictures of herself in all the outfits she can't wear out, and tan on her patio in a variety of cute bathing suits.
After Peter Weber's season of The Bachelor ended, Sluss posted a series of photos and captions detailing how she made it through her difficult relationship and breakup with the season lead.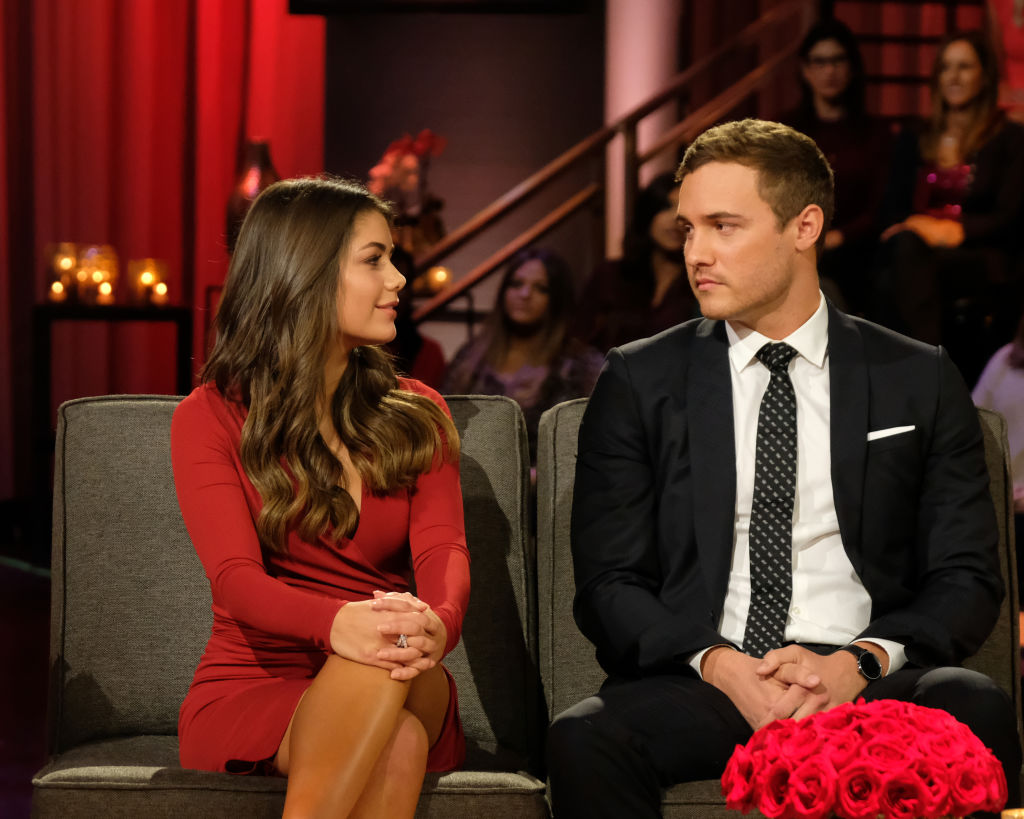 "CHOOSE JOY 😊 There's joy inside all of us, we just have to tap into it. Joy causes us to be strong and to overcome. No matter how discouraged you feel, there's always something we can be grateful for. Choosing to let gratitude be my attitude and joy be my strength everyday. Hope everyone is staying safe and healthy!" she wrote on March 16.
Hannah Ann Sluss' post-'Bachelor' dating life during the coronavirus pandemic
While Sluss obviously isn't going on dates in the traditional sense in the midst of isolating, she has been "getting to know different people" via FaceTime.
"Right now, I'm quarantined so I can't like, go out on a date," she told David Spade on his Comedy Central show, Lights Out with David Spade. "But I've been FaceTiming and getting to know different people."
She said there's one person she's getting to know who she's particularly excited about. At the time, she didn't say the person's name.
"There's one person in particular — I like to call him the 'mystery man,' because I don't want anyone finding out about it," she said. "We'll see where it goes. I'm excited."
Hannah Ann Sluss was spotted with NFL quarterback Mason Rudolph
TMZ photographed Sluss and NFL quarterback Mason Rudolph getting coffee together in LA on April 29. According to the site, this is supposedly the third time they've hung out in the last few days.
A source said "they very much seemed lovey-dovey" and that "he even opened her car door."
Sluss hasn't commented on the outing, but she has liked comments about it, which gives a pretty good indication as to how she's feeling about things. Cosmopolitan reports that the former Bachelor contestant liked a comment that said Rudolph is "THE UPGRADE OF THE CENTURY."
Sluss hasn't been shy about her feelings toward Weber since the finale aired. During their breakup, she told him he needed to become "a real man" if he wanted to "be with a woman." It seems she still feels the same way.
In early March, Sluss was seen with Jacksonville Jaguars quarterback Josh Dobbs. Sluss has said she doesn't plan on being exclusive with anyone anytime soon. But it definitely appears she has a type.
Read more: 'The Bachelor': Blake Horstmann Says He'd Rather 'Sh*t in [His] Hand and Clap' Than Go on Nick Viall's Podcast