'The Bachelor': Why Some Fans Are Calling Heather Martin's Appearance Scripted and Staged
This season of The Bachelor was already filled to the brim with drama, but with Heather Martin's arrival, it just might combust. Hailing from Colton Underwood's season, Martin's claim to fame in the franchise was that, prior to the show, she had never been kissed. Though Martin shared her first kiss with Underwood, it didn't work out between the pair. Now, however, it seems that Martin is interested in Matt James.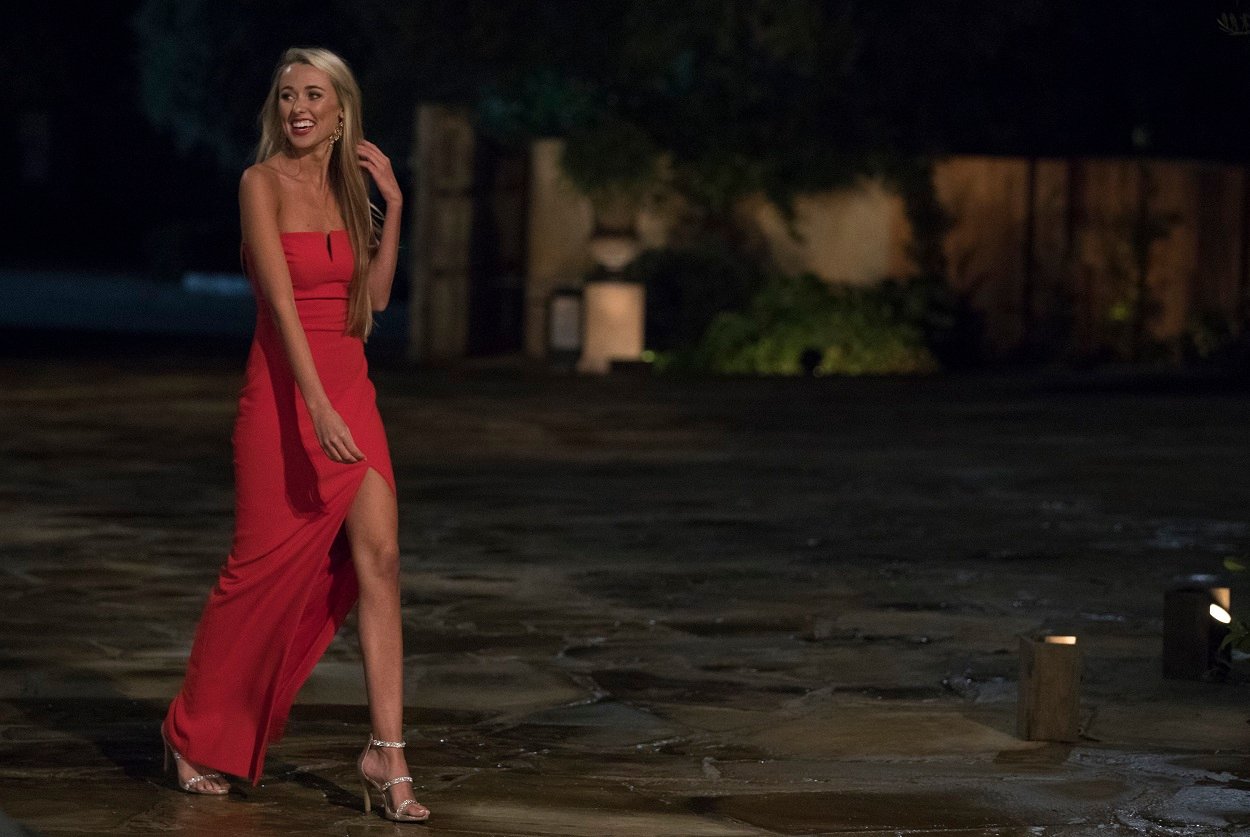 Funnily enough, fans of the show were talking about Martin's appearance before she even arrived. Dylan Barbour, who got engaged to Martin's good friend, Hannah Godwin, on Bachelor in Paradise, had harsh words to say about the franchise after a preview for an upcoming episode teased Martin's arrival.
Dylan Barbour dragged 'The Bachelor' franchise on Twitter
"The Bachelor producers screwed Heather over," Barbour wrote in a Tweet. "She must be protected. Just know I'm ready to go to battle against them and these mean girls." Of course, fans of The Bachelor were instantly intrigued by Barbour's comments and were questioning him for more details.
Because of Barbour's comments, The Bachelor viewers were interested to see what storyline Martin would receive. She made her first appearance in last night's episode, claiming that her best friend, Hannah Brown, told her that she would be a good match for James and that she was at the resort to meet Matt. Of course, Chris Harrison immediately acted completely surprised by this turn of events declaring for the millionth time that it was one of the most "shocking" things to happen in the history of the franchise.
Did Heather Martin and Matt James have a relationship before the show?
But many fans don't seem to be buying the story that The Bachelor producers are trying to sell. They pointed out that Martin wouldn't have magically known where to appear and that she would have needed an invitation from producers to join prior to showing up. Furthermore, fans believe Martin must have shown up weeks before her first appearance in order to follow the show's quarantine restrictions. Additionally, they don't buy that Martin showed up to "meet Matt."
"This was the most scripted and fixed thing on The Bachelor ever," one person penned on YouTube after watching Martin's appearance. "1st how did she know where to find them? 2nd she had to quarantine whatever it was like a day, not 2 weeks. They knew she was coming and already quarantined. 3rd she is friends with Hannah [Brown]; the show can hide a lot but can't hide Matt's reaction, he knew her."
Fans aren't pleased with the way 'The Bachelor' producers are handling this season
"I'm glad you pointed that out!!" another person agreed. "Matt clearly knew Heather, he recognized her immediately and laughed and hugged her as if they were old friends. Doesn't fit the tale she was giving us, when she said Hannah B. told her about Matt and she wanted to meet him before he possibly gets engaged to somebody else… Bad production!! They could have easily go with the "Since my friend is the Bachelor I realized I'm into him" route or something like that…This season is all fake drama and no real romance and that's why I slowly don't care about Matt anymore :("
While James has admitted to meeting Martin before, he maintains that they had no prior relationship. But whatever their previous connection, it would appear that the storyline that production is trying to sell viewers about Martin isn't quite adding up. While a few fans seem to be enjoying the never-ending drama that is The Bachelor 2021, ratings and comments suggest that most people are over the producers' constant drama-evoking antics.