'The Bachelor' Host Chris Harrison Has Another Career Fans Conveniently Forgot About
'The Bachelor' couldn't exist without host, Chris Harrison. As the franchise voice of everyone looking for love, what other career did Harrison have?
It's hard to imagine The Bachelor without host, Chris Harrison, and his pile of roses. From the very first episode in 2002, Harrison has been an unwavering piece of the Bachelor Nation puzzle. However, the host's talents go a lot farther than maneuvering a dating reality show.
Chris Harrison's early career has some interesting highlights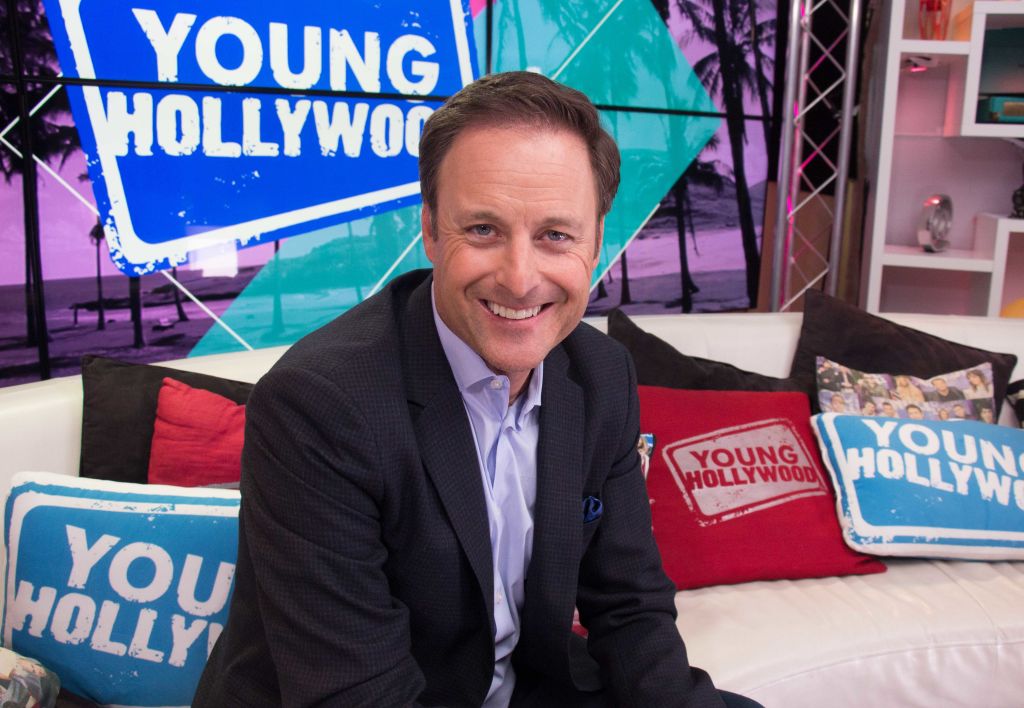 The Bachelor isn't the first big job Chris Harrison took on. In the early '90s, the host and TV personality worked as a sports reporter for CBS affiliate, KWTV.
The job was located in Oklahoma City, where Harrison previously had a soccer scholarship at Oklahoma City University. His stint lasted from 1993-1999, working his way up from part-time writer to weekend sportscaster. It's a long way from "the most dramatic rose ceremony yet."
The experiences prepared Harrison on how to handle a wide range of stories, such as the occasional love-gone-wrong scenario. In 1999, Harrison left his sportscasting headset behind in exchange for a job reporting for the horse racing channel, TVG Network. A year later, he landed a hosting gig for the show, Designer's Challenge.
That obviously didn't last too long because a year after that, ABC offered him The Bachelor.
He told Salon in 2014 how they described the position saying, "I was told that the producers' thought process was that they wanted a down-home family man, a guy-next-door who could be the confidant, someone relatable who had a family of his own." Nailed it.
The rest is Bachelor franchise history. In the time since, Harrison picked up another side hustle most fans either don't know about or don't reference because of its curious nature.
Fans forgot about this confusing career move
Leave it to the host of a reality dating show to take the next logical step. In February 2016, Harrison's debut novel, The Perfect Letter, released in paperback.
The description of the book says:
As the longtime host of ABC's hit shows The Bachelor and The Bachelorette, Chris Harrison has witnessed the joys and heartbreak of men and women searching for everlasting love. A true romantic at heart, he believes that everyone deserves their own fairytale ending. Now, in his first work of fiction, Chris draws on his unique insights and wisdom in a remarkable debut novel that explores love and its consequences—a must-read for Bachelor fans and hopeless romantics everywhere.

Amazon
The book has 315 reviews with an average of 4.5 stars, so it can't be that bad. More on the novel, according to the jacket flap, says the story follows book editor, Leigh Merrill who "spent 10 years running away from her past," but "now she's going back,"
When the engaged Leigh returns home for a writer's conference, she discovers letters from her past that she'll either have to confront or keep running from.
Considering most reviews are from dedicated fans of The Bachelor (both excited and unimpressed), it's hard to say if the opinions are objective, Still, Harrison's move to become a romance author shouldn't surprise fans, yet it did.
Will Harrison write another book?
If fans of Harrison and his work on the Bachelor Nation shows hope to see more fiction from the host, it doesn't look like he'll go down that path again.
"Next time I say I want to write a book, can you just punch me in the face?" he joked in an interview with NPR.
"Writing a book, I've had the utmost respect for authors and what these successful authors do, because it's one thing to say, 'Oh, I have a great story, and I want to write pen to paper, yay, here's my essay,' turn it in like you're in school — it's so far from that."
He continued saying. "Writing is almost just half the project. It really has been amazing and I've loved it, as excruciatingly painful as it's been as time, it's been great to kind of stretch a new muscle and learn a new craft and really dive into it."
Sorry, The Perfect Letter fans, but it looks like you'll have to get your fill of Harrison on The Bachelor. Good thing you get three chances with Bachelor in Paradise and The Bachelorette following Peter Weber's nail-biting season of The Bachelor, which airs every Monday at 8 p.m. on ABC.