'The Bachelor': How Many Women Did Peter Weber Kiss During the Premiere—Was Hannah Brown One of Them?
The three-hour-long season premiere of The Bachelor Season 24 wrapped with an excessive amount of kissing. Let's take a look at every single contestant that our new bachelor, Peter Weber, locked lips with during just one night and two dates. We will also reveal the big question everyone is wondering: does he kiss Hannah Brown?
[Warning: The Bachelor Season 24 spoilers ahead ]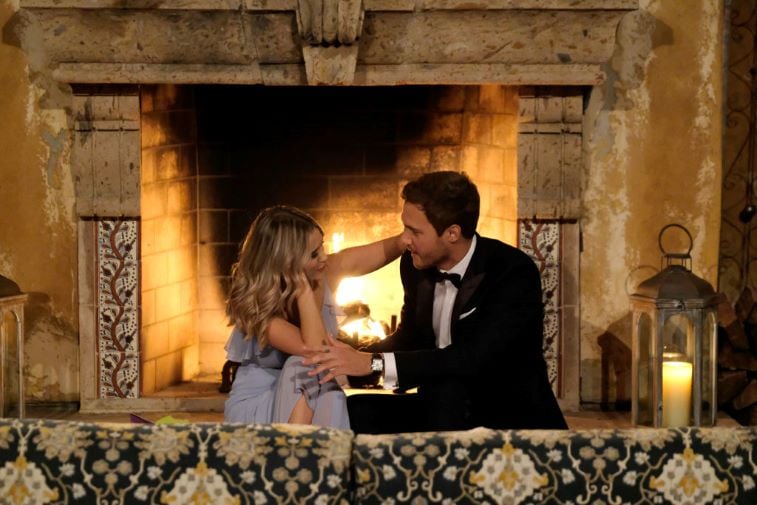 Someone steals a kiss from Peter Weber right out of the limo
When a 27-year-old realtor from Houston, Texas, arrives, things heat up before Peter makes it into the cocktail party. Savannah Mullins blindfolds Peter so that he can "feel" something and then jumps right in for the kiss.
Peter does kiss her back, so it doesn't seem like she is too forward for him. He gives her a rose at the end of the night, so we can assume he enjoyed the kiss.
The bachelor kisses three more girls during the cocktail party
Although Peter is not the one initiating the kisses, he is not rejecting them either. During the cocktail party, Hannah Ann Sluss—a 23-year-old model from Knoxville, Tennessee—gives Peter a painting that she made for him. The bachelor finds this very touching, and the two exchange several kisses. 
Next, viewers are not quite sure if Peter was expecting to kiss Tammy Ly, a 24-year-old house flipper from Syracuse, New York, but he has no choice in the matter.
Tammy handcuffs the bachelor, pats him down and finds a condom. Peter insists she planted the contraceptive on him. Then she proceeds to make out with him, as well. He kisses back, so it seems like he is into it.
"I didn't expect to be kissing so many girls, but it just happened," Peter admits.
Before the night is over, he ends up kissing one more person. When a 22-year-old fashion blogger, Mykenna Dorn, goes in for a kiss, he does not turn her down, either. That makes it a count of four for the first night.
During the first group date, Peter kisses three girls—two new, one repeat
Peter invites the first group of ladies to a competition surrounding aviation. The women go through several flight tests, including a motion simulator. Right before the obstacle course, Tammy jumps in again for another stolen kiss. While we can't count that as woman number five, it is worth mentioning.
The real heartfelt kissing occurs during Kelley Flanagan's time in the cockpit with Peter. The 27-year-old attorney from Chicago won the obstacle course by cheating, but that didn't stop her from relishing in every one-on-one moment with Peter.
It turns out that Kelly and Peter randomly met in a hotel lobby about a month before she came to the mansion.
"I was looking forward to talking to you, and I'm so happy you're here," Peter tells Kelley later on in the evening when the pilot lifts her onto a counter and makes out with her, yet again.
Before the night is over, Peter makes out with one more girl. He meets privately with Victoria Paul, the 27-year-old nurse from Alexandria, Louisiana.
"Today, when I was sick, and you came running and asked me if I was okay," Victoria confides, "I've never had anyone be that for me."
The gentleman pilot remembers that she has never received flowers before. He gives her roses and then goes in for a short make-out session.
Peter Weber has 'the best first date ever' with Madison 
For Madison's one-on-one date with Peter, he takes her to his parents' vow renewal. She meets his entire family and many friends. Then she catches the bouquet when his mom throws it! Later on, the two reminisce over what a great day it was and exchange tender kisses.
When we think it can't get any better, Peter takes her to see Tenille Arts play live. The pair romantically dance and viewers at home slowly fall in love with Peter and Madison.
"I will never forget this date," Peter admits. "It was perfect in every single way. I'm flying high right now, and everyone I care about was part of it today. I'm very grateful that I was able to share it with them and with Madison."
Peter kisses a total of 7 girls in the premiere—although he wanted to kiss one more
Hannah Brown returns to lead the contestants in the next group date, and the entire show is turned upside-down. Peter asks her if she wants to join the ladies at the house—as in be a contestant this season. She does not answer, but it's clear from the previews for next week that she is sticking around. 
"I want to just kiss her and have had all of this workout," Peter admits. "I feel like such a jerk because I have such an awesome group of girls here."
He didn't kiss Hannah Brown yet, but he wants to. Find out how many more ladies he makes out with—and if Hannah is one of them—when The Bachelor returns next Monday at 8 p.m. Eastern on ABC.