'The Bachelor': Kelley Flanagan Wants Everyone to Know About Her Relationship Status with Peter Weber
The finale for Peter Weber's season of The Bachelor seems like it happened months ago, instead of just a couple of weeks. As far as Bachelors go, Weber had one of the worst endings in history. After switching girls at the last minute, he had to sit there during the finale while his mother pretty much berated his girlfriend Madison Prewett, and then he broke up with Prewett two days later, causing him to end the season alone.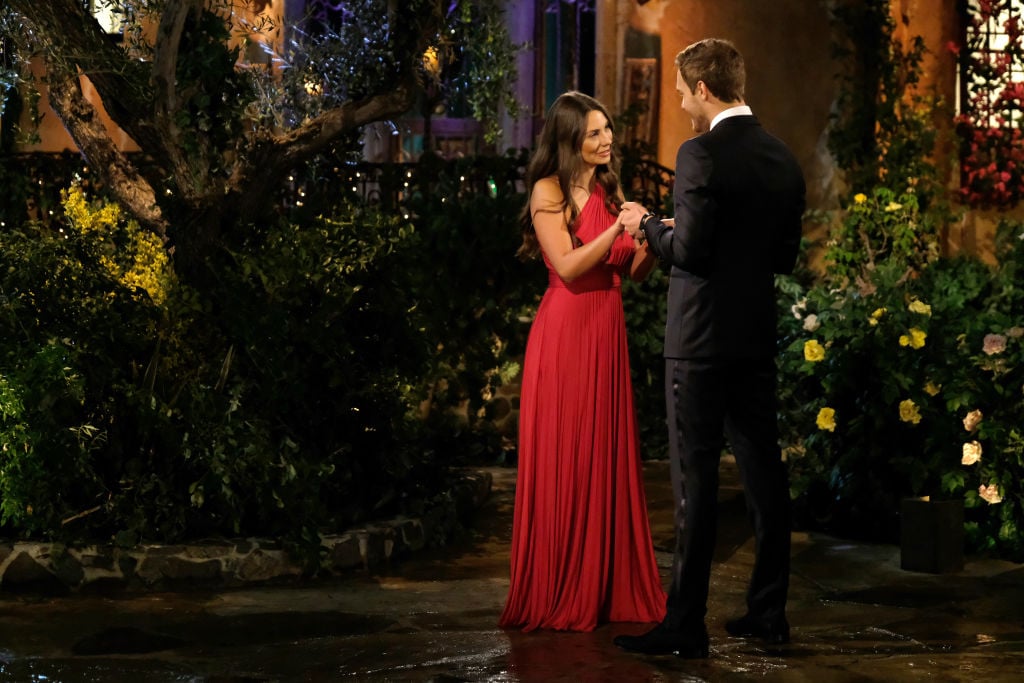 As most Bachelor fans don't like to see a lead end a season as single as they were when it started, many people have started to wonder if Weber is actually secretly in a relationship.
Peter Weber and Kelley Flanagan's relationship
Weber met Kelley Flanagan before the show even started filming. They met at a hotel that Flanagan was at for a friend's wedding. The two spoke briefly that night but it created enough of a spark to have Weber really excited for Flanagan to come to the Bachelor mansion. After the season started, Flanagan and Weber rode the high from their first chance meeting for a few weeks. When they finally did get the chance to hang out more, Weber found it hard to get close to Flanagan because she wasn't hopelessly devoted to him like the rest of the girls or causing lots of drama. He sent her home after a very awkward group date with Hannah Ann Sluss and Victoria Fuller.
Why do people think Peter Weber and Kelley Flanagan are together?
No one knew how Weber's season ended before the finale, so fans were coming up with all kinds of outcomes, one of them being that Weber reconnected with Flanagan.
This theory was strengthened when Flanagan wasn't at the "Women Tell All" special, but was at the "After the Final Rose" special for no apparent reason and Chris Harrison stressed that it was important for her to be there.
And then it was reinforced again when Weber's mom Barbara began commenting on Flanagan's Instagram pictures and telling her how much she liked her.
 "She was like, 'You were my favorite since day one! I love you! You're beautiful!'" Flanagan told Us Weekly.  "So I guess she was rooting for me. But other than that, she was just the sweetest thing to me, so I have no hard feelings toward her. I think she's great."
Is Kelley dating Peter?
Flanagan has heard a lot of rumors about herself since the show wrapped, but there is one rumor that she wants to put to bed.
"I'm not with Peter," she told E! News. "I promise I'm not dating Peter. I'm not dating Peter."
Who is Kelley Flanagan dating?
There had also been rumors going around that Flanagan was dating former Bachelor Nick Vall after Viall posted a picture of them together with the caption, "She's not with Peter."
Chris Harrison even commented on the photo.
"Loved seeing you guys get so cozy last night," he wrote. "Here for it."
But Viall came clean and revealed that they were not together.
"She's a nice person, she didn't disappoint in person, I thought she'd be cool in person," Viall said on an episode of his podcast, The Viall Files. "Everyone likes to think there's always something going on, and there's not."
Former Bachelorette contestant Mike Johnson also shot his shot at Flanagan on his Instagram Live.
"I think Kelley has amazing, uh, what do you call it? Dimples?" he said. "I think that she's a little bad*ss, that's for sure. That's all I'm gonna say."
So, though Flanagan isn't with Weber, she definitely has options.