'The Bachelor': Is Madi Prewett Commenting From Her Own Instagram Fan Account?
Episode one of The Bachelor hit television this week, which means fans got to see who Peter Weber chose as his first one-on-one date, and who got the first roses of the season. (Warning: spoilers incoming!) 
Madi Prewett was able to capture Weber's attention pretty quickly, and he decided to bring her out for his first one-on-one date with a contestant. However, following the date, Madi Prewett's Instagram showed some suspicious activity — and fans suspect she might be running her own fan account.
Madi Prewett scores the first date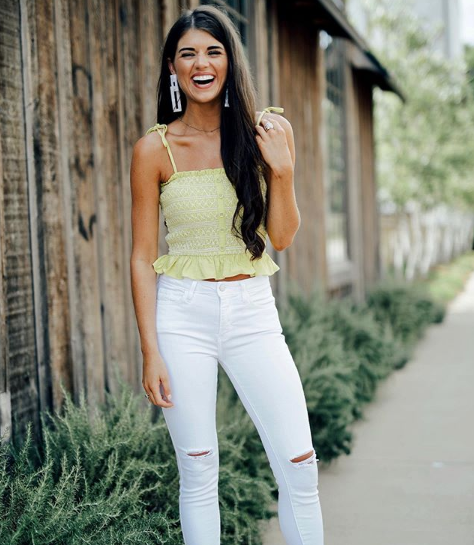 Madi Prewett, 23, is an Alabama native — just like Hannah Brown. Perhaps another southerner will be sweeping in to capture Peter Weber's heart. Prewett is also very religious and family-oriented. She aims to open her own orphanage in the future someday, and hopes to engage in missionary work as well. 
Her one-on-one date with Peter Weber was a very intimate affair. The two attended Weber's parents' vow renewal — a pretty intense thing to bring your first date to, but that's The Bachelor for you. 
Weber officiated the ceremony, and his mother, Barbara, seemed to connect well with Madi Prewett. Prewett caught the bouquet at the end of the ceremony — perhaps something looms on the horizon for her and Weber. 
"I feel so welcomed by everyone here. This was the most incredible first date I've ever been on in my life," Prewett said of the experience.
A suspicious Instagram comment
However, some suspicious activity on Madi Prewett's Instagram account has fans raising eyebrows, and wondering if The Bachelor star is pulling the wool over their eyes.
On her Instagram account, Prewett posted a photo from her date with Peter Weber, and captioned it, "Woke up feeling super grateful.. the most perfect date with the perfect guy."
As captured by a Redditor, the same Instagram account then commented on its own photo, writing, "Beautiful date Madi. You are so genuine and real." It as accompanied by a heart emoji. 
At first blush, it looks as if Madi Prewett forgot to sign out of her usual account before signing into another one in order to comment on her own photo. 
However, a friend of Prewett's commented on the photo as well, writing, "Oops. Thought I wrote that comment about being real & genuine from my account but was logged into Madi's from when she got back from filming. Don't hate me @madiprew."
Fans react
Fans aren't entirely sold on Madi Prewett's friend's comment, however. In reply to the friend's comment, one user wrote, "Lmfao. The coverup is worse than the crime."
Another added, "Lmao people aren't dumb, we see right through the staged comment that Madi had an immediate reply for. You guys can try to save face all you want but it would be way funnier and better to just own up. Laugh at the mistake and move on girl."
One Redditor is now wondering if all of the Madi Prewett fan accounts are fun by the contestant. They wrote, "Cringe AND it makes me think that some/all of the posters talking up Maddie after the girls were released was her! There were multiple people like "I know some people might say bad things about her, but they are just jealous, we are from the same town and she is incredibly nice and sweet and very religious."
An Instagram user praised Prewett's friend, writing, "Damn, only a true friend would be willing to lie like this. you're a real one for that."
What do you think? Is Madi Prewett running her own Instagram fan account?