'The Bachelor': Is Michelle Young Friends with Rachael Kirkconnell Now?
This season, Rachael Kirkconnell lost Matt James on 'The Bachelor. But was she able to mend her relationship with Michelle Young?
Matt James' season of The Bachelor went down a bit differently than seasons of the past. Early on in his season, pictures of his frontrunner, Rachael Kirkconnell, at an antebellum plantation party began to surface. Fans had to watch as James, a Black man, fell in love with a woman whose past he had no idea about. Once the truth came out, James ended the relationship. But Kirkconnell didn't just fall in love with a Black man, she also became friends with Black women throughout the season. She and Michelle Young had the longest friendship as they made it to the final two. How is their relationship now?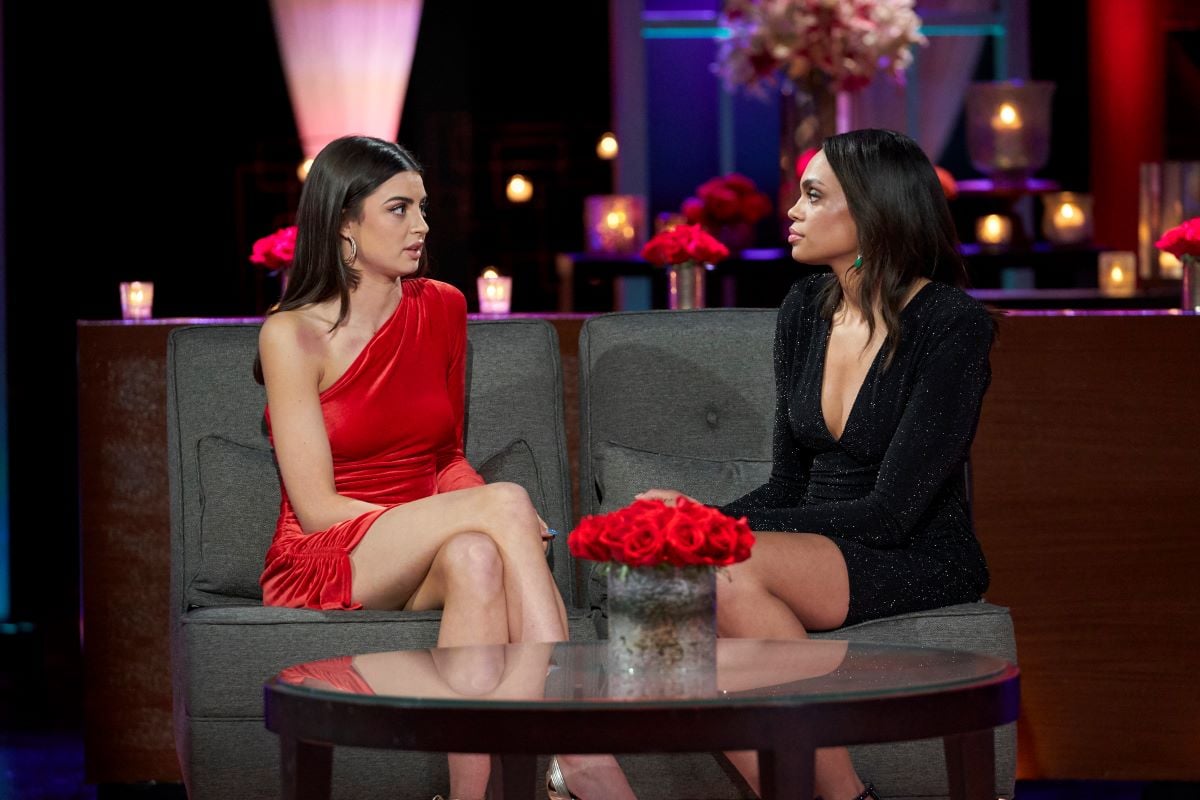 Rachael Kirkconnell's college pictures
Early on in the season, pictures of Kirkconnell at a 2018 Old South party began surfacing. Kirkconnell stayed silent on the matter for weeks, but eventually she apologized.
"I was ignorant, but my ignorance was racist," she wrote in a statement on Instagram. "I am sorry to the communities and individuals that my actions harmed and offended. I am ashamed about my lack of education, but it is no one's responsibility to educate me."
She went on, claiming that she would do better.
"I deserve to be held accountable for my actions," she continued. "I will never grow unless I recognize what I have done is wrong. I don't think one apology means that I deserve your forgiveness, but rather I hope I can earn your forgiveness through my future actions."
Are Michelle Young and Rachael Kirkconnell friends?
By the time Young learned of Kirkconnell's past, she was no longer living in a house with her but she did try to reach out to her former competitior.
"Now, Michelle had reached out to Rachael, but had never heard back. And so Michelle was broken over that," After the Final Rose host Emmanuel Acho recently revealed in a video on his Instagram.
When Kirkconnell joined Acho on stage during the After the Final Rose ceremony, he asked if she would like to speak to Young.
"I said, 'Well, look, Rachael, you put out a public apology for the world, but there were women that you were friends with that haven't heard from you and still feel broken because of that. So if you're willing, Michelle would love to talk to you.' "
The scene of the two talking was never aired but they did manage to reconcile.
"Michelle walks out, they sit down on the couch together and after Michelle pours her heart out and Rachael pours her heart out, the two shared an embrace, and I simply sat there and witnessed it and thought, 'If we could see this collectively as a society, we could all grow,' " he revealed.
"It was a beautiful depiction that I got to witness — and for the sake of time, you all did not get to witness," he continued.
Michelle Young as the Bachelorette
Though we didn't see her mend her relationship with Kirkconnell on the After the Final Rose special, we did learn that Young is going to be the Bachelorette. First, Katie Thurston will take over as the season 17 Bachelorette and then Young's season 18 is set to premiere in the fall.