'The Bachelor': Is Victoria F. Faking Her Insecurities to Get Closer to Peter Weber?
After week two of The Bachelor, it seems clear who the two front-runners are for Peter Weber's heart. However, many viewers are worried about the women lying to Weber. Is Victoria Fuller that insecure, or is she acting the part to get Weber's attention? Let's take a look. 
[Warning: The Bachelor Season 24 spoilers ahead]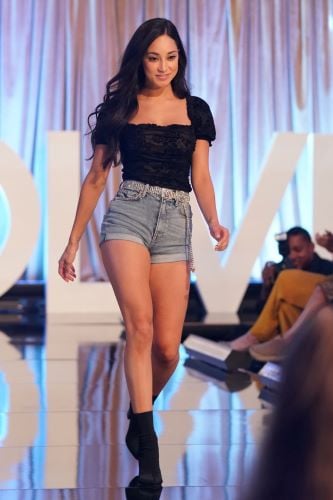 What happened on week 2 of 'The Bachelor' that had Victoria F. in tears?
Eight contestants were invited to a group date with the note, "Let your personality shine." Alexa, McKenna, Natasha, Deandra, Lexi, Victoria F., Kelsey, and Hannah Ann all arrive at their date to find out it is at Revolve, a designer clothing company.
The contestants meet with Carson Kressley, Janice Dickinson, and Revolve's chief brand officer, Raissa Gerona. They inform the ladies that they are to choose two outfits to model on the runway. The winner will take home over $20,000 of Revolve's clothing. Dickinson tells the ladies they will be judged on style, technique, and personality.
Viewers thought the drama would unfold between Hannah Ann and Kelsey, first. However, Victoria F. took us by surprise with her anxiety and break-down over her insecurities before she takes the stage. Then she comes in as runner-up to Hannah Ann in the runway show and runs off crying, again.
"Today was really rough," Victoria F. tells the cameras later that evening. "I don't know if I'm self-sabotaging, but I'm never gonna be the girl who's the center of attention."
She cried on this episode of The Bachelor more than even Kelsey did with her champagne crisis.
"Not well, I don't know if I'm made out for this," she tells Weber when he asks how she is doing. "I like this, but I don't know if it's worth my mental health. I see you making connections with people who are so different than me."
Victoria F. explains her feelings to Weber, but viewers are not sure whether to believe it or not.
Why do fans believe that Victoria F. is putting on a show for Peter with her insecurities?
"The bounce from one emotion to another during the runway show is clear manipulation and a chess move," wrote one Reddit user. "I love it! I'm totally here for VF."
Viewers think that the Medical Sales Rep is playing up her insecurities for the cameras, and making herself more vulnerable in Weber's eyes.
"I believe she has insecurities, but I don't buy that she's as insecure and unconfident as she wants us to believe," explained another Redditor. "If she was as shy as she claims, she would not be saying it over and over again to the camera, just drawing even more attention to herself. She knows she's beautiful, but I think she uses the timid and insecure act to get Peter's attention, and also to make herself more endearing to the audience."
During the runway show, the 25-year-old from Virginia Beach went from crying backstage to working the runway like a pro in what seemed like seconds.
"I'm so nervous," Victoria F. told Glamour during the competition. "I'm beet red, and my face is so hot. I'm definitely freaking out."
To viewers at home, it looks like she flips the switch rather quickly. It is also interesting to see how she is saying she is insecure, but then she almost wins the entire competition.
Does Weber believe that Victoria F.'s insecurities are real?
Later on that evening, Weber has a heart-to-heart with Victoria F. She is hiding her face and acting very shy. He proceeds to take her someplace away from the cameras where the contestant can have more privacy. From his body language, it looks like he believes she is genuinely having a hard time.
"She's a bit more shy and reserved," Weber tells Glamour before the competition, but he's "excited to push her with this and get her out of her comfort zone. She could trip and fall on her face, but if she's trying her best, I don't care."
Well, we know that she is giving it her all, we're not sure how much of her "all" is real and how much is fake. We will have to wait and see when The Bachelor returns next week, Jan. 20, 2020, at 8 p.m. ET to ABC.