'The Bachelor': Jed Wyatt and His Girlfriend Are on a Trip With One of Hannah Brown's Besties
Jed Wyatt hasn't really participated in anything Bachelor related since Hannah Brown's "After the Final Rose." He left the franchise, disgraced, after it was discovered that he'd come on The Bachelorette with a girlfriend waiting for him back home. He's since apologized and said he's working to become a better version of himself.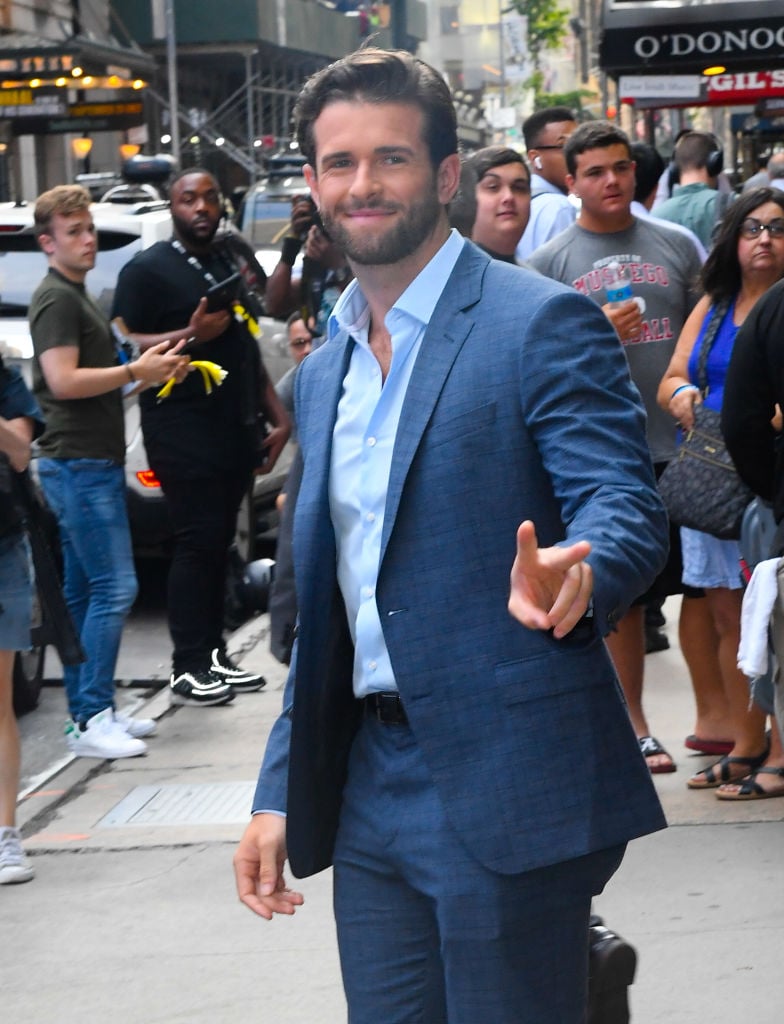 "I want to be just an all-around better person. I mean, leading into the show, I just really felt like I did know who I was, you know. But I learned so much from this. From the mistake, from the journey, the whole–I learned so much. I want to apply it to my life," he said on  LAnded Late Night back in August 2019, adding that he hopes other young men will learn from the mistake he made.
A few months after Jed and Hannah split, he began dating a personal trainer/model/teacher named Ellen Decker. By the looks of their Instagram posts, they seem to be very happy together.
Jed Wyatt's one connection to Bachelor Nation
Jed's one connection to Bachelor Nation, though, is through Bachelor in Paradise alum Dylan Barbour. Jed and Dylan met on Hannah's Bachelorette season and have remained close. Dylan is engaged to Hannah Godwin, who happens to be good friends with Hannah Brown.
Jed, Ellen, and Hannah Brown all attended Dylan and Hannah G.'s engagement party back in February. Demi Burnett, who was also at the party, said Jed and Hannah Brown were "fine."
RELATED: 'The Bachelor': What Madison Prewett Is Telling Guys Who Ask Her out Right Now
"Everybody was having a good time — it was fun. Her and Jed, they were all fine. Everybody was fine," Demi told Entertainment Tonight.   
"I think Hannah's doing everything she needs to be doing and she's figuring it out. Her life has been so busy for so long and so now she's getting to reconvene with all her friends," she added. "Everybody can coexist and she's mature about it and I really respect that."
Based on their Instagram stories, Hannah G. and Dylan seem to currently be on vacation with Ellen, Jed, and the rest of his family. They've been doing such activities as boating, bike-riding, and braiding each other's hair (seriously–Jed and Dylan can be seen braiding Ellen and Hannah G.'s hair in one of their videos).
Dylan Barbour and Hannah G. are unbothered by the Jed Wyatt and Hannah Brown drama
Bachelor fans have pointed out the perhaps uncomfortable dynamic that comes with Dylan being good friends with Jed and Hannah G. being good pals with Hannah Brown. Dylan has been known to stick up for his friend online, sometimes putting down the former bachelorette in the process.
RELATED: 'Bachelor' Fans Think Colton Underwood and Madison Prewett Should Get Together After Cassie Randolph Split
"You can be friends with Jed and still acknowledge that he hurt someone due to his own poor actions and decisions. It's so classless to lash out defending him blindly especially when his own fiance is close with HB!! Even if that's how you feel, don't blast it on social media," wrote one fan on Reddit.
While it's clear that Hannah Brown still has certain feelings about Jed (she's made little quips about him in a few public appearances and online since her season), it seems, like Demi suggested, everybody can coexist despite the past drama.
Read more: 'The Bachelor': Did The Reasons Colton Underwood and Cassie Randolph Broke up the First Time Come Back to Haunt Them?