'The Bachelor': Kelsey Weier Talks Production's Limit on Drinking and Medication
This season of The Bachelor led to a discussion about drinking. That's because Kelsey Weier was accused of drinking too much by Tammy Ly. Tammy later apologized but now they are revisiting what happened. Find out what Kelsey had to say about production's rules around substances.
Tammy Ly slammed Kelsey Weier for her drinking on 'The Bachelor'
Tammy turned on Kelsey this season when she believed she had "alcoholic tendencies" and was "mentally unstable." They later had a heated discussion about these claims.
"She's really not OK… she's just literally flipping out," said Tammy. "I'm not going to cry my eyes over it over 10 bottles of wine."
Kelsey eventually went to Weber to clear the air. She said Tammy started a rumor that she was drinking and popping pills. Tammy denied she mentioned popping pills and said Victoria Paul was actually the one who mentioned them.
In the end, Weber kept both of them for more time until he eventually sent them home. The episode led to Tammy getting a lot of backlash.
Tammy apologized on Twitter
Tammy responded to backlash by apologizing on Twitter. "Ok I'm going to address this once and for all- remember that this is a show. I do take responsibility for my actions and I never intended to hurt anyone. I am very sorry to those I did hurt but my heart was never coming from a intentional malicious place," she tweeted.
Tammy added, "I tend to gravitate toward humor in situations like this bc [sic] I'm not trying to mourn in the past mistakes I've made. We're all human. All of us have done things we're not proud of. So please hear me when I say- I never meant to hurt anyone and I'm sorry."
The house flipper then tweeted, "My 5 minute 'nasty' moment on TV doesn't define who I am. Just like how your mistakes don't define who you are either. Remember that all of us who participated in this show are human too and some of you say nastier things to us than we do to each other."
Kelsey said they get two drinks per hour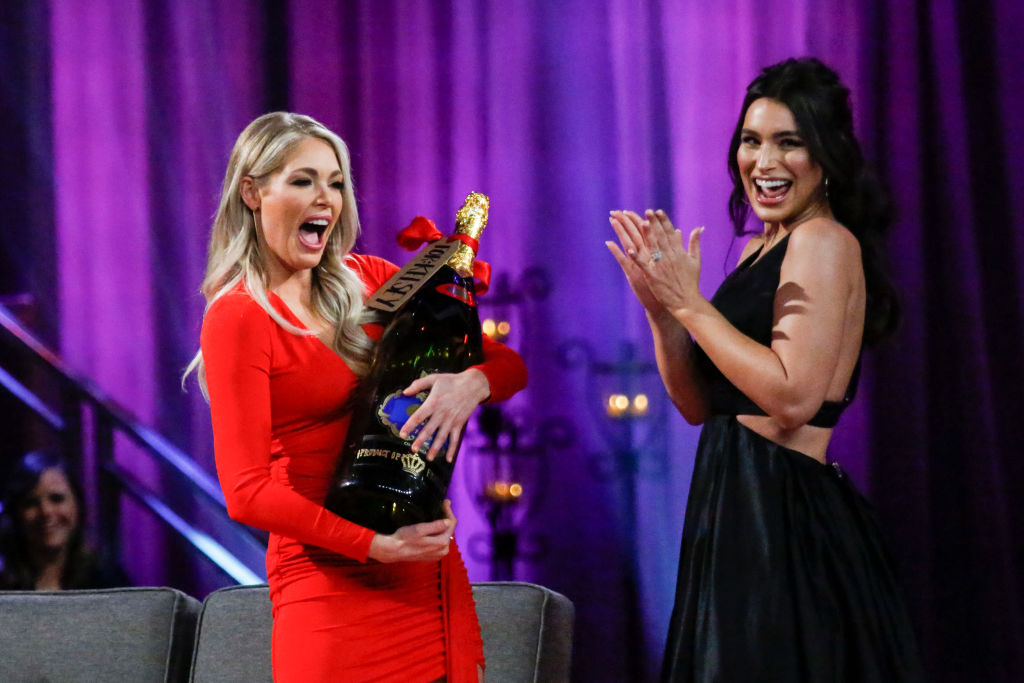 Kelsey addressed the accusation again with Entertainment Tonight. She went into detail about how production controls substances.
"This is the thing," said Kelsey. "When you're on the show… you get two drinks an hour. Your medication is taken from you, it's handed to you by the doctor, you get five pills a week. Like, everything is super monitored, so I was a little confused by those accusations."
She continued to address Tammy with, "And also, she wasn't one of my friends, so for her to come to me and express those accusations and want to do it on camera and not off camera — because we had the opportunity to talk about it off camera — was just a little manipulative to me and that's what didn't sit well with me."
Tammy denies that she was accusing her of having a problem at all. "I was not accusing her of having an addiction problem," she claimed. "She was coping with her emotions by drinking, and you know, we have all been to the club after a breakup. We are going to cry when we are upset, you know?"
Kelsey described her relationship with Tammy as being "frenemies" now. Tammy, on the other hand, claimed they're fine.